Gigabyte pushing top-end products through Aorus: Q&A with Vincent Liu, Gigabyte director of sales
Joseph Tsai, DIGITIMES, Taipei
Although not best known for its notebooks, Gigabyte Technology has been operating in the notebook business for quite a while and entered the gaming notebook business two years ago.
As one of the top-tier motherboard players, Gigabyte is known for its technological leadership in areas such as cooling and overclocking. These advantages have given the company competitiveness in the gaming notebook industry and helped the company earn recognition from consumers.
For 2014, Gigabyte created Aorus, an independent gaming brand and will sell its top-tier products designed specifically for gamers under the brand. The company will continue to release Gigabyte branded notebooks and tablets, but they will be mainly focused on general purpose usage.
For Computex 2014, Gigabyte is hosting a booth at Taipei World Trade Center (TWTC) Exhibition Hall 1 to showcase its new products. To learn about Gigabyte's latest gaming notebook strategy and the reasons behind the creation of Aorus, Digitimes recently sat down with Vincent Liu, director of Gigabyte's sales division to talk about the gaming notebook industry.
Q: What are Gigabyte's plans for Computex 2014?
A: Gigabyte is showcasing its latest gaming notebook products including several top-end models under the company's newly created Aorus brand as well as regular high-end models such as the P34- and P35-series, which are branded under Gigabyte.
Gigabyte has three notebooks under Aorus: the X7, X3 and X3 Plus. These devices are our latest innovations and designed specifically for gamers. We have equipped them with top-end hardware and compared to our competitors, they also feature competitive price/performance ratios.
Q: What are Gigabyte's strategies for the notebook industry? Will the company be developing anything new for the traditional notebook industry?
A: For our notebook business, we currently have two brands: the newly created Aorus and Gigabyte. The gaming notebook market is now the main focus of our notebook division (G-Style) and we have grown professionally over the past two years in regards to the manufacture of gaming notebooks.
Compared to the gaming notebook models we released two years ago, our new gaming products are thinner and lighter with new in-house developed cooling designs.
Traditional notebook shipments have been dropping for several quarters and Gigabyte, as a latecomer, is at a disadvantage competing against other first-tier players in the market because the competition has already turned to economies of scale instead of innovation. For Gigabyte, which started with strong R&D capabilities, the gaming notebook market, which requires high technological involvement, is a more suitable direction to expand into.
Gigabyte-branded notebooks are currently being promoted mainly for general purposes include gaming, enterprise-usage as well as traditional applications. For traditional mainstream models, we are offering them mainly to satisfy client demand and will not push them aggressively.
Gigabyte's high-end notebooks are all manufactured at our plaints in Taiwan, while design and development of all our notebooks is conducted at our Taiwan headquarters. Through the strategy, we hope to maintain quality and stability, and fulfill our social responsibility to Taiwan.
Q: What does Gigabyte think about the gaming notebook industry and its future?
A: We are optimistic about the gaming notebook industry's future and are seeing the industry advance and evolve rapidly.
Gigabyte is a latecomer to the gaming notebook industry and is facing fierce competition, but our business strategy of delivering the best out of the hardware we use has earned recognition from many consumers and gamers.
Gigabyte's goal is to give users the best performance in each price segment, and we have developed many technologies and done product differentiation to accomplish this target.
Compared to our competitors, the scale of Gigabyte's gaming notebook business is actually rather small, but after two years of operation, our technologies have started to be recognized by consumers. For now, we are not looking to experience an immediate and large shipment growth, but are instead focusing on earning consumers' trust.
Building products that consumers can trust has always been the motto of Gigabyte, and is the business direction we will continue to follow. Despite the fierce competition, we will continue to offer reliable products to consumers.
Q: Why is Gigabyte releasing a new brand name for its gaming notebooks? What benefits does Gigabyte expect to see from the new brand?
A: Aorus is an independent brand and we will not market the brand as part of Gigabyte; therefore, you will not see Gigabyte's logo on Aorus-branded products. We created Aorus for professional gamers and in addition to notebooks, we also brand our best keyboards, mice and earphones under the brand.
Aorus-branded notebook industrial designs also look different to models branded under Gigabyte. Aorus-brand notebook designs look powerful and futuristic, which we are confident will attract gamers. In fact, we have received good feedback from our channel retail partners as well as consumers about our product designs.
We have equipped the best hardware in the Aorus X7 notebook such as Intel's fourth-generation Core i7 processor and dual-Nvidia graphics cards with SLI support. To keep its thin and light characteristics, we have designed a cooling module, which features five heat pipes, four air vents, three controllable fan settings and two fans to efficiently dissipate heat generated by the two GPUs.
We are releasing our new Aorus X3 during Computex 2014 also featuring top-end hardware.
We expect these gaming notebooks to help us advance further in the market as well as keep us ahead of our competitors.
Q: Does the company have any new plans for tablets? What does Gigabyte think about the tablet industry?
A: Gigabyte has a business unit that handles ARM/Android-based tablets and may showcase some products at the show.
As for Wintel-based tablets, Gigabyte has no plans to release related devices. As I said previously, competition over economies of scale is not really something that Gigabyte is good at, and the Wintel tablet industry is currently in such a situation.
Therefore, the market will not become a focus for Gigabyte. We will keep all our attention on developing the gaming notebook business.
However, we are still shipping existing Wintel-based tablets launched a few years ago, to some enterprise customers and the procurement market as we still see good demand from these segments.
Q: What are Gigabyte's long-term plans?
A: Gigabyte's notebook business operations will be driven by our brand strategy. Aorus, as an independent brand, will continue to represent our top-end product line, and in addition to notebooks, Gigabyte will continue to add more products under the brand as long as those devices meet the qualifications of Aorus: top-end products designed specifically for enthusiast gamers.
As for the Gigabyte brand, we wish to maintain its trusted image and will continue to strengthen related products with quality and stability, but still maintain a high price-performance ratio.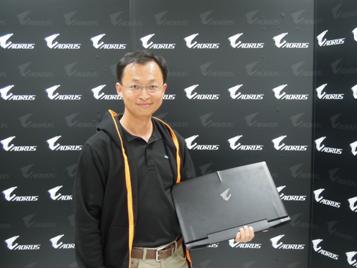 Vincent Liu, Gigabyte director of sales division
Photo: Joseph Tsai, Digitimes, June 2014