USB Power Delivery Docking solutions enabling power ecosystems; Good Way Technology showcasing Thunderbolt 2 and more 4K display solutions at COMPUTEX
Sponsored content
Wednesday 4 June 2014
Notebooks, tablets, and peripherals such as hard disk drives, cameras, and more recently displays have derived power over USB interfaces, enabling simple connections for power and data, eliminating the need for large cumbersome power adapters. Digital devices like smartphones are now almost exclusively USB for charging and data transfer.
In fact, one of the downsides of USB is the relatively limited amount of power that can be transmitted through the cables. USB 2.0 only allowed for a 500 mA load if the device is also transmitting data, while USB 3.0 set the upper limit at 900 mA. Both standards can handle up to 1.5 amps strictly for charging purposes, but not while data is being transmitted. And USB Battery Charging 1.2 allows delivering 7.5W, offering 1500mA through 5V, which may be qualified for the need of power charging for small mobile devices but not bigger devices such as LCD displays or Notebooks.
Today, the industry standard USB Power Delivery (USB PD) specification takes USB power to the next level, speeding the charging time of mobile devices and more than enough to power LCD panels, Notebooks, external hard drives, Blu-Ray DVD, DVD R/W, CD-R and other hardware without independent power cables and AC adapters. The next generation of USB standard named USB 3.1, which includes USB PD features and with full backwards compatibility with older USB specifications, opens the door to charge many kinds of smart devices including Notebooks, flat panel displays with one single cable only.
More than that, however, USB PD is designed to be flexible at the port level, meaning you can plug a variety of devices into the system without worrying about one product burning out the rest of the devices. Hook up a notebook and a smartphone, in other words, and your smartphone won't get zapped by the notebook's far higher power draw. The idea is to create a flexible standard to specify six profiles for power. The intent is to deliver between 10W and 100W in steps. These six profiles are cleverly named Profile 0-5. It can ramp power up or down between profiles on the fly, and switch direction of power flow too. USB PD will detect and utilize current USB cables, and deliver up to 100W over newer PD spec cables.
Before COMPUTEX Taipei 2014, DIGITIMES interviewed with Mr. Kenny Lin, Vice president of Good Way Technology to look at the USB PD solutions and future development. It is hoping to look at the trends and watch how market developed in USB power challenges.
USB PD Docking station to accelerate business development of commercial notebook PC market
Good Way Technology's major launch this year in COMPUTEX is DU3710 USB PD Docking station and Display port, which is enabling power over USB PD for Notebooks, LCD monitors and other peripherals delivering up to 100 Watts at 20V, 10 times the power of existing power solutions, while enabling USB3.0 SuperSpeed data over the same cable. It equipped with three USB3.0 downstream ports, one HDMI port with resolution up to 2048x1152, one DVI-I port with same upper resolution limit of HDMI port, one stereo audio out and one mac in port and one Gigabyte Ethernet port. The AC power adaptor is 150W (12V/12.5A).
Take above picture as an example. In normal circumstance, a DU3710 USB PD Docking station works as a provider to offer power to connected display, notebook or hard disk drive (HDD); and HDD are consumers to receive power from DU3710. But if display and notebook both support USB Power Delivery, under this technique, they can both be provider and consumer. Therefore, when a notebook lacks power or not with power supply around, it can receive power directly through DU3710 and the display can always receive power from DU3710 without extra power adaptor. These two devices can also deliver power through USB interface to other devices like mobile phones or HDDs and transmit data at the same time. This architecture massively eliminates the lots of adaptor and power cords for your digital devices and the two-way usage makes USB Power Delivery become a new technical application that enabling the power ecosystems in your desktop.
Use DU3710 USB PD Docking station not only consolidating all the power sources in one device, but also equipping with USB display capability to allow users to switch to different displays.
Kenny Lin highlights the significant benefits of PD Docking station and is especially suit for commercial notebook segment users. There is limited profit margin on most of notebook PC segments. But the new commercial type of Notebooks featured USB PD and bundled with USB PD Docking station turns to a very attractive portfolio of higher end value-added notebook PC packages. Some major Japanese notebook PC brands have seen this business opportunity and opened several ODM projects to leverage unique product advantages of Good Way Technology. And one good news is that Taiwan notebook PC players starting to move the same direction.
It has made it clear Kenny intend to watch the market developed for many years and witnessed not only how USB PD demands has developed, but also how companies compete amid increased competition in upcoming challenges.
New Thunderbolt 2 Docking station boosting higher end 4K display solutions for both Mac and Windows systems
For fulfilling the strong "always-increasing" demands of sharing higher resolution videos, Intel announced Thunderbolt 2 specification in 2013. Originally brought to market in conjunction with Apple, Thunderbolt is now a standard feature of Mac computers sold in the market today. The new Thunderbolt 2 controller was codenamed "Falcon Ridge" running at 20Gbs with bi-directional channel that can handle either data transfer or display, a doubling of the bandwidth over the original Thunderbolt.
Moreover, Thunderbolt 2 will support DisplayPort 1.2 and 4K video. This result is great news for an industry on the cusp of widespread adoption of 4K video technologies. Good Way Technology has observed this trend for some time, and its Thunderbolt 2 Docking station expects to go into production by the third quarter of 2014. This product line has two models named DB2020 and DB 2120 with the features of three USB3.0 downstream ports, one Mini Display Port resolution up to 4K2K through Thunderbolt Port or Daisy chain with the same Thunderbolt Port, one HDMI port with same upper resolution limit of 4Kx2K, one stereo audio out and one mic in port and one Gigabyte Ethernet port.
Good Way Technology is targeting the mass market with the Thunderbolt 2 Docking station, with more standard USB3.0 and HDMI ports and a desktop-friendly design. With Apple leading the position in Thunderbolt adoption, however, docking stations like Good Way Technology's Thunderbolt 2 Docking station offering could begin to hit retail market at increasingly affordable prices. The current MSRP price will be between US 200 to 300 dollars.
Visit COMPUTEX Booth C0506 at Taipei World Trade Center Exhibition Hall
Good Way Technology will be demonstrating its USB PD Docking station, Thunderbolt 2 Docking and other 4K display solutions, which are the recent progress relating to new technologies of USB PD and Thunderbolt 2 development. In this year at COMPUTEX TAIPEI 2014, they will be showcasing the complete features in the booth of C0506 at Taipei World Trade Center Exhibition Hall. If you want to look at more information of other product lines of Good Way Technology, please logon the website at www.goodway.com.tw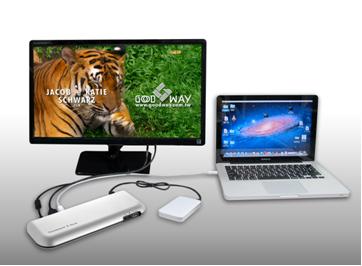 Thunderbolt Dock Eyco System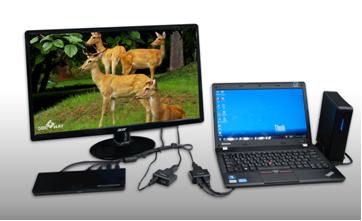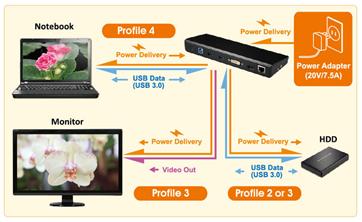 The USB PD Docking Station Connection and Deployment
Photo: Company