Vecow Introduce the Latest Fanless Embedded System Series at Computex Taipei 2014
Press release
Tuesday 3 June 2014
Vecow, a front-runner in the application fields of embedded system, image processing, and intelligent automation, has introduced the latest fanless embedded system series, MCS-7000, SPC-2000, and RCS-2000. These three unique series are designed for machine vision, intelligent automation, intelligent manufacture system, and process control applications. All series and the latest innovation embedded systems will be shown at M1328 upper level at TWTC Nangang Exhibition Center at Computex Taipei 2014.
MCS-7000 with M12 connectors
MCS-7000 series supports 3rd Gen Intel Quad-Core series processor (6M Cache, up to 3.30 GHz), DDR3L and DDR3 maximum dual channel 16GB ram, 3 independent display (DP, DVI-D, and VGA), isolated DIO, M12 power input, four M12 COM, two M12 USB 3.0, four M12 GbE, two 2.5-inch SATA 6Gp/s HDD/SSD trays, and 2 miniPCI-express, plus with overvoltage protection which making MCS-7000 series stands out from others in machine vision and GigE imaging, intelligent automation, surveillance and security, and most of embedded applications.
Ultra compact SPC-2000
With a 3.5-inch form factor, SPC-2000 series is based on Intel Quad-Core Atom E3845 (formerly codenamed Bay Trail) processor family (1.91GHz) and DDR3L single channel 8GB ram, one DVI-V, four RS-232/422/485, isolated DIO, two GbE LANs, one 2.5-inch SATA 3Gp/s SSD/HDD tray, four USB 3.0 ports, and 2 miniPCIe. SPC-2000 series is in fanless mini form factor and capable of operating under wide temperatures from -25 degrees C to +70 degrees C for harsh environments. Design with four COM to satisfy various applications' control and connection requirements, SPC-2000 series still keep fanless and wide operation temperature plus with EN50155 standard and cable-less arrangement for industrial harsh environment. SPC-2000 series is ideal for information display in space-consuming and harsh environment, automation networking communication, IoT (Internet of Things), In-Vehicle Infotainment (IVI) systems, and M2M (Machine to Machine) applications.
Expandable RCS-2000 for wide-range applications
RCS-2000 series supports Intel Quad-Core Atom E3845 processor, one DDR3L 8GB ram, one PCI and one PCIe x1 slots (RCS-2211) or two PCI slots (RCS-2202), isolated DIO, dual display (DVI-D, VGA), two GbE LANs, CFast, two 2.5-inch SATA 6Gp/s SSD | HDD trays, six COM ports, four USB 3.0 ports, two USB 2.0 ports, and two miniPCIe, plus with watchdog timer and on-borad GPS module. RCS-2000 series is smart fanless embedded system for machine Vision, outdoor imaging, 3-D imaging, ITS (Intelligent Traffic Solutions), quality control, and medical imaging applications.
About Vecow
Vecow has been devoted to designing and developing high quality products with innovative technology since it was founded. Our application fields of factory/machine automation, high-speed data acquisition, DIO, digital signage, medical and home automation and environment surveillance are credited to Vecow high-efficient design services.
Media Contact: info@vecow.com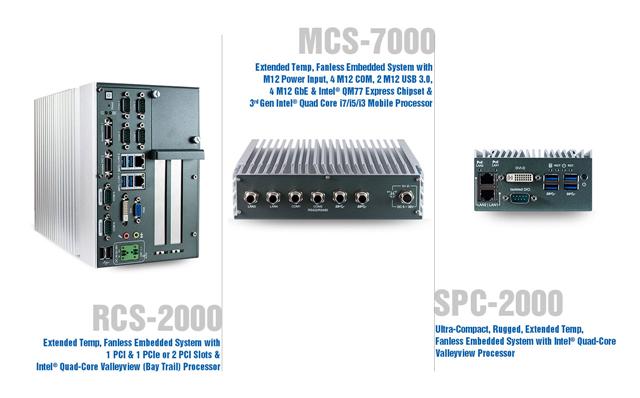 Vecow will demonstrate fanless embedded system series MCS-7000, SPC-2000, RCS-2000 at Computex Taipei 2014.