DTS' Innovative Audio Technology Powers Mobile Devices to Deliver the Ultimate Listening Experience
Sponsored content
Tuesday 3 June 2014
During 2013, award-winning composer Hans Zimmer first used the new DTS Headphone:X surround sound technology to produce the "Man of Steel" motion picture soundtrack. This advanced technology, developed by the audio experts at DTS, allows mobile devices to accurately reproduce the acoustics of a studio soundstage through an ordinary pair of headphones.
Not long ago, it was believed that to enjoy a premium surround sound experience, one would have to own high-end home theater equipment. But, DTS, a leader in high-definition audio solutions and audio enhancement technologies, has shaken up this common perception with its Headphone:X technology, which is capable of recreating up to an 11.1 channel home theater surround sound environment on mobile devices.
Aaron Chen, GM, Business Development Taiwan, APAC said, "Although people are used to listening to music and watching videos over mobile networks, two-channel stereo headphones that normally come with mobile devices simply cannot offer the same kind of listening experience as found in a high-quality audio production studio. But, thanks to the advanced technology behind Headphone:X, listeners are now free from their hardware's limitations and able to turn their mobile devices into powerful pocket-sized home theaters."
Headphone:X: Home Theater in Your Pocket
In early 2014, DTS introduced the Headphone:X Tuning Program that offers headphone makers access to tools and support designed to optimize their products to deliver an excellent Headphone:X experience. Leading headphone manufacturers, including Panasonic, Skullcandy and Turtle Beach, have joined the program. Meanwhile, DTS has been working with mobile brands to build the Headphone:X interface, a control center for the technology that contains options for consumers to select their specific headphones from a list, personalize the overall experience to their taste and save the settings as a unique profile, into their mobile products.
It is also worth noting that the Hi-Fi smartphone XPlay 3S debuted by Chinese manufacturer Vivo, is fitted with Headphone:X, offering users access to not only the Headphone:X app, but to content mixed for the technology - allowing them to enjoy immersive mobile content with DTS surround sound anywhere, anytime.
Headphone:X continues to expand its footprint beyond hardware to content owners. After the successful launch of the "Man of Steel" app on Hans Zimmer's Z+ platform, many other original motion picture soundtracks and music albums have been produced in the format.
Play-Fi Certified ODM Program Garners Wide Support
The other state-of-the-art audio solution from DTS is Play-Fi, a wireless audio streaming technology that connects all the music on your mobile devices to one or more speakers in the home for friends and families to share, all over a standard WiFi connection.
According to Chen, "Play-Fi is an advanced open audio platform capable of streaming lossless, high-quality audio from Android, iOS and Windows devices to multiple rooms from multiple users simultaneously using a standard WiFi network. Consumers only need to download and launch the free Play-Fi app, which automatically finds and connects speakers to the WiFi network via any standard wireless router (no need for a costly exclusive receiver), with only five to 10 minutes taken to get the system set up."
To expand the Play-Fi ecosystem, DTS announced earlier this year a Play-Fi Certified ODM Program. The program currently includes several leading audio manufacturers, including: Lite-On Technology, Meiloon Industrial, AmTRAN Technology, Wistron, Zylux Acoustic, Eastech Electronics, Fenda Technology, Hansong Technology and Tymphany. Leading audio brands, such as Polk and Definitive Technology will also soon be rolling out their own Play-Fi speaker solutions, and the technology continues to expand to include personal devices such as mobile phones and laptops.
At Computex Taipei 2014, Asustek will showcase new products to feature Play-Fi, while G-Star will unveil headphones with Headphone:X processing built-in. Additionally, Acer is expected to debut four new smartphones incorporating DTS audio enhancement technology. At this year's Computex, visitors can get a glimpse of DTS' advanced audio technologies, not only at the DTS booth, but at several of its partners' booths as well.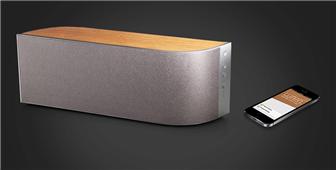 The V5 Wi-Fi speaker of Wren Sound Systems that supports the Play-Fi standard
Photo: Company