Congatec enters industrial Mini-ITX market with motherboard based on AMD embedded G-Series SOC platform
Press release
Tuesday 3 June 2014
Congatec AG, a leading manufacturer of embedded computer modules, extends its board-level product range with the first industrial Mini-ITX motherboard. The new embedded motherboards will meet the same standards and quality as the established computer-on-modules from Congatec. Additional services include 7+ years availability, global technical support, extended manuals, specifications and customized design services.
The Conga-IGX Mini ITX board is based on AMD Embedded G-Series SOC technology and integrates the next-generation computing power of the "Jaguar" based processor and high performance AMD Radeon graphics cores in a compact package.
Users benefit from outstanding multimedia performance, an excellent performance-per-watt ratio and flexible task allocation on the CPU and GPU. Thanks to these features, the new Conga-IGX board is an ideal solution for cost-sensitive visualization and control applications.
"Embedded Mini-ITX is a great addition to our computer-on-module family and extends our embedded computer scalability with a great entrance product on the board level. Additional Mini-ITX boards will soon follow," said Martin Danzer, director, Product Management, Congatec AG.
The right processor technology
Congatec offers three new Mini ITX motherboards on the AMD Embedded G-Series SOC platform. A low-energy 9W TDP 1.0 GHz dual-core processor GX-210HA SOC with integrated AMD Radeon HD 8210E graphics; a dual-core 18W TDP GX-217GA SOC processor model with integrated AMD Radeon HD 8280E graphics; and a 2.0 GHz quad-core AMD embedded GX-420CA SOC with integrated AMD Radeon HD 8400E graphics.
The AMD embedded G-Series SoC platform integrates all the aforementioned demands in a single system-on-chip design. AMD is leading in the development of a heterogeneous system architecture (HSA) which is also fundamental for IoT applications. Furthermore, AMD has developed the embedded G-Series SoCs specifically for power-, graphic-, and cost-sensitive SFF designs. They are available as dual- and quad-core versions and are based on the "Jaguar" CPU core with 28nm manufacturing technology and 8000-series AMD Radeon graphics. They can process more instructions per clock cycle, which is also reflected in the execution of various compute-intensive industry standard benchmarks: Compared to the Intel Atom, the AMD G-Series SoCs achieve a 125% improvement in CPU performance when performing industry-standard compute-intensive benchmarks, according to the vendor. The ability of the SoC platform to support enterprise-class error-correction code memory (ECC) makes it the perfect choice for applications requiring high levels of data integrity without compromising energy efficiency.
The discrete-class graphics, which are integrated into the AMD Embedded G-Series SoC, enable power applications that previously required a separate graphics processor. AMD G-Series SoCs provide up to 20% more performance when compared to the previous generation AMD G-Series processors and a five-fold improvement over the Intel Atom D525 processor. DirectX 11 and OpenGL are supported on up to two independent displays. Thanks to an improved Universal Video Decoder, new opportunities have opened up for hardware-based video encoding. Furthermore, with the open computing language, OpenCL, computing-intensive tasks can be reassigned to the graphics processor with high parallelism. For such applications, the integrated GPU provides a computing performance of up to 256 GFLOPs. This allows AMD Embedded G-Series SoCs to be used in deeply embedded or "headless" IoT appliances, which are used in environments without a screen, monitor or input device and which do not require a graphics solution.
The Conga-IGX features
The integrated AMD Radeon graphics feature the Universal Video Decoder 4.2 for seamless processing of BluRays with HDCP (1080p), MPEG-2, HD and DivX (MPEG-4) videos. The conga-IGX also supports DirectX 11.1 and OpenGL 4.0 for fast 2D and 3D imaging and OpenCL 1.1. Interface options include single/dual channel 18/24bit LVDS, DisplayPort 1.2 and DVI/HDMI 1.4a and enable the direct control of two independent displays. DisplayPort 1.2 also enables ATI Eyefinity multi-display technology for panorama view and multi-streaming, making it possible to control up to two displays per graphics port in daisy chain mode.
The low power draw of the new SOCs also makes fanless designs possible. This not only makes the systems quieter, but also more reliable since unreliable mechanical components such as fans can be eliminated. Sophisticated power management has a positive impact whenever there are wait times in an application. CPU state C6 "deep power down" is available on the multimedia engine as well, making it possible to further reduce power consumption without impairing ease of use since the computer needs less than a millisecond in order to switch from energy saving mode to full computing power.
1x PCIe x4 connector and Mini-PCI Express onboard, Dual GbE LAN onboard, 2x Serial ATA III, 1x mSATA (SATA III) socket support, 7x USB 2.0 and 2x USB3.0 onboard, 8 Bit GPIO onboard, 3x serial port and 1x parallel port onboard allow flexible system expansion at high data bandwidth. DC power supply 12V/19-24V, ACPI 3.0 power management and high-definition audio complete the package.
Ready for IoT
The fastest way for OEMs to integrate the AMD G-Series SoC into their IoT (Internet of Things) designs is by using Congatec's Mini-ITX motherboards. They can be obtained off-the-shelf and are ready-to-use, plus, they boast a broad ecosystem of building blocks such as peripherals, chassis and cooling solutions. This makes system development a comfortable, fast and easy task. However, not just any motherboard is suitable for IoT appliances. OEMs should check for high quality boards with long-term availability. An intelligent board design with high EMC (electromagnetic compatibility), long-lasting components, such as poscaps and an extended temperature range, is essential, if OEMs want reliable IoT appliances. With the premiere of its first industrial motherboard, Congatec has now also transferred its expertise and quality standards of computer-on-modules into the SBC (single board computer) market. OEMs will benefit from the company's high German engineering quality together with an additional services range of 7+ years availability. Further examples of the added value provided are the global technical support, extended specifications and customized design services.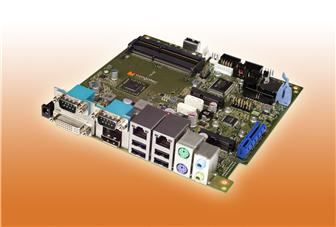 Congatec's first Mini-ITX with AMD embedded G-Series SOC, integrated Radeon graphics on board, and 7+ years availability.
Photo: Company