Conexant takes the lead to drive smarter audio experiences
Sponsored content
Tuesday 3 June 2014
As the world's second largest HD Audio CODEC provider for tablets and PCs, Conexant is gaining momentum in the market by ushering in unique audio solutions that enable a new level of user experience.
The company is focused on driving "smarter" audio capabilities into PCs, tablets, TVs, smartphones, and even wearable devices or a completely voice-controlled home. Conexant's latest AudioSmart technology - a combination of DSP, analog, mixed signal, and software-based solutions - is what will make realizing this vision possible.
Driving innovative audio applications
"We have seen increasing demand for emerging audio applications in a wide range of markets," said Saleel Awsare, Conexant vice president and general manager.
He explained that technologies such as Ultra HD have conditioned consumers to expect the highest quality picture when watching TV, and that this has fostered similar expectations for voice quality in audio. These heightened expectations, coupled with consumers' increasing need to use voice as a user interface in a wide range of applications, are driving industry imperatives for smarter audio solutions.
What does Conexant mean by "smarter" audio?
"We can think about scenarios like having a video chat on a tablet in a noisy cafe, or hands-free control of a smartphone's audio player functions while driving, despite surrounding wind and road noise," Awsare said. "With Conexant AudioSmart technology, you can also wake up your TV with a voice command, or make advanced device control and search activities more efficient by talking to your TV from up to five meters away."
Most voice processing solutions in the market are designed for devices being held within a few centimeters of the user's mouth (i.e., near-field conditions); however, people communicate through and use speech to control a broader range of connected devices today in scenarios where the device is far from the user's mouth and the surrounding noise level is very high. In these situations, traditional near-field voice processing solutions fall apart: they are by definition unable to provide the clear voice communication and accurate speech control that users expect.
Awsare emphasized that high quality, distant speaker (far-field) voice processing is important not only for current applications such as smartphones, tablets, PCs and TVs, it is also critical for emerging applications where the traditional touch interface does not apply.
Conexant's AudioSmart solutions are presently available for TVs, PCs, and tablets. Wearable versions, with extremely low-power and a small motherboard footprint, will be forthcoming soon.
Unique Smart Source Pickup technology
Recognizing that voice is a natural extension of the user interface, Conexant is the first to deliver a solution optimized for only two microphones with wide-ranging placement options for flexible industrial design. The company's AudioSmart software delivers a very high ASR hit rate and excellent voice clarity at distances of up to five meters - an industry first.
It is very challenging to enable clear communication and robust speech recognition when the user is far from the intended microphones. The secret to achieving a high ASR hit rate under these conditions is Conexant's proprietary Smart Source Pickup (SSP) noise suppression algorithm, which is now embedded in the company's AudioSmart standalone software products.
Awsare pointed out that beam-forming solutions from competitors cannot remove an interfering noise source that has the same direction of arrival to the microphone array as the desired voice source. Beam-formers also tend to be effective only when the user is relatively close in proximity to the target device. These limitations make beam-forming a poor solution for today's real-world challenges.
SSP, on the other hand, is a blind source separation technology that uses spatial representation of target speech and noise sources to reduce interference. Unlike competing technologies, speech and noise can arrive at any angle relative to the microphones; SSP even removes noise when it comes from the same direction as desired speech, and when the speaker is up to five meters away from the target device. SSP is also extremely effective at reducing keystroke noise distractions during VoIP conference calls and other computer-based voice communications.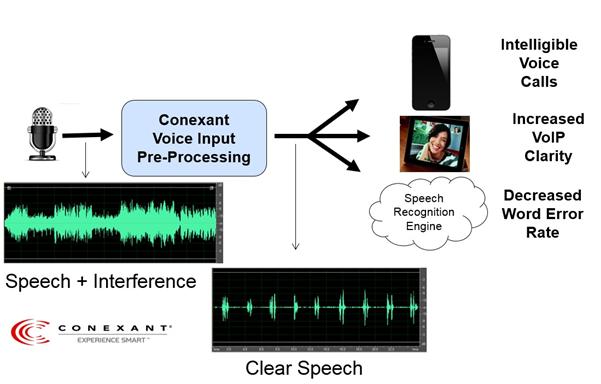 Conexant's unique SSP technology provides clear voice quality for VoIP communication, intelligible voice calls and improved speech recognition.
Photo: Company
Working with tier-one companies
Conexant's smarter audio vision is backed by tier-one TV maker LG. Earlier this year, LG adopted Conexant's far-field voice input processors - part of the company's AudioSmart silicon lineup. LG has implemented the solution in its 2014 TV models.
With the AudioSmart silicon and software solution, LG will be able to deploy televisions that are always listening for a wake-up voice command, and which allow users to talk to the TV from anywhere in the room, up to five meters away.
"Conexant is the only company in the world that provides a far-field voice processing solution with excellent features and performance," Awsare said. He believes that more and more TV and panel makers will see this important value proposition and will use Conexant AudioSmart solutions to set them apart from the competition. In fact, among the top 10 TV makers, seven of them are already Conexant's customers.
"This marks the third consecutive year that tier-one TV manufacturers have turned to us for our innovative far-field voice processing technology," said Awsare. "In the future, the concept of a smarter audio experience will apply to much more than TVs. Conexant's audio solutions with far-field technology will allow people to control everything from their tablets to home appliances using only their voice."
In order to further enhance the value of its AudioSmart solutions, Conexant has teamed up with the leading voice and language solutions provider, Nuance, to integrate Nuance's Wake-Up-Word technology into its voice input processors.
Conexant audio processors, combined with Nuance Wake-Up-Word technology, create context-aware, voice-enabled devices. Additionally, the solution meets worldwide energy conservation requirements with its low-power capabilities.
Nuance Wake-Up-Word technology consists of speech recognition, natural language understanding, and a content ecosystem of Nuance Cloud Services that enable manufacturers, service providers, carriers and developers to create unique mobile experiences across devices and platforms, in more than 40 languages.
"It's important to understand that when we talk about far-field five-meter conditions, we mean that a person's voice becomes a natural extension of the user interface from across the room - not just at arm's length away," said Awsare.
Announcements at Computex 2014
To enable AudioSmart SSP voice and speech processing software for use with any hardware CODEC, Conexant unveiled its new stand-alone AudioSmart software for PCs and tablets at Computex.
"Our AudioSmart software solutions make it possible to harness the power of human speech for a dramatically improved user experience when making VoIP calls or using speech recognition to control a device," noted Awsare. "PCs and tablets are obvious targets for our software, but there are many other applications that can benefit from our audio processing, including handsets, automotive, wearable computing, headsets and more."
Conexant's AudioSmart software has passed stringent testing, and has been proven to dramatically exceed performance requirements for Intel and Google ASR.
In addition, the company also announced the CX20952, a new HD Audio CODEC that enables high quality audio on computers and tablets with low power consumption, two cap-free headphone amplifiers, and a fully-integrated AudioSmart Class-D amplifier that maximizes sound pressure level (SPL) by intelligently optimizing speaker output. The new SoC is designed to meet consumer demand for high quality audio that pushes the limits of sound in tablets and compact PCs.
To get a first-hand look at the new software in action and to further understand the smarter audio applications that Conexant enables, Computex visitors are welcome to visit Conexant's suite at Pacific Business Center PBC Hotel, Meeting Room D during the show, from June 3-5, 2014.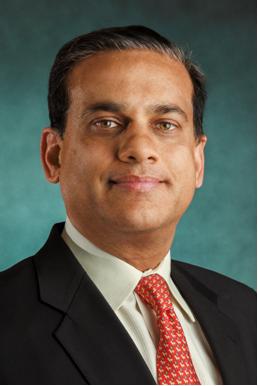 Saleel Awsare, Conexant vice president and general manager
Photo: Company