New chapter of smart cities begins with digital logistics and smart vehicle solutions
Sponsored content
Smart transportation has seen rapid development, and a variety of connected in-vehicle applications have also emerged. As an example of how complex transportation logistics could be, Van Lin, Director of In-Vehicle Computing Product Division at Advantech, explained how the Munich Airport in Germany must support a variety of modes of transportation, such as shuttle buses, luggage carriers, tank filling trucks, and forklifts. In addition, cities require vehicles used in emergency rescue operations and ports need smart transportation management. In-vehicle systems must be in place to provide real-time information management during the entire logistics process, from containers arriving at the port to goods distributed to warehouses and delivered to retail stores.
Services will take up 60% of the smart vehicle market, while hardware and software licensing will take up the other 40%. While Taiwanese in-vehicle vendors have great opportunities to cut into the market, Van Lin reminded vendors they need to be aware of regional market differences. In Europe, the US, and Australia, demand for digital logistics and fleet management is similar, as these markets place a high priority on managing driver behavior and monitoring all vehicle information. Therefore, mid-range and high-end in-vehicle computers are becoming more popular. In the Asia-Pacific region, however, demand has focused on navigation and vehicle dispatch solutions, and in-vehicle computers are usually replaced by low cost black boxes. Therefore, vendors cannot introduce their solutions for the western market directly into the Asia-Pacific market.
While some vendors have focused on logistics and some on fleet management, Van Lin said Advantech provides one-stop shopping solutions which cover delivery from ports to retail stores. The company provides in-vehicle computers for all kinds of transportation. Advantech's in-vehicle products fall into two series, one for on-road vehicles (such as bus, truck, logistics truck, and road rescue vehicle), and the other for off-road vehicles (such as mine carts, forklift trucks, and farm cultivators). Advantech also expects to provide complete in-vehicle computers or value-added services for fleet management vendors such as tire pressure management, in vehicle video analysis, and voice recognition systems. Real-time in vehicle video analysis can detect distance to the front car, handling blind spots, passengers, and lane departure, thereby enhancing driving safety.
The use of GPS data should not be restricted to fleet management, positioning, or tracking, said Van Lin. Instead, the focus must be placed on driver behavior management. Take the US for example. Managing gas consumption, vehicle maintenance, and disaster cost control will only be effective when driver behavior management is applied. The computer must act as a driving instructor. When the driver drives in a strange way or shifts gears incorrectly, the computer will inform the driver that penalty points have been posted to his/her driving record. Instead of waiting for the data to arrive and then send it to backend servers for analysis, the fleet management system should remind the driver of any violations immediately to effectively regulate the driver's behavior. Through effective data collection and real-time management, the system can send maintenance warnings beforehand to prevent unexpected breakdowns, thereby achieving more efficient control of gas consumption and reduction of carbon emissions.
Before smart logistics solutions are introduced to warehouse applications, staff must provide printed inventory records for forklift truck operators to check stock and shipments. The data will then be entered to the computer by office staff. Since the printed data is updated every two hours and must be entered into the system in the office, the process may cause shipment delays. What's worse, the front-end department has to wait for the data to be uploaded before they can find out whether the goods are ready for shipment or in shortage. After the introduction of smart logistics solutions, forklift truck operators can enter stock and shipment data directly to the in-vehicle computer, allowing the front-end department to send shipment notifications two hours ahead of time, making shipments more efficient.
The automobile industry has placed a high emphasis on real-time logistics. By integration RFID systems with the LES (Logistics Execution System), the system can detect material consumption automatically and replenish the materials when they are running low. Computer-controlled unmanned vehicles will then ship the components to the assembly station via specific routes, enhancing work efficiency significantly.
Van Lin used smart buses as another example. Among other public transportation options, smart bus systems can generate the highest return on investment and can enhance the quality of life of urban populations as soon as systems are implemented. Therefore, many cities have deemed smart bus systems as key projects. By introducing smart vehicle solutions to buses, the system can reduce gas consumption and prevent any corruption coming from bus drivers. The solutions can also create new revenues. For example, evaluating the effect of bus ads is much easier than ads in other places as the bus company can find out how many people have seen the ads from the bus camera. With the help of mobile apps, such as encouraging passengers to input a certain number in the ads to win a free ride, passengers will be more likely to pay attention to the ads.
Smart systems can also be applied to police cars to help the police maintain public safety. Besidesvideo analysis solutions, the police also need data mobility. For example, the design of a tablet PC in the car must enable the police to retrieve the tablet with one hand in a split second since police may needs to carry the tablet outside of the vehicle at a moment's notice.
Connected cars play a key role in the age of Internet of Things (IoT). A smart city must meet different demands such as smart buses; however, not only product offering but also business models can be challenging. For example, a smart bus requires the combination of various peripheral equipment and software (such as tire pressure detection sensors, cameras, and voice control software). It is impossible for Advantech to cover everything from development to manufacturing, says Van Lin. Therefore, Advantech hopes to form partnerships with more peripheral equipment vendors and share the market or customer base with its partners. Advantech will authenticate the quality of the peripheral equipment internally before providing it to global customers. By constructing an ecosystem with intelligent fleet management solutions in collaboration with its global partners, Advantech hopes to achieve win-win results.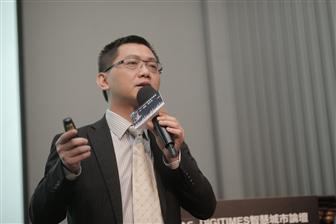 Van Lin, Director of In-Vehicle Computing Product Division at Advantech