Mini Molding Chokes Help Reduce Smartphone Power Consumption
Sponsored content
Tuesday 20 May 2014
Amid strong sales in the smartphone market, mini molding chokes have become the hottest area in the passive components industry since last year. Mini molding chokes are small, have low DC resistance, and are capable of withstanding large currents, resulting in their broad use in midrange to high-end smartphones that emphasize product performance, thereby continually driving related demand.
A report from the ITRI IEK Components Research Department indicates that global market demand for mini molding chokes in 2014 is estimated at 8.7 billion units, with the overall market still in a state of demand exceeding supply. Chilisin Electronics is a major supplier in the industry.
Introducing the World's Smallest Mini Molding Choke
Vendors currently capable of supplying mini molding chokes include Chilisin Electronics, Japan's TOKO, Japan's TDK, and Cyntec (which is part of the Delta Electronics Group). What's worth mentioning is that the HEI (High Efficiency Inductor) series of power inductors introduced by Chilisin at the end of 2013 has properties that outperform those of competitors' and has successfully obtained certifications from many mobile phone customers in the market. In addition, Chilisin plans to introduce an even smaller mini molding choke - the industry's first HEI201208 (2.0 x 1.2x0.8mm) - this quarter. It is expected to meet mobile phone customers' needs in terms of smaller-sized components, making Chilisin an industry leader.
Longer battery life is an important goal for smartphone power management design. Comparisons show that Chilisin's products outperform competitors' in terms of both inductor Q factors under light loading and RDC values under heavy loading. This shows that Chilisin's mini molding chokes perform efficiently both under heavy loading (PWM) and light loading (PFM), meeting efficiency requirements of mobile phones under operational modes as well as reducing power consumption under standby modes.
To promote this product, Chilisin continues to strengthen partnerships with mobile phone chip vendors, serving as a primary solution supplier when mobile phone chips are announced and actively doing design-in with various major vendors. In the first half of this year, most mass-produced models on the market still use 2520 mini molding chokes; beginning from the second half of the year, the 2016 form factor will gradually become the mainstream. But Chilisin is one step ahead of the industry and has already started mass-producing 201210 molding chokes. Mobile phone clients who have adopted this product are expected to expand their orders during the third quarter of this year. It is understood that each high-end smartphone uses about 15-25 power inductors. Currently, Chilisin has a complete lineup of high-end smartphone mini molding chokes in the 3225, 2520, 2016 and 2012 sizes, and they are capable of meeting the needs of different regions as well as different generations of mobile phones.
Continued Optimization with Inductor Arrays Being Added to the Blueprints
Chilisin stresses that with the increase in operating frequencies for chips in mobile phones, power efficiency requirements under light loads are also more and more stringent. A 1-2% difference in efficiency can make the difference between winning and losing an order from mobile phone vendors who try to squeeze out every single drop of power savings. Chilisin believes that its high-efficiency inductor products have significant competitive advantages. Judging from previous experiences with dealing with Japanese mobile phone vendors, it is clear that they care much more about inductor performance than cost considerations. Chilisin has established close partnerships with many Japanese customers through major Japanese dealerships in the form of strategic alliances, in which high-performance HEI series products are extremely popular.
As a follow-up to the current series of HEI molding chokes, Chilisin plans to introduce its UHEI (Ultra-High Efficiency Inductor) series at the end of this year, providing mobile phone vendors with products of even higher efficiency. Furthermore, Chilisin also plans to introduce its MTFA 2-in-1 inductor array products in the first half of 2015, which will make even more effective use of the limited circuit space in handheld devices, providing customers with an even more diverse range of product solutions.
Chilisin has successfully expanded its production capacity for mini molding chokes from 60 million units per month last year to 100 million units per month this year. Through continual improvement of its process technologies, Chilisin has increased its yield to above 80%. Chilisin's executives have stated that since overall market demand has been exceeding supply this year, they plan to continue to expand production capacity throughout the year.
Meeting Different Needs through a Diverse Range of Products
This year's inductor product market has focused on mini molding chokes, whereas Chilisin began strategically planning for the mobile phone market in 2009, which has allowed it to successfully enter the supply chains of various major global smartphone vendors. When you look at why new customers prefer Chilisin, its success in introducing mini molding chokes is one factor. Another important reason for its ability to maintain its competitiveness is its constant improvements in product integration.
Chilisin's products are suitable for DC-DC converters, RF applications, as well as EMI suppression applications. Their constructions, ranging from multilayering or thin-film, to wire-winding or molding, provide the ability to meet the diverse design needs of all types of mobile phone customers. For example, for mobile phone power inductor applications, HEI or MHCD series mini molding chokes can support PMIC circuits, and the metal-based MRSC series magnetic wire-wound power inductors can support step-up circuits for backlighting; for Wi-Fi modules, there are multilayer-process MPB power inductors for small current applications. Over the years, Chilisin has accumulated much knowledge on different types of processes and technologies, and to this day continues to pursue perfection. Chilisin's R&D team has begun to combine and consolidate various different types of process technologies to engage in the development of next-generation products, and it is anticipated that when these products are introduced, they will once again become highlights of the market.
Capability of Vertically Integrating Powders and Processes
Chilisin has always been able to quickly introduce new inductor products in line with the latest trends in the electronics industry as well as different market segment requirements. The key to its success is the fact Chilisin has its own powder factory and the capability of develop powders in-house. Chilisin points out that the Ni-Zn ferrite and metal-alloy powders required for producing inductors is 100% internally developed, without any help from outside sources. Therefore, Chilisin is able to formulate materials based on customer requirements and provide effective solutions rapidly, thereby quickly meeting the needs of its customers in terms of properties and specifications. This is also one of the underlying reasons why Chilisin is able to offer competitive prices.
Chilisin is able to manage a variety of powder materials and it is one of few specialists who simultaneously possess the know-how for developing and manufacturing multilayer inductors, precision wire-wound inductors, thin-film inductors, and molding chokes. Therefore, Chilisin is not only capable of meeting the needs of mobile devices such as smartphones, tablets, and notebooks; it also continues to supply components for various types of products, including PC monitors, LCD TVs, servers, as well as telecommunications equipment. It is now even planning to enter the automotive electronics market. Looking forward, Chilisin's independent materials development and technological capabilities, as well as its diverse market strategies, will continue to inject endless momentum into the company.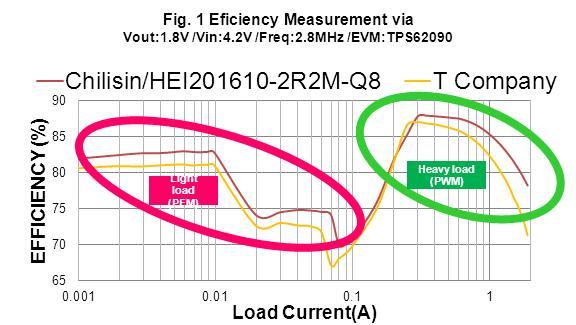 A comparison of Chilisin's and T Company's products
DIGITIMES' editorial team was not involved in the creation or production of this content. Companies looking to contribute commercial news or press releases are welcome to contact us.