New Taipei City building up technology-enabled safe city with smart police administration
Sponsored content
Thursday 15 May 2014
Following the student-led Sunflower protests which lasted about 20 days, most people in Taiwan have come to appreciate the police's hard work on the frontline, as well as the capability of the ever-changing technologies that enabled Internet users to quickly organize demonstrations, adding burdens to police work. The new-generation police have to control and integrate various technological tools to facilitate crime investigation and prevention.
Fortunately, the resources coming from Taiwan's National Police Agency have been a great help enabling local police to adopt technological tools in recent years. Such help has also been coming from local governments' devotion to constructing smart cities, in which smart systems for police administration play a part.
An official from the New Taipei City Police Department, speaking at the recent Smart City Forum organized by Digitimes, discussed the local police's experience in building technology-enabled security systems for the city. Su Ching-Wei, Chief of Information Management Office, New Taipei City Police Department (NTPD), noted that nowadays the police provide the public with 24-hour services all year long, services that can be classified into:
1. Crime fighting - crackdown on crimes and their prevention;
2. Traffic safety - safety around important road intersections, child pick-up zones, as well as school areas;
3. Public security - a duty to make the public feel safe.
The general public in Taiwan usually dial "110" immediately to report a case, even though the case may not fall into the jurisdiction of the police. Therefore It is important to make good use of the smart police administration to enhance police performance and their relationships with the general public.
New Taipei City has a vast territory with a population as many as 3.9 million. Each police officer serves at least 500 people on average, the highest ratio among the five biggest cities in Taiwan. The amount of pressure is conceivable. An NT$1.3 billion budget has been allocated so far based on a SWOT analysis since four years ago to develop a city with a smart police administration, and technology-based security systems. The planned framework involves an expert databases, geographic information systems, M-Police mobile devices, traffic law enforcement and service systems, "110" duty command systems, public security surveillance systems, intelligent image recognition systems, police-civilian joint-security systems, scanning technologies and forensic science, incorporating the real-time information of an incident with existing systems to make the police services more accessible to the public.
Su noted that expert databases in the framework can assist technology-enabled surveillance and crackdowns on crimes. In addition, basic geographic information systems can be combined to enable future expansion. M-Police, a handheld mobile device specially designed for police officers, is IP-65 certified with shatterproof, shockproof and waterproof features, enabling connection to the back-end system database while officers conduct spot checks. It also supports face recognition systems enabling searches for missing people and increasing clearance rates. Traffic law enforcement and service systems, as well as "110" command systems play an important role as well. Police stations have installed many surveillance cameras at road intersections. With a climbing rate of the general public requesting access to such surveillance footage, intelligent video surveillance should be incorporated to ease officers' burdens in the future.
The implementation of this project covers the traffic division, command center, public security division, criminal investigation division and forensic science center in the police department. Su believed that the key to success of this system lies in the extent of integration. It is unlike the conventional closed systems. Police officers at different units are able to acquire necessary information and provide faster services after the integration of all systems.
Integrating demands from police divisions to speed up fundamental services
For example, "The Plan of Information Services for Public Security Management and Decision," which is led by the information office, consists of an intelligence integration center, data storage platforms, geographic information systems for criminal data, visualized crime analysis software, intelligence integration and analytic systems for public security, educational trainings for technology-enabled crime prevention and investigation. The data storage platforms can successfully integrate data produced by the police and information provided by the public to further analyze images, or in combination with GIS, to enable correlation analysis, crime prevention and investigation, and predictions, without any breach of personal privacy.
"The Plan of E-Camera and Surveillance Center" implemented by the public security division helps install and optimize surveillance systems constantly in the vast New Taipei City. Meanwhile, the plan to introduce an ordinance for the management of public security surveillance systems has been made to protect personal privacy. Judging from the statistics for the period between 2008 and 2013, the crime clearance rates showed an upward trend in line with the growth in the number of installations of such surveillance systems.
"The Plan of Enhancement of Professional Abilities in Crime Investigation and Science," which is supported by the criminal investigation division and forensic science center, seeks to renew the digital forensics laboratories and technology-enabled crime investigation units, as well as improving forensic equipment. Meanwhile, the quality of forensic personnel and the functions of forensic databases are enhanced to tackle the growing problem of cybercrime effectively. It has facilitated the investigation of 90 items of cybercrime evidence this year, accelerating criminal investigation and raising conviction rates.
As many transportation units have installed sensors in the public, a traffic information convergence platform, established under "The Plan of Electronic Systems for Traffic Law Enforcement and Services," integrates the transportation department's CCTV system, the Police Broadcasting Service's real-time traffic information system, information from the National Freeway Bureau, New Taipei City Maintenance Office and Institute of Transportation, MOTC. The integrated information is transferred to the traffic division's command center, where assigned personnel are in charge of monitoring the traffic for quick discovery, response and handling. This platform, which is the first-ever installed in Taiwan, aims at enabling smooth traffic flows, according to Su, and it is capable of integrating traffic information like that of car accidents, traffic violations, and others such as construction sites, events, river levels and rainfalls. It also utilizes rankings of congested roads, car speeds, police cars' positions and CCTV to direct traffic effectively to avoid traffic jams.
"The Plan of Improving '110' Investigation and Surveillance Integrated System" is deployed to link crossroads surveillance systems, enhance the functions of reporting systems, integrate geographic information systems, optimize GPS platforms and finally incorporate the iPolice app. When the "110" reporting system receives a report from the public, relevant information and the location of the caller will be displayed so the operator can dispatch relevant personnel to the location displayed on GIS; real-time crossroads imaging systems and GPS are used to control the situations at the scene and enable police officers' handling of them. The iPolice app, which has updated to the 3.0 version, supports the speed dial function for three public service hotlines: the nationwide "165" anti-fraud hotline, the "110" reporting and positioning hotline and the "113" women and children protection hotline. Specific features such as video reporting and push technology are included as well.
It is worth noting that New Taipei City was selected out of 140 cities around the world as one of the cities in IBM's "Smarter Cities Challenge" exchange program in 2013. Su said he asked IBM to identify the key elements constituting smart cities, and received the answer: smart cities must be "instrumented," "interconnected" and "intelligent." New Taipei City was chosen for the IBM exchange because it met all three criteria.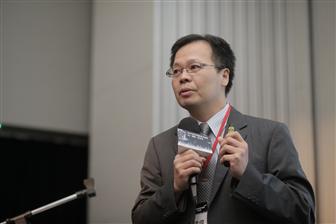 Su Ching-Wei, Chief of Information Management Office, New Taipei City Police Department (NTPD)