The Taoyuan Core Aerotropolis Project Plays a Critical Role in Driving the Golden Decade National Vision
Sponsored content
Wednesday 14 May 2014
In the past several years, various cities and counties in Taiwan have actively participated in the ICF's Intelligent Community Awards and have continually done well, showing that Taiwan's efforts and accomplishments in building smart cities have won recognition from global experts. The "Taoyuan Core Aerotropolis Project" that the government is currently working on will further demonstrate to the world Taiwan's ICT capabilities as well as its industrial and economic prowess.
In a competitive global environment that emphasizes speed, efficiency, and low-cost, Taoyuan's Aerotropolis will not only act as a hub for connecting Taiwan with the rest of the world, but will also be a driving force for Taiwan's smart city industry.
Taking Advantage of its Strengths in the ICT Industry, Taiwan Engages in the Development of Smart Cities to Create Industrial Restructuring Opportunities
Men-Feng Wu, Administrative Deputy Minister, MOTC, points out that ever since IBM proposed the "Smarter Planet" concept, infrastructures and industrial applications related to smart cities have virtually become a must-have component for national construction projects as well as economic and industrial development policies.
Guided by the Golden Decade National Vision, the Taoyuan Core Aerotropolis Project is the flagship project of the government's Maritime and Aviation Hub initiative, which will drive Taiwan's economic restructuring and boost economic development. The Taoyuan Aerotropolis is not only Taiwan's largest regional smart city construction project, but also a key driver and indicator of the evolution and restructuring of Taiwan's ICT industry.
The management and judging for the global Intelligent Community Awards is currently carried out by the ICF (Intelligent Community Forum). The ICF, established in 1985, became an independent organization in 2004. The ICF was founded by the nonprofit organization WTA (World Teleport Association), and includes members from over 40 countries and regions, including Canada, the United States, France, England, Russia, and Japan.
Men-Feng Wu points out that in this global wave of smart city development, many of Taiwan's counties and cities have actively participated in ICF's Intelligent Community Awards, and they continue to do well, proving that Taiwan not only has developmental advantages in the field of ICT, but under cooperative efforts between government and industry, Taiwan's achievements in terms of smart city development have also won recognition from global experts.
The Government Actively Pushes Forward the Taoyuan Smart Aerotropolis Project
Wu states that in order to achieve the construction and services goals of smart cities, we need help from next-generation IT technologies. For example, by taking advantage of the Internet, IoT, cloud computing, the integration between mobile devices and smart terminal equipment, as well as 4G mobile broadband, we can build complete smart living environments through the establishment of highly intelligent applications. Wu stresses that the various ICT software/hardware equipment requirements of smart cities, as well as the range of diverse innovative services created when architectural integration is carried out, have a chance to bring explosive growth to Taiwan's economy and tech industry.
Taiwan Once Caught on to the Wave of the Global PC Boom and Will Again Climb to the Top of the Global Industry amid the Smart City Boom
In the 1980s, Taiwan successfully caught on to the wave of the global PC boom, allowing it to lay a solid foundation in the technology industry, which not only created impressive economic growth for Taiwan, but also built Taiwan into a globally renowned "Computer Kingdom" and "Tech Island."
Wu also states that for Taiwan, smart cities are not only the key to the restructuring of the PC and technology industries, but also an opportunity for its manufacturing and services sectors to provide value-added services using the IoT and cloud computing. In order to take advantage of this opportunity, the government will have to work closely with the private sector, and companies will have to engage in tight communication as well as interaction with consumers. Development of the smart city industry will be the best opportunity for Taiwan to develop and transform itself since the PC boom.
Combining Resources from Industry, Government, Academia, as well as Research Institutions to Explore the Needs of Users in terms of Smart Services
Taiwan's industries must maintain a grasp on the development of the global smart city boom and strive to keep up with its pace. Furthermore, Taiwan's industries, government, as well as academia should look into what the true needs of users are, allowing smart cities to include even more value-added user-friendly applications instead of just being "smart," thereby marching one step further to creating intelligent cities.
From a practical perspective, smart cities will bring economic productivity, more room for industrial development and innovation, as well as even more opportunities for employment and entrepreneurship. From a cultural perspective, smart cities are an attitude toward life as well as an evolution of the mindsets of the general public, representing a quantum leap forward in terms of urban culture, cultural exchange, and the environment around us.
Wu further states that if all of Taiwan's industries could break through the simple production and contract manufacturing models of the past and evolve into total solutions and services providers, a new era would be created for Taiwan's smart city industry, allowing consumers as well as the general public to enjoy the convenience, comfort, and safety brought about by smart services in the communications, transportation, shipping, law enforcement, tourism, consumer, education, and healthcare sectors.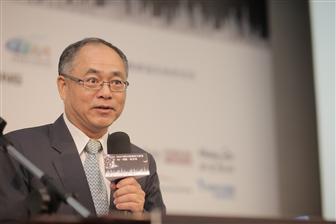 Men-Feng Wu, Administrative Deputy Minister, MOTC