Northern Europe demonstrates good example of integrating IT and ICT advantages to help Taiwan become a paragon of smart city development
Sponsored content
Monday 12 May 2014
Northern Europe can be seen as a pioneering region and offers the most successful example of the development of global smart cities. Local governments actively engage in construction projects including informatization, implementing mature unmanned stations, managing offshore construction and developing fjord tunnels. Taiwan, as the key hub for global ICT (information and communications technology) R&D and manufacturing, can elevate itself to become a shining example of an Asia smart city leader by using the experience of northern Europe's smart cities as an example to follow.
Colley Hwang, president of Digitimes, noted that while Taiwan's media has mostly been focusing its coverage on the recent student protests, Hwang traveled to northern Europe to uncover insights into the region's success with the aim of sharing his observations with players from Taiwan industry. While industry leaders, government officials and university professors are proactively laying out strategies for the development of smart cities, the development of Taiwan's smart cities will also have northern Europe's successful experience as a reference.
Talking about his experience regarding northern Europe, Hwang revealed that when he was working at the Institute for Information Industry (III) in Taiwan in 1985, one of his responsibilities was to look up export declaration data of Taiwan companies from customs every month, where he found that countries in northern Europe accounted for a significantly high portion of overseas shipments from major Taiwan PC vendors.
Governments in northern Europe promote education, building a foundation for the development of smart cities
From Hwang's observations of the development of global informatization, he noted that northern European governments started devoting resources to IT education in the late 1980s. Although the tax burden in northern Europe is considerably higher than that in Taiwan with almost a 50% income tax imposed on citizens, the government has deployed all kinds of tax credits and incentives to promote IT education among citizens, boosting their motivation to enhance the quality and transition to an information-based economy.
For instance, people in northern Europe could get tax credits for purchasing home computers, which helped cultivate a PC culture. Moreover, the implementation of numerous policies for improving informatization enabled a transition to an information economy early on, and helped drive investment in complementary Internet networks, which quickly developed to rank among the best in the world. Through the constant long-term development of informatization through 30 years of education, these governments paved a way for integrating various IT services and ICT applications, which are the core of smart cities, into the lives of their citizens.
From unmanned stations to electronic payments, northern Europe incorporates smart services into life
Hwang offered his personal observations from his trip to northern Europe. He saw unmanned transport stations and industrial applications provide deliberate and comprehensive services that demonstrate informatization and make life easier. For example, a trip from Giethoorn to the Keukenhof Tulip Gardens in Netherlands requires taking a train and then transferring to a bus. All the travel tickets and checked luggage were purchased on websites and completed at unmanned counters. The connection between trains and buses during the trip were fully enabled by IT, enabling tourists to correctly complete transfers using different types of transportation, while free and high quality Wi-Fi was provided on trains.
Hwang indicated that another amazing experience of smart cities is taking buses in northern Europe. From his experience, the most troublesome question concerning taking buses was that people could not accurately estimate the arrival time at stops, resulting in wasteful and meaningless time spent waiting for buses. From his experience changing buses during his trip, he learned that buses in north European countries kept to a set schedule to an extent that passengers could accurately estimate the arrival time of different buses and better utilize their own time.
Northern Europe uses service incentives to attract the public to enjoy using services offered by smart cities
Hwang noted that purchasing train tickets at a ticket window in a station in northern Europe is not the smart way to travel. Buying a train ticket on the Internet is rather convenient in northern Europe. Although ordering online and collecting tickets at the station is a very simple service and concept, the biggest issue for making this type of service successful is learning how to engage the public to use the smart service.
Northern European countries try to optimize incentives for using smart services as much as possible in order to accelerate the process of integrating convenient services of smart cities into life. For instance, passengers purchasing train tickets at a ticket window in a station are required to pay a 0.5 Euro service charge. On the other hand, if you purchase the ticket online, there is no service charge. As a result, there is a financial incentive to use the most practical and efficient way of purchasing tickets, which in turn cultivates a habit of purchasing online and further optimizes the development and integration of smart services.
Northern Europe utilize policies and tax incentives to speed up the penetration of smart and energy-saving applications
Another of Hwang's discoveries came from observing Norway. He noted that Norway has abundant oil in the North Sea, but electric cars represent a 12% share of the market, making it the country with the highest ratio of electric cars. Even an oil-producing country like Norway is dedicated to the development of electric car industry for environmental, smart and energy-saving reasons, providing an example of the nation's attitude toward life. In Norway numerous taxis utilize electric cars produced by Tesla Motors, a major American electric car vendor. Tesla electric cars are priced at around US$110,000. Expensive electric cars like Tesla can't be used as commercial cars without the government's support of tax credits and policies.
Hwang discovered that the high market share of Tesla electric cars can be attributed to not only commercial cars like taxis, but also to the public. People who buy electric cars benefit from electric car charging stations being available everywhere, tax credits, toll discounts, and even preferred parking spaces. Local governments attract people to convert from traditional fuel vehicles to pollution-free and environmental electric vehicles by granting them the convenience of freely using disable parking spaces. Combining policies with a convenient social infrastructure to stimulate a high-penetration rate of electric cars is an example that should be noted by the Taiwan government.
Taiwan has an opportunity to become a model in Asia with its ICT advantages
Hwang also shared his deep feelings from his observations of Denmark. Upon alighting from his flight in Denmark, he saw a gigantic wall advertisement saying "Welcome to the world's happiest nation." He then discovered that this public service advertisement was a big billboard sponsored by the private sector company Carlsberg, which has been a long-time supporter of the Danish royal family's Frederiksborg. Hwang noted that Norway and Denmark are not extravagant at all despite their wealth. The private sectors in these nations are willing to make contributions to society and governments invest money in long-term projects targeting smart cities and green energies.
Taiwan's interaction with northern Europe extends beyond simply purchasing salmon, lumbar and traveling. The total invested amount of Norway's Sovereign Wealth Fund in Taiwan has exceeded US$8 billion as of the end of the first quarter 2014. This seemingly enormous amount accounts for only 1.4% of Norway's Sovereign Wealth Fund. There is still plenty of room for growth in cooperation between Taiwan and Norway.
In the early stages, technology industries such as Acer and Copam gained profits from northern Europe. Assembled computers were shipped to northern European countries in large amounts. Nowadays most IPC firms customize host boards adopted by northern European countries are developed and manufactured in Taiwan. In terms of developing smart cities, Taiwan possesses superior ICT hardware technologies to help develop smart cities. If Taiwan can borrow from northern Europe's successful experiences in developing smart cities and even establish technical cooperation with northern European countries, it will stand a better chance of turning itself into a paragon of building smart cities in the East Asia region.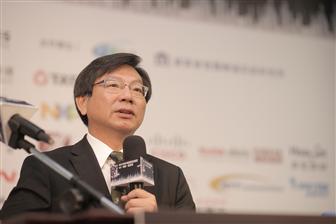 Colley Hwang, President of DIGITIMES