Radiantech brand new optical communication product synchronizing with the world
Press release
Monday 12 May 2014
Cloud computing has become more and more matured in recent years. Various networking platforms, online application services, mobile hand-held devices and Data Centre are massively booming. Either enterprises or consumers are eagerly demanding for bandwidth of the internet and optical fiber set-up which has made fiber communication related equipment, products and prospective development in techniques more emphasized by the general public. Fiber communication measuring equipment is simply a part of fiber communication industry and is inevitably important.
Radiantech was established in 1990 and headquartered at Hsinchu Science Park. OEM was the dominant part of the business along with its branding. Up until now, Radiantech MIT is promoting its own brand across the globe. Radiantech is the researching and developing manufacturer of OTDR in Taiwan with its own core technique and innovative modular OTDR as well as USB power supply patent.
Radiantech team has devoted themselves in developing, innovating and simplifying product at all times in these years; meanwhile, improving testing speed, accuracy and the convenience is necessary and imperative, says the CEO of Radiantech. Therefore, Radiantech OT-9000 series has jumped one step ahead of others to be the first one applying OTDR to the Android Tablet/mobile phones/laptops and weighs only 190gs which is the lightest OTDR in the world. Apps can be easily downloaded and updated in a blink through Google Play platform. A perfect combination of the USB interface to connect portable plug-and-play devices and APP to the product has created a complete touch screen and efficiency of automatic analyzing. Intuitive operation is applied to provide FTTH, CATV and PON fiber network testing to accomplish the purpose of fast installations, maintenance, delivery and repair.
Radiantech has proactively headed towards system integration field since 2005 and founded software development team together with being in control of key software/hardware and system techniques. Real-time fiber monitoring alarm system was created. FOMA (Fiber Optical Monitoring Alarm System) is invented by Radiantech its own development which has successfully provided customers premium real-time monitoring projects. The system is comprised of diversified controlling test units, central monitoring servers and related software interface. It is primarily the alarm system of remote control fiber (P2P) and PON fiber (P2MP). The ground-breaking
"hot swap" modularized, centralized and customized design offers excellent convenience and saving cost in installations and maintenance. Radiantech FOMA system can be compared to the public health-check system. It has self-faulty temperature detection on a regular basis and at any time which diagnoses the abnormalities before activates OTDR to locate the faulty along with alarming mechanism to achieve automatic fiber monitoring management. It is an economical and efficient real-time fiber monitoring alarm system.
Other products of Radiantech's including integrated/modular OTDR, optical power meters, light source, intelligence system and optical communication can be found on the official website (http://www.radiantech.com.tw/).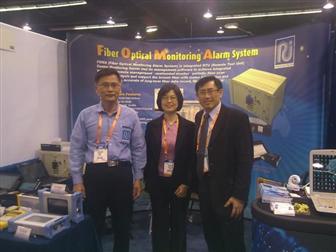 Radiantech CTO William Chang(L), CEO Sharon Sung (M), T&M AVP Josh Kuo (R)
DIGITIMES' editorial team was not involved in the creation or production of this content. Companies looking to contribute commercial news or press releases are welcome to contact us.