Smart payment tools and innovative applications
Sponsored content
Friday 9 May 2014
Consumer payments have developed from using paper, to magnetic stripe cards, to integrated circuit (IC) cards, and eventually, to chip cards. The evolution from magnetic stripe cards to chip cards is a response by the card issuing agencies to growing consumer concerns about payment safety. Furthermore, moving from chip cards to Near Field Communications (NFC) or even to Online to Offline (O2O), a type of value-added payment method that integrates marketing, will bring more potential benefits to the consumer market as part of the emerging smart city ecosystem.
Telecom carriers and banks to develop popular mobile payment applications
According to Jason Kuo, Advisor, APSCA, Taiwan-based telecommunications carriers and credit card-issuing banks have been eager to develop the mobile payment market. With the Taiwan government issuing 4G licenses, some 4G telecommunications carriers plan to develop mobile payment solutions using 4G technology to create a more convenient way to pay, in the hope of gaining market share.
The rising popularity of the Internet and Internet transactions make e-commerce payment applications more favorable especially as 3G/4G wireless data services begin to expand. The rising demand for mobile Internet applications and smartphone devices has contributed to the increasing popularity of e-commerce. New business models can be created by having smartphones support O2O and indoor positioning systems (IPS) in order to integrate various marketing applications.
Mobile payment applications challenge traditional payment methods
The process of purchase and payment has been upgraded from the traditional cashier to smart point of sale (POS) systems. Furthermore, payments can be completed using personal computers, tablets, and smartphones. Payment methods that use smart devices are faster, can achieve a higher level of safety, and can reach the goal of "every device is a shopping device".
In the past, consumers needed to see TV advertisements or direct marketing materials (DMs) to obtain product information, but now with smartphones, consumers can obtain product information from the Internet which is faster and more abundant. Hence, consumers no longer have to go into department stores to compare products and can use smartphones and mobile networks to obtain information such as user comments. In addition, the online-sharing of user experiences, product reviews, purchase location, payment methods, and bids can all be done through smartphones and mobile networks. This simplification shortens the time between desire and purchase. This also means retail stores will face many opportunities and challenges.
Integrating digital payments with network technologies to increase the smartness of the shopping process
The next stage of digital payment technology integration should not only consider the technological aspects, but also business opportunities from providing value-added services to meet consumer demand. For example, when using e-commerce platforms, users often need to input delivery addresses and personal information into the different checkout platforms, and it is quite difficult to type on mobile devices. Hence, some firms have introduced cloud services that allow users to store their personal information or payment methods so they can be automatically entered into forms when needed. This allows e-commerce to be more seamless and quick, while users do not have to memorize multiple account names and passwords or use low safety accounts to make transactions.
Payment is only one step in the purchasing process, as user recommendations depend on the entire experience. Smartphones, which can provide users with price comparison and product information before making purchases, are key to driving consistent consumption behavior. In addition, the next generation of mobile payment smart services with O2O value-added applications could create consumption experiences that are superior and more complete. Other than digitalizing payment tools, adding smart features to conventional consumption methods as consumers purchase things in stores, using store credit, credit cards or through O2O, will be key to improving the shopping experience.
As for the value-add of mobile payments, telecommunications carriers have the advantage in developing applications, such as using Location Based Services (LBS) to direct product information to a consumer's smartphone. Telecommunications carriers can also use text messages to guide users to product information. Regardless of technology, using the combination of text messages with services can help to build a more comprehensive and smart shopping experience and provide consumers with payment details to control expenses. Applications could also provide consumers with shopping lists or price comparison services. This is close to the ideology of zero-retail. Comparatively, traditional credit cards or store credit cannot effectively connect with smart services, hence these payment methods cannot have the same effect as O2O marketing shopping guides.
Mobile wallet is core to mobile payment development
Handsets have become an important identification tool for each person in the mobile network environment because it can be used as a wallet that contains personal identification, personal discounts obtained through the Internet (such as coupons, membership cards, and tickets), or confidential information and cards (such as credit and debit cards) that are stored securely on the handset. Users can conduct remote transactions or use NFC, scanned QR codes, barcodes, and Bluetooth Low Energy (BLE) to interact with different stores.
To bring users tangible benefits from mobile payments, the first stage in the development of mobile wallet platforms is to attract users to use the service daily by introducing products such as single-payment cards with discounts. The second stage is to expand the number of users and attract more companies to join to increase the convenience of mobile payments. The third stage is to expand to firms in different industries with services such as electronic receipts and point-collection services to create a mutually beneficial relationship between consumers, banks, and firms.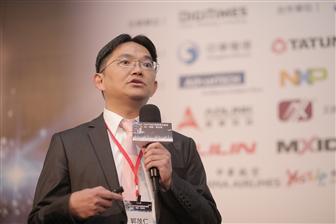 Jason Kuo, Advisor, Asia Pacific Smart Card Association (APSCA)