4G Trends and Smart Applications
Sponsored content
Friday 9 May 2014
Improving mobile data communication technology plays a key role in constructing a smart service network in smart cities. Currently, 4G Long Term Evolution (LTE) mobile data transfer technology is the most popular. In addition to countries such as South Korea, Japan, and Singapore that have been aggressive in building 4G commercial services, Taiwan began issuing 4G licenses in October 2013 and Taiwan-based telecommunication carriers will begin to provide 4G services by the end of 2014.
In the blueprint of smart city planning, mobile telecommunication networks play a crucial role as machine-to-machine (M2M) and Internet of Things (IoT) netoworks, and the need to stay connected using various smart devices all rely on the support from the mobile data transfer technology. Although the current 3G technology may still satisfy demand, it is inferior to the new generation 4G LTE and 5G technologies in terms of data transfer speeds. The new technologies are much better than 3G in overcoming transmission lags, and their transmission efficiency is 10-100 times better than 3G. The 4G and 5G technologies will be key ones in smart city developments.
4G LTE technology showing great leap in data transfer efficiency
According to Kevin Wang, Senior Director, NTT TAIWAN, when talking about smart city developments, one has to mention the development of 4G mobile data transfer technology. The 3G High Speed Packet Access (HSPA) can achieve a transfer rate of 7.2Mb/s, but 4G is 10 times faster with the data volume three times as big. Even the transmission lag is only one-quarter of that in 3G.
The 4G technology not only helps users and system integrators, consumers can download large volumes of digital content such as music and videos at faster speeds with less lags. This means consumers can have better user experience with different services while spending less time on downloading. For service providers and system integrators, 4G networks can increase service efficiency of base stations and achieve faster and smoother integrations of smart services.
Taiwan telecom carriers can follow the path of Japan DoCoMo
Wang noted that Taiwan-based telecom carriers can follow the path of Japan-based telecom carrier NTT TAIWAN DoCoMo in developing 4G or even 5G mobile technologies. The 4G era picked up momentum in December 2011 when more than 50 telecom carriers around the world started making deployments for their 4G commercial services, with another 190 planning to follow suit. The total LTE users worldwide by December 2015 will likely reach 320 million. Japan NTT TAIWAN DoCoMo introduced LTE services in 2012 and has since been expanding them.
Wang stated that while Taiwan did not start issuing 4G licenses till 2013, Japan's mobile telecommunication industries have already begun talking about 5G. For DoCoMo, 5G involves LTE Advance technology. A comparison of LTE Advance with the current 4G technology shows that the former has superior performance in improving delays and data transfer efficiency. Theoretically, LTE Advance technology can achieve data transfer speed 10 to 100 times faster than 4G technology, and hence it is a solution worth developing.
4G service construction requires strong financial support
In DoCoMo's planning, Japan's 4G wireless data transfer speed theoretically can reach 1Tb/s by March 2016, but LTE Advance technology is likely to offer 10 times faster speeds at 100Mb/s-10Tb/s. The reason LTE Advance can reach such high efficiency because it adopts C-RAM Architecture. This architecture categorizes users by data usage in each base station. For example, for base stations in crowded places, the technology can group high-usage users together and use Carrier Aggregation technology to enhance data services of that base station. It then uses Macro Cell and Add-on Cell technologies to improve user experience for high-usage consumers. This new structure makes sure users have optimal data transfer quality even in crowded places.
Japan introduced LTE commercial services in 2010 while Taiwan just recently issued licenses. Taiwan-based telecom carriers can follow Japan's path. Wang noted that Japan DoCoMo invested US$350 million in LTE technology in 2010 and focused on metropolitan areas such as Tokyo, Nagoya, and Osaka. Japan DoCoMo constructed 1,000 base stations with 800 in Tokyo, 100 in Nagoya and 100 in Osaka. In 2010, LTE service coverage was only 7% of the total population. In 2011, DoCoMo invested JPY100 billion (US$1 billion) in LTE services, which is almost three times that in 2010. The investment was to build base stations in various towns, areas, and prefectures in Japan, expanding the number of its base stations to a total of 5,000 with LTE service covering 20% of the total population. In 2012, the firm invested US$1.7 billion to construct base stations all over the 9major cities in Japan. The total number of base stations reached 15,000 units with coverage increasing to 40%.
Upgrading from 3G to 4G can help carriers expand the number of users
In 2013-2014, Japan has more than 20 million users using LTE data services, ranking third in the world. Japan is not the only country gearing up development of LTE services; in fact, South Korea is the country that has invested the most into LTE commercial services. In 2013, South Korea's LTE coverage reached more than 62% of its total population, ranking number one, followed by Japan and Singapore in second and third places, respectively. LTE services are far more popular in Asia compared to countries in Europe or the US.
Take Japan DoCoMo's LTE development for example. In 2014, the number of LTE base stations will reach 35,000 with coverage reaching 70%. DoCoMo plans to increase investments to JPY400 billion (US$4 billion) in 2014. Wang pointed out that currently, one-third of the users in Japan use 3G networks to stay connected, and hence DoCoMo hopes higher 4G coverage can push more users to adopt LTE services. The firm has set the goal of increasing the number of base stations to 100,000 by March 2015. If this target is reached, the coverage will increase to 98% and the number of LTE users may increase to 30 million, approximately one-quarter of the population in Japan.
Taiwan has many 4G carriers and value-added services are key to success
Taiwan recently completed the issuing of 4G licenses and service planning is the key for firms to expand the number of users. Wang stated the firms that have obtained the 4G licenses in Taiwan are three large-size firms and three small-size firms. The three large-size firms are Chunghwa Telecom (CHT), Far Eastone, and Taiwan Mobile. According to market analysts, CHT plans to begin LTE services in July 2014 and sets an initial target of 300,000 users. The firm hopes to achieve the goal of one million users by 2015. Far Eastone plans to introduce LTE services in the third quarter of 2014 with a target of 700,000-800,000 users. Taiwan Mobile also plans to begin LTE services in the third quarter of 2014 with a user target of 400,000-500,000. The three small-size firms that have obtained the 4G licenses are Asia Pacific Telecom, Ting Hsin International Group, and Ambit Microsystems, a subsidiary of Foxconn. Asia Pacific Telecom plans to begin LTE services in the third quarter of 2014 while Ting Hsin and Ambit Microsystems plan to introduce the LTE services in fourth-quarter 2014 and the beginning of 2015, respectively.
Wang noted that LTE services are useful in expanding customer bases and improve user experience due to high data transfer speeds and low delays. LTE's higher quality data transfer technology may sound attractive, but the market challenge is still quite substantial. The 4G LTE technology has the same problems as those facing the previous technology, Global System for Mobile Communications (GSM). LTE services have a complicated division of frequencies in different areas and hence roaming might be a problem. This problem can be solved if handset makers and telecom carriers work together. In addition, although 4G LTE shows a great leap in efficiency, if telecom carriers do not provide killer apps for their LTE services, it would be harder for them to reap profits from this new technology.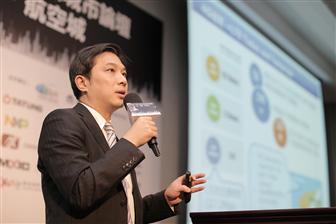 Kevin Wang, Senior Director, NTT Taiwan