Managing digital documents in the cloud by consolidating information from digital and paper sources
Sponsored content
Thursday 8 May 2014
Demand for creating a paperless environment through document digitization has surged. However, Maggie Shu, Sales Manager, Document Imaging, Kodak Alaris Taiwan Ltd., has pointed out that for many documents such as contracts, consent to operation, proof of payment, delivery receipts, insurance contracts, compensation documents, and birth certificates, the original still needs to be kept due to legislation or management requirements. How to maintain hardcopies has become a challenge for many enterprises.
Our lives are connected to all sorts of documents. From the day we are born until we die, lots of information must be presented on paper. Despite the growing availability of information technology, paper still plays an important role in our lives, and so effective integration of hardcopies with digital systems has become an irresistible trend.
According to Shu, enterprises need to manage a huge amount of information. While different methods of data processing may be adopted by each enterprise, all data is centrally managed in the end. Depending on the user, data inquiry and storage locations can vary, leading to many management challenges such as finding documents, ensuring versions are up-to-date, consolidating different versions of a document, ensuring hardware/software security, and deleting documents or removing mistakes.
To maintain hardcopy information, documents must be scanned to digital files. In the past, it was difficult to file and classify scanned materials. Nowadays, data can be entered rapidly using barcodes and page coding. These data entry methods also improve accuracy as well as storage and management efficiency.
Shu pointed out that different scanners should be used due to differences in paper texture and the number of pages. This helps ensure a consistent level of quality for the scanned images whether they are from onion skin paper with high durability, anti-copy paper, hardboard paper (for national health insurance cards or ID cards), or documents with pencil or ball-point pen marks.
For example, the Fiscal Information Agency of the Ministry of Finance has to process over 580,000 pieces of tax data every month, equivalent to the need to digitize over 24,000 pieces of data every day (tax slips). Apart from scanning the materials, the agency must build a database of the scanned results in order to allow effective data inquiry and management.
Shu said efficiency at the scanning stage is important for streamlining, digitizing, and mobilizing a huge amount of information, and imaging software is the key to enhanced scanning capabilities. For instance, high-speed scanning is not just about speed but also about automatic gradient calibration and noise reduction. With these features, the scanned document can look exactly the same as the original hardcopy.
Another key issue is how to share scanned documents efficiently. With the help of OCR (Optical Character Recognition) software, scanned content can generate index information such as barcodes, account numbers, company names, and addresses automatically during scanning. In addition, OMR (Optical Mark Recognition) technology can be used to process survey tables and other check tables. OMR can accurately recognize marks in a specific area and populate data in corresponding index fields.
Shu also mentioned the problem of information overload. As global clients, partners, and co-workers need to access the same documents, the cost of distribution and collaboration has stepped up. Complicated and dynamic networks also bring severe challenges to enterprises when sharing and managing data.
Through scanning and imaging solutions, enterprise needs can be met. For example, users can configure scanning profiles easily using KIAS (Kodak Info Activate). Simply pressing a button allows a document to be scanned and saved as images. Users can also customize the workflow to import, search, and access the most important documents, thereby reducing business workloads.
Kodak Info Activate provides image enhancement technology which optimizes readability, along with OCR-assisted manual indexing that is accurate and fast. For example, the auto-focus OCR function enables words to be populated in a corresponding index field simply by tapping on a word.
The operation of Kodak Info Activate is easy, and its intuitive user interface shortens the learning curve. All you need to do is put the document in place and wait for the work to be done. Kodak Info Activate also allows you to capture documents, create an index, and submit image data on Android or iOS smartphones. The mobile version of Kodak Info Activate can be downloaded from the Apple App Store or Google Play.
With the Kodak Alaris document imaging solution, customers can access, process, and consolidate information from digital and paper sources easily and quickly, significantly improving information utilization and value.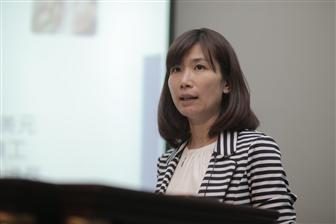 Maggie Shu, Sales Manager, Document Imaging, Kodak Alaris Taiwan Ltd.