Solving Urbanization Challenges and Demonstrating General Value with Smart City Development
Sponsored content
Thursday 8 May 2014
The themes of the International Smart City Forum in 2014 included 4G, Internet of Things (IoT), and the aerotropolis. According to Ruey-Beei Wu, President, Institute for Information Industry (III), a total of 135MHz of bandwidth for 4G operations was auctioned in Taiwan in 2013, raising NT$110 billion. The government will invest more than NT$10 billion in projects that accelerate the availability of 4G applications, and 4G is indeed a key future trend.
For the development of IoT, Wu said Morris Chang, chairman TSMC, also agrees that IoT is the next big thing and will generate demand for advanced packaging, smart sensor devices, and low-power-consumption components.
As for the aerotropolis project, the government will make an investment of over NT$100 billion to establish the Free Economic Pilot Zone, which consists of six major seaports and one airport. The project will push Taiwan to the next stage in the development of smart cities.
Smart city development must be planned through a top-down approach, with thorough arrangements in place to address different needs. For example, people's daily needs are the most important requirements for smart city development. Therefore, each city must be developed differently to achieve different goals such as the development of smart transport for traffic jam problems and flood control solutions for areas prone to flooding.
To achieve further progress in the development of smart cities, economic growth must be transformed into support for people's needs. Wu also emphasized the importance of universal value such as environmental protection, health, education, and human rights.
With an increasing number of people moving to cities, urbanization has intensified. Therefore, the development of smart cities must be able to address demand from a huge population. Wu thinks ICT technologies such as cloud computing, big data, wireless broadband, social networks, and information security will play a key role in solving the abovementioned problems.
In recent years, foreign countries have seen the development of smart city-related ICT technologies which have bred many business opportunities. In June 2013, Google acquired Waze for nearly US$1 billion to help its integration of social networks and e-map. Through the information from social networks, drivers can access more real-time information such as road safety, traffic routes, and suggested gas stations. These efforts have brought about the era of smart transportation.
In early 2014, Google acquired smart home appliance company Nest for US$3.2 billion. Nest's main products include temperature control systems and smoke detectors widely used in American homes. Purchasing the company with IoT technologies at such a high price not only serves as a solid indication that Google is eying the smart home market but also indicates business opportunities brought about by mobile phone apps, wireless applications, social networks, and cloud computing for smart cities.
Taiwan has achieved significant results in smart city development, said Wu. New Taipei City and Hsinchu City have been selected as the candidates of seven global leading smart cities by International Smart City Forum. Taipei City, Taoyuan City, and Taichung City have all won the award before, indicating the strong potential of Taiwan's urban infrastructure.
With the support of the government's Free Economic Pilot Zone initiative, Taiwan's ICT industry will enjoy great advantages in the sensor market, stated Wu. The government-led platform will provide vendors with an outstanding environment to test and promote a variety of applications.
The Taiwan Taoyuan International Airport handles 30 million travelers a year. Smart technologies can thus be integrated with various applications such as transport, sight-seeing, shopping, and logistics, allowing foreign visitors to access information in need or providing more secure consumption services for them as soon as they get off the plane. These advanced business applications are all worth to be developed.
When shopping in a duty-free store in the airport, consumers can claim for a VAT refund using their mobile phone apps. They can also have the products delivered to designated locations using smart logistics services. As soon as they return home, the products will have arrived at their destinations.
The Institute for Information Industry has spent a lot of efforts establishing a demonstration zone in areas near Taoyuan Aerotropolis. According to Wu, Taiwan's high-quality, affordable medical treatment, friendly services, good public safety, and adequate privacy protection has made it the best place to develop smart healthcare in the Asia Pacific region. The combination of advanced virtual medical care and the cooperation with overseas research institutions in talent training will enable Taiwan to expand to the education market.
Cloud IDC also posts great opportunities for Taiwan's future development. With the integration of the abovementioned technologies and platforms, the smart aerotropolis project will serve as a tangible example of smart cities. Wu hopes smart city development will encourage people to pursue a happy life characterized by high living quality, morality, and good taste, while achieving the goals of environmental protection, sustained development, and public welfare.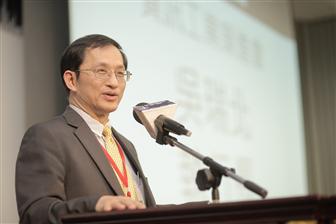 Ruey-Beei Wu, President, Institute for Information Industry (III)