Cisco proposes Internet of Everything to create new opportunities for smart city architectures
Sponsored content
Wednesday 7 May 2014
Although the IoT (Internet of Things) can serve as the foundation for the various services in a smart city, the surge in the number facilities, devices, and sensors that connect to the IoT means that additional requirements for the processing, integration, and exchange of messages are emerging. Cisco has proposed the IoE (Internet of Everything) as well as the concept of "fog computing" in the hope of providing smart cities with an even smarter information exchange platform through efficient integration.
Mature IoT (Internet of Things) technologies are the key reason why smart cities are able to operate intelligently, allowing cities to accurately obtain sensor data transmitted by facilities and equipment in order to engage in further analysis, management, and decision making, and thereby providing a variety of smart services. However, with the rapid increase in the number of sensors, equipment, and facilities that connect to the smart city infrastructure, the issue of how to process the massive amounts of data sent back through the IoT network in a highly efficient manner is becoming crucial for the further development of smart cities.
Development of smart cities relies on sound IoT foundations
Based on the IoT concept, Cisco has proposed the IoE (Internet of Everything). The IoE is in fact an extension of the IoT, where smart cities of the future see not only equipment, facilities, and services, but also users themselves all connecting to the network to exchange data. The level of operational performance experienced when users, systems, or services connect to the exchange platform to access or share information, directly affects the quality of services provided by smart cities. To this end, the networking application performance requirements found in IoE application environments must be addressed at the basic networking level.
In light of the challenges faced with IoE environments, Cisco proposes fog computing as a solution. Fog computing is a paradigm that extends cloud computing and services to the edge of the network - fog can be thought of as being even closer to people, places, and things than clouds. Fog computing can also serve as the layer of computing and processing situated between M2M (Machine to Machine) networks and the cloud. Fog computing's technical goal is to solve the issue of the massive amounts of data produced by M2M networks, as well as to satisfy the data sharing and reuse requirements of different smart service entities or platforms.
Using fog computing to increase the value of data on M2M networks
According to Tony Hsieh, Systems Engineer, Cisco Systems Taiwan Ltd., by first clearly describing the role of networks, we can provide an even clearer definition for fog computing. Users connect to individual networks to engage in the collection, analysis, processing, and transmission of information. They use a variety of devices to connect to the Internet to obtain information and data. In addition, many corporations have independent networks for internal use. These closed networks may provide services including enterprise applications and databases, etc. Cities also have networks for public services, such as gas, electricity, and water. There are also factory networks.
In the past, these different networks were usually mutually independent, each having their own specific communications protocols. However, with the development of smart cities, we need to integrate these mutually independent network entities in order to realize the true value of the diverse range of smart applications available.
Tony Hsieh pointed out that in IoE environments, we wish to connect these independent networks one by one, connecting individual (user) networks, public facility networks, as well as corporate networks into a consolidated platform, facilitating the sharing of the massive amounts of information produced by users, data, process flows, as well as various devices/facilities, and allowing smart cities to deploy even more value-added smart applications.
By integrating and adding additional value to this open information, valuable applications can be provided.
Establishing a foundation for the development of smart applications by building a smart city data exchange platform
The IoT includes networked applications from various devices and equipment, and engages in the integration of sensors, equipment, as well as back-end communication gateways. Under the concept of IoE, the amount and complexity of the data produced is even larger and even more complex. As an example, an individual person produces data, and when that person communicates with another person, more data is produced. When that person uses wearable devices, data is produced when they interact with the wearable device or when sensors generate information. When people start using more and more wearable devices, and large numbers of users begin to communicate with each other, all of the resulting information is transmitted to the network for computation, processing and analysis.
If all data generated by all objects were to be simply sent through the gateway, the computing, processing, and analysis loads of the IoE would be transferred to the platform, resulting in a processing bottleneck on the smart city platform.
Under the concept of fog computing, processing procedures are executed at the gateway, allowing pre-processing of the M2M data and generating meaningful, consolidated, semantic information instead of just raw data. This reduces the information processing loads of the smart city data exchange platform. As for the data itself, it would be worthwhile to make the data entering the smart city information exchange platform even more complete, allowing entities from different application networks to more easily exchange, as well as obtain, meaningful information. It would also be worthwhile to integrate even more value-added services.
Smart cities will create new business opportunities
As an example of how the efficient integration of user information could lead to new opportunities for service providers we can think of a typical LBS (Location Based Service) application. A mobile phone app could integrate user coordinates and combine that information with other value-added services, such as GIS (Geographic Information Systems), indoor navigation, and even socially guided shopping. During this process, information generated for the user includes positioning coordinates obtained from the mobile phone's cellular base station, and Wi-Fi or Bluetooth positioning information obtained for indoor navigation, digital clues about the user's shopping preferences left when engaging in social networks or when browsing the Web, as well as discount and shopping information provided by the stores they are shopping in. By linking all of this information together, we are able to provide the user with the most optimal shopping discount information by quickly conducting smart analytics on all relative information. If, however, all of the exchanged information were raw data that had not yet been processed, there would be no way to provide a tight and seamless smart shopping-guide experience to the user.
If we effectively integrate the Internet of Everything, we can create an even more diverse range of business models and opportunities, as well as allow our work and our lives to become even more efficient through smart services, thereby producing unlimited possibilities in terms of value-added business opportunities. According to Tony Hsieh, Cisco wants to help different customers form smart groups, providing a data sharing and exchange platform under a Smart Everything architecture, which would allow different groups and entities to engage in mutual contact and communication on the platform, eliminating the past requirement of having to create an API (Application Programming Interface) or having to use a gateway to process data exchange needs from different network platforms.
Cisco has already created a variety of IoE network applications, including transportation and shipping applications, healthcare applications, manufacturing applications, as well as smart device applications. Cisco has found that in order to realize smart services in smart cities, the barriers between different groups in different industries must be taken down, allowing information to be exchanged freely through a common platform and significantly reducing the difficulty of developing smart value-added services.
Current technologies, including mobile computing, cloud services, high-speed 4G connections, Big Data, and IoT, can be taken advantage of to implement these strategies. Network technologies can be used to link different sectors, while IT technologies can be used to promote industrial restructuring. Furthermore, in terms of corporate expectations, new business models, growth and innovation, new experiences, as well as globalized services will attract even more industries to participate in building smart services.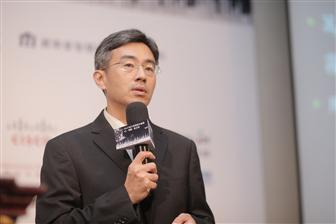 Tony Hsieh, Systems Engineer, Cisco Systems Taiwan Ltd.