Vision 2020 - Wireless New Era, Wireless Smart City
Sponsored content
Wednesday 7 May 2014
The development of smart cities is one of the focuses for Global System for Mobile Communications Association (GSMA). This is because the success of the development lies closely in the development of machine-to-machine (M2M) interfaces and even Internet of Things (IoT) that requires comprehensive integration of the IP network. Hence GSMA has been cooperating with telecommunications firms around the world and through numerous interactions GSMA hopes to share Vision 2020, the developmental trend study of the future telecommunication market.
As technologies continue to improve, smart city development has been incorporating structures of the new generation M2M and IoT. According to Jake Jia, Head of Strategic Engagement at GSMA Asia Pacific, in Vision 2020, the trend study conducted by GSMA with global telecommunication carriers and firms within the telecommunication service ecosystem, GSMA discovered providers of wireless telecommunication technologies, telecommunication carriers, and firms within the ecosystem will play a key role in the future development of smart cities. In addition, with government engagement and promotion, it is foreseeable that the omnipresence of the Internet and all things connected to IoT can be achieved in smart cities.
Close relationships between smart city development and mobile communication industry
Jia stated that global smart city development trend has always been one of the focuses of GSMA. Beginning with demographic data analysis, Jia noted that in year 2020 more than half of the global population will move into urban areas and this large-scale migration will contribute to more challenges and problems. First of all, the environmental challenge. This challenge requires the government to play a key role, as the government needs to figure out how to effectively use energy, improve city environments while maintaining stable medical, education, and public services. Furthermore, with rising populations, it would be harder to manage and maintain the services. Hence, the question is how IoT and Internet technology can be applied under the concept of smart cities to improve government efficiency, and citizens' participation and satisfaction. This will become a major issue for the government to tackle when planning smart city developments.
Jia believes mobile communication technology and all industrial communication technology will play a key role in smart city operations, especially when the goal for developing smart cities is to improve the quality of life for citizens. In planning and re-evaluating developments for smart services, the planning committee should keep this goal in mind and not just make smart infrastructure for the sake of it being smart. For example, Jia noted, increasing the smartness of energy supply and demand, introducing digital transportation fare systems, and transforming traditional government services into ones based on electronic or digital operations, can be adopted so citizens get to experience the value of living in a smart city.
GSMA Vision 2020 study believes 4G network will facilitate smart city applications
In the GSMA Vision 2020 study, connectivity, the sensor, digital commerce, identity, and big data have been listed as some of the aspects in driving smart city developments. First of all, connectivity is important in the development of smart cities because it allows personal devices to be connected to the Internet at all times through M2M or IoT. As wireless communication continues to growth rapidly, such as the new generation 4G network or even 5G, high speeds and minimal delays will allow smart city developments to grow faster and show the advantages of increased smartness in services.
The success of smart city development depends on sensor-related applications and technologies, said Jia, because these products allow equipment and devices to collect data and provide vital information for various smart services. Digital commerce services such as digital payment are designed to increase the convenience for users and help strengthen the concept of smart city in daily life.
Sensor network with big data technology to improve smart city policy-making
Jia mentioned the identity aspect as each citizen has many ID documents that are required on many occasions, such as applying for proof of residence or other services. For smart city developments, this type of IDs can be digitalized and such services can be completed via the Internet. Overcoming the challenge of transforming personal identification documents to virtual personal identification mechanisms will be a milestone for smart city developments that aim to increase the convenience for citizens.
The big data concept has created much buzz, which is also an important technology in constructing smart city and related services. Following the rapid development of cloud technology, which highlights the importance of the big data application especially when this application can compile, process, analyze and share large amounts of data collected through various equipment. This allows the smart city and related services to derive more efficient and accurate policies based on the data.
Communication technology affects smart city developments
In the Vision 2020 study, mobile network and application technology will bring dramatic changes to smart cities. Developments such as low power-consumption Bluetooth technology, Wi-Fi, and 4G/5G wireless communication technologies not only serve the purpose of exchanging information and increasing the coverage of the Internet; with mobile telecommunication network, they can rapidly bring smart services to end-user devices. In addition, the telecommunication network can connect different devices to effectively link users, mobile devices, and smart service infrastructures to achieve the goal of connecting any device at any time anywhere to the smart city services.
In particular, the development of smartphones and smart mobile devices is expected to bring revolutionary changes to the development of smart cities. GSMA discovered that smartphones are now the best portal for citizens to connect to smart city services. Through smartphones, smart city services can be effectively incorporated into the daily life. In addition, under the M2M and IoT environment, all smart devices can be connected and services can be obtained through smartphones, which further strengthen the coverage and development of smart devices and smart cities.
Global data usage to increase by 11-fold in 2020
The role of telecommunication carriers in smart city developments was also studied. Jia stated that telecommunication carriers play a key role in the mobile communication industry. In recent years, data usage has been growing fast as previous usage was less than 10% and now demand is strong. GSMA observed that in 2020, data usage can grow by 11-fold and developing countries such as China and Brazil will lead the market.
As for the sources of mobile service revenues, Jia pointed out that telecommunication operators continue to account for the major part. Although telecommunication service providers are expected to account for 50% of the mobile service revenues in 2020, the growth will slow down showing approximately 3% of growth. In contrast, within the same ecosystem, content and service providers are expected to experience faster revenue growth from products such as apps, digital content and value-added services. The revenues generated by content and service providers will become comparable to that of telecommunication service providers. The competition and cooperation within the telecommunication industry will become more heated and complex.
Jia pointed out the four key aspects that telecommunication carriers and the mobile communication industry will be involved in smart city developments: personal data, IoT, digital commerce/payments, and Network 2020. For personal data, the industry should increase the security and sharing mechanisms to allow users to easily share information without safety concerns. For IoT, the industry is facing the challenge of providing a more stable and smooth network environment while meeting the demand of IoT applications. Network 2020 is not a new concept, but according to Jia, the current wireless communication network, like the 4G network which Taiwan recently completed issuing licenses, needs to figure out ways to transform from traditional telecommunication networks to all IP-based application network in order to provide innovative products and create higher values for mobile communication.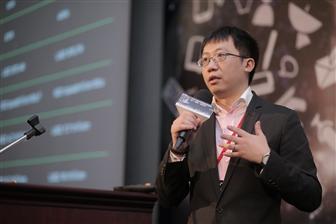 Jake Jia, Head of Strategic Engagement at GSMA Asia Pacific