Conquer Electronics Industrial Micro Fuse Product Innovations
Press release
Thursday 20 March 2014
Spurred by the rapid development of the markets for handheld devices as well as various types of consumer electronics products, demand for miniaturized fuses has increased dramatically. Conquer Electronics embraces a corporate vision of "achieving truth, beauty, and perfection in precision industrial fuses."
In terms of its products, since launching its Micro Fuse products, it always continue to improve and develop its MST, MSF, MET and MEF product lines. This year, it has also introduced its MMT Series products, whose sizes are smaller than MST/MSF products by 60%. At the same time, Conquer Electronics has also launched its surface-mount MMT(S) Series products.
Conquer Electronics' Micro Fuse Series fuses are produced by German-made automated production equipment with an annual production capacity of 900 million units, which is the largest quantity of output in the world. In 2013, Conquer Electronics' Micro Fuse Series sales reached 500 million pieces and it bring to a climax in the world. Accumulated sales in the past five years have surpassed two billion units. Micro Fuse Series product can be used for IR 100A/ 400V applications and their properties are the best in the world; they have passed nine global safety certifications, and Conquer Electronics is the only vendor in the world that uses high-frequency soldering instead of direct electric-heating soldering.
Conquer Electronics gains the highest share of the power source market in Taiwan. Its innovative processes as well as product architectures enable long-term cost-down efforts. Conquer Electronics' products can be directly applied and used without breaking off any pins or add any sleeves, which reduces costs. Conquer Electronics' Micro Fuse products is the best solutions to replace tubular 3.6 products and it turned in a superb performance to withstand 8KV lightning shocks. Conquer Electronics is capable of fully-automated production, large-scale production, rapid production, as well quick delivery for rush orders. It is the only vendor in the industry whose products have low resistance values and high I2T, and has laid a solid foundation for becoming a clean power leader in the market. Conquer Electronics has more than 10 years of experience in the design and production of automation equipment. All of Conquer Electronics' products are made in Taiwan (MIT) and keep outstanding quality. Conquer Electronics has plans to develop its production equipment to make new products with smaller dimensions and change to surface mounted instead of plugged-in. These new products will be introduced to the market in the near future.
About Conquer Electronics Co., Ltd.: Conquer Electronics is the leading fuse manufacturer in Taiwan. Its fuse components are used in various types of device and equipment, ranging from industrial, computing, automotive, consumer electronics, telecommunications, military, aviation, to healthcare applications. It is dedicated to both operating own-brand products and contract manufacturing. It runs its own R&D, design, production, marketing, and service operations for integrated fuse components and accessories. Conquer Electronics is also dedicated to creating process technologies and automation equipment that comply with international environmental protection regulations. Through continued development and improvement of its automated production and test equipment, it seeks to satisfy the needs of its customers and to strengthen the role of passive components in terms of safety, thereby enhancing its ability to compete with large global vendors. Conquer Electronics also strives to incorporate advanced technologies in order to become a world-class vendor dedicated to developing and producing quality fuse products. For more information about Conquer, please visit its website at http://www.conquer.com.tw/.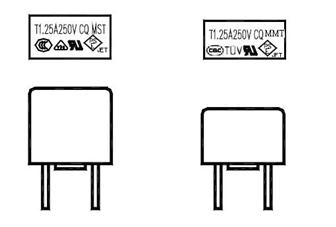 A comparison of the sizes of the new MMT products and previous models of the same fuse type.
DIGITIMES' editorial team was not involved in the creation or production of this content. Companies looking to contribute commercial news or press releases are welcome to contact us.