Foxconn constructs HTML5 smart cross-platform integrating support for eight screens, Internet and cloud
Sponsored content
The prospects of smart applications, which are needed to serve the purposes of cloud-based networks of sensing devices, IoT (Internet of Things) and terminal devices, have triggered strong interests in Big Data and inspired imaginations of next-generation cognitive computing and artificial intelligence. The Foxconn Group has teamed up with US-based Mozilla to build cross-platform smart applications using HTML5 Web-based Firefox OS. The smart applications allow clients to build highly optimized devices integrating support for eight screens, the Internet and the cloud.
"Embedded sensing and IoT smart devices, plus HTML5 cross-platform Web-based OS technology, help industry players optimize hardware and software resources for integrated applications," said Foxconn iDSBG (Innovation Digital System Business Group) senior director William Liang at the Embedded Technologies and Applications Forum that took place in Taipei on January 22, 2014.
Embedded smart systems and high-speed wireless networks bring about innovative applications
Smart devices are made up of embedded systems in combination with sensors and Internet-based communication capability, Liang indicated. Smart applications cover three main areas. (1) IoT and sensing devices that cover physiological sensing, smart home, surveillance, automotive electronics, transportation, smart grids and atmospheric detection. (2) Smart terminal devices that provide information, daily-life assistance, home care, smart assistance, interactive operation, decision-making management and dashboard applications. (3) Cloud computing: Big Data collecting and intelligent analysis. IoT, the Internet and high-speed wireless networks are the backbone of daily smart applications, and 4G LTE is crucial to further development of such smart applications.
According to Liang, smart devices come in two broad categories. (1) Embedded smart devices: environmental sensing/control devices, and wearable devices, such as smart bracelets, smart watches, smart glasses, smart toys, smart cars, smart home appliances, robots and surveillance devices. (2) Smart terminal devices: smart access and control platforms (the eight screens). The first and second of the eight screens are the handset and tablet respectively, while the third and fourth are the notebook and desktop PC. The fifth is the connected TV, the sixth the connected and smart TV, the seventh the electronic white board and the eighth the outdoor digital signage.
According to forecasts by IDC, EmbeddedWorld and BusinessInsider, the global M2M market value will come close to US$7 billion in 2014, while global smart device shipments reached 1.738 billion units in 2013 and accumulated shipments will reach nine billion units by 2018.
Smart applications: Integration of 8 screens, Internet, cloud
Big Data is formed by tracing, gathering, tabulating and analyzing Small Data from sensor networks and IoT through the cloud. Cloud computing-based Big Data and smart applications can provide more accurate information on user behavior than conventional statistical methods, and such information can facilitate the development of customized services and new business opportunities, Liang said. Coming after cloud computing will be cognitive computing and artificial intelligence (AI). Cognitive computing can be applied to environmental estimation and prediction, and it can be used to remind users of routine work and offer recommendations. While cognitive computing is expected to be widely in use in the next three to five years, AI will eventually become the most important application following cloud and cognitive computing. Along with increasing 4G LTE bandwidth, cloud computing-based AI data processing will be increasingly feasible.
Judging from the industry's development from the pre-2000 PC era, through the age of the Internet to the present stage of cloud computing, it is definitely trending towards AI applications. The future of Big Data, cognitive computing and AI will be materialized through the integration of the eight screens. And eight major segments of applications accompanying the trend are identified as follows: work, education, entertainment, home/social networking, security, health care, property transactions, and eco-friendly vehicles.
For microprocessors and MCUs (microcontroller units) used in smart devices, entry-level models (for sensing nodes) include ARM Cortex-Mo, 8051; mid-range models (such as those for wearable devices) include ARM Cortex-R, Intel Quark and MIPS; and high-end models include ARM Cortex-A, x86/64 and NIPS for terminal devices and IA64, PowerPC, x86/64, ARMv8 and GP/GPU for cloud computing. Software platforms for smart applications include TinyOS, other RTOS, Linux for sensing devices, Android, iOS, Web-based OS, Windows for terminal devices and Linux for cloud computing.
In terms of complexity of smart devices' computing work, there are three levels. (1) Low-level complexity: collecting sensing data, data pre-processing and communication among devices. (2) Medium-level complexity - voice recognition, facial detection, multimedia and UI (user interface) processing. (3) High-level complexity (cloud-based intelligent analysis) - semantic analysis, image recognition, sensing data analysis and prediction, user behavior prediction, commercial demand analysis, scientific computing and advanced AI application.
The high performance of smart terminal devices' integrated computing relies on optimization through tight integration of hardware and software. Such integration includes: optimization of graphics and UI functions based on GPU; HSA of CPU and GP/GPU; and collaborative data processing where low-power sensing devices and high-performance smart terminal devices screen and pre-process data prior to cloud-based Big Data processing, computing and analysis.
Development of operating systems for smart devices
With abundant software support, Android is currently the most competitive operating system for high-end embedded smart devices. Its ecosystem is expanding fast, facilitated by a myriad of Android apps, Liang indicated. Of those "eight screens" currently handsets and tablets are mostly touch controlled in a single-person multi-tasking mode, with their applications focusing on communication, information sharing and personalized work. Notebooks and desktop PCs mostly work on keyboard input in a multi-person multi-tasking mode and they are mostly for work purposes. Connected TVs, portable TVs, electronic white boards and digital signage work through remote control or body movement sensing. They support single- or multi-tasking by multiple persons and they are chiefly meant for sharing, multimedia and entertainment purposes. Obviously, different OS are developed for different types of terminal devices. But Foxconn, eyeing a cross-platform for all "eight screens," has adopted HTML5 standardized by W3C (World Wide Web Consortium) to facilitate cloud-based Big Data services. HTML5 technology is expected to be used to develop next-generation operating systems and applications.
Of the smart device operating systems, Linux and Windows belong to OS1.0 with emphasis on hardware resource management, while iOS and Android are the key players in the OS2.0 era focusing on software resource management. The Web-based Firefox OS running on HTML5 technology can be considered OS3.0 with emphasis on cloud resource management. There are more than four billion web pages around the world, which can be seen as a large volume of potential Web apps.
HTML5 is gifted with the capability of cloud integration, Liang pointed out. HTML5 API specifications cover MultiTouch, WebTelephony, WebSMS, WebBluetooth, WebGL, Camera, GeoLocation, BatteryAPI, WebVibration, WebNFC, WebUSB, WebContact, FullScreen AP, and Setting AP. While HTML5 technology already provides sufficient support for smart terminal devices and applications, additional related Web API service technologies are still being developed.
Foxconn, Mozilla team up to promote Firefox OS
The advantages of Android OS come mainly from its hierarchical design that facilitates collaboration among related industries, and its abundant software support that allows for easy development and replaceability of applications. However, Android has a disadvantage in inefficient execution of applications. Firefox OS is a completely open Web-based OS jointly developed by many experts around the world borrowing from Linux's open-source concept. HTML5 is expected to facilitate tight integration of Firefox OS and hardware to optimize functionality.
Having signed a cooperation agreement on June 3, 2013, Foxconn and Mozilla on January 7, 2014 jointly announced Firefox OS Contribution Program to provide software resources and trial tablets for developers of Firefox OS-based applications in a bid to accelerate Firefox OS' penetration in the tablet market and the establishment of an ecosystem.
Foxconn thinks that HTML5 is a technology for developing a next-generation OS for the integration of the "eight screens, the Internet and cloud." The cooperation with Mozilla has allowed Foxconn to obtain Firefox OS core technology to produce optimized system products with highly integrated hardware and software. Foxconn is establishing the world's largest HTML5 and cloud-based application R&D center in the Kaohsiung Software Park in southern Taiwan. It is looking to attract developers of HTML5-based cross-platform applications and create related business opportunities.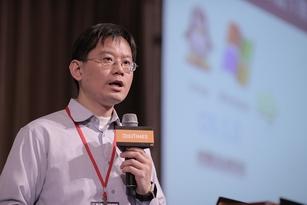 Foxconn iDSBG (Innovation Digital System Business Group) senior director William Liang