Advantech ARK Fanless Intelligent Systems Accelerate; Time-to-value for Ideal IoT Solutions
Sponsored content
Friday 21 February 2014
Unlike those of ordinary PCs, industrial PCs' functions and features vary depending on the operating environments and requirements, such as for high performance, 24/7 operation , wide-range working temperatures or voltages, dust-proof and noiselessness. A specialist in industrial computing devices, Advantech offers various ARK models of high-performance, low-power-consuming, fanless, industrial Box PCs and extensible Box PCs whose performance is comparable to desktop PCs. These extensible models can be mounted on walls or the backs of display screens, and are designed to meet the various environmental requirements for industrial, commercial and IoT needs.
Intelligent Systems Drive Diverse Industrial Applications
In a discussion on how industrial, fanless, intelligent systems enable high-efficiency management through seamless integration, Advantech senior manager Sandy Chen introduced the company's ARK fanless intelligent systems and related solutions. The current trend shows that different industries require different embedded industrial intelligent systems to serve specific purposes, such as for high stability, low power-consumption, noiselessness, extensibility, wide-range working temperatures or voltages, high computing performance and dust and shock resistance.
Fan cooled systems used in conventional PCs result in dust accumulation, which eventually reduces fan speeds, heat dissipation, and system stability. In addition, fans are noisy and prone to incurring unexpected additional maintenance costs. So to meet all these requirements, Advantech developed a complete lineup of fanless solutions.
Highly Reliable Fanless Systems Run Silently
Advantech's ARK fanless intelligent system series offers a range of unibody Box PCs. The series is designed to work under a wide voltage range from 9 ~ 36V. Its advanced, fanless design is dustproof and noiseless and its heat-dissipation structure and chassis efficiently conduct heat to the external environment. With industrial grade or wide-temperature grade components, the series can stably operate within -20 to 60 degrees Celsius.
The ARK series features a ruggedized chassis which is IP40 dustproof, 5G shockproof, 50G fall-proof, and with prolonged MTBF (Mean Time Between Failures). The series has garnered various safety certifications, including CE, FCC, CCC, UL, BSMI and CB, and can therefore be marketed in countries that observe strict safety standards.
Five Types of Fanless Intelligent Systems Meet Specific Industrial Needs
Advantech's ARK series consists of five types of systems that meet specific industrial purposes: palm size models, screen-integrated wall-mounted models, highly extensible I/O models, high-performance models, and surveillance/in-vehicle models.
The ARK-1100 palm-size (133.8 x 43.1 x 94.2 mm) mini models run on power consumption of only 5 ~ 10W, support up to quad-core processors, work within -20 to 60 degrees Celsius, and support 2.5-inch Hard Disk Drives (HDD)/SSDs or mSATA storage devices. The ARK-1100, with 12V DC power input, VESA/DIN-Rail sliding and wall mounting specifications, as well as support for miniPCIe + SIM, wireless modules and integrated antennas, is particularly suitable for IoT applications or for tiny spaces requiring extremely low-power consumption.
The ARK-1500 series are slim (231 x 46.3 x 133 mm) screen-integrated wall-mounted models supporting multiple screens (HDMI/VGA/LVDS ports) and their VESA/DIN-Rail and wall-mount specifications allow them to be directly hung on the back of the screens. They have a wide range of working temperatures from -20 to 55 degrees Celsius. The series supports 12V DC power input, miniPCIe + SIM, and removable or fixed 2.5-inch hard disk drives/SSDs. In addition, the ARK-1500 has a fixed, lockable DC/VGA/COM/DIO/HDMI/LVDS port structure. The series is suitable for use in combination with a panel for panel PCs, and in dashboards and digital signage.
The ARK-2000 series consists of highly extensible I/O systems in a 265 x 69 x 133 mm form factor. They support Intel® processors (from AtomTM to CoreTM i7), working temperatures from -20 to 60 degrees Celsius, a wide voltage range (12V DC or 12 - 24V DC), 2.5-inch HDDs/SSDs or mSATA or CFast storage devices, extensible MIOe modules for easier customized design, and miniPCIe + SIM module extension. The ARK-2000 is ideal for applications that require a lot of flexible extensions.
The ARK-35 series high-performance models come in a 250 x 110/90 x 230 mm form factor and support high-performance CPUs (CoreTM i series with a maximum of four cores), and extension solutions (two PCI, PCIe x1, PCIe x4, MIOe module, two sets of miniPCIe). They work from -10 to 60 degrees Celsius with SSDs, and from -10 to 50 degrees Celsius with HDDs. They offer a wide range of operable voltages (12V DC or 9 - 34V DC), and two sets of 2.5-inch removable HDDs/SSDs or two sets of mSATA or CFast storage devices. The ARK-35 series is suitable for applications requiring high computing performance and card extension capability.
The ARK-V in-vehicle series models and ARK-S surveillance models, both available in dimensions of 265 x 75 x 133 mm, support various processors (from AtomTM to CoreTM i), a wide working temperature range from -20 to 60 degrees Celsius, 2.5-inch HDDs/SSDs, and mSATA and CFast storage devices. The ARK-V supports ignition power, isolated serial ports and isolated DIO, on-board GPS and G-sensor functions, while the ARK-S features PoE and VMS (Power View).
High Performance Leads the Competition
In terms of CPU performance, while competitors' products may support only 1.33GHz - 1.86GHz AtomTM dual-core processors, Advantech's ARK-112x series supports quad-core processors whose performance is 3.1 - 3.6 times the competitors' as measured in SiSoftware Sandra Aggregate Arithmetic Performance testing, with an extra 1.25 times with Turbo Boost enabled.
In terms of graphics performance, new quad-core, low power processors are superior to the previous AtomTM series by 4.8 ~ 7 times, as measured by 3DMark 2006, 1280 x 1024 resolution testing. To survive the harsh environments where industrial PCs usually operate, Advantech products are designed to achieve higher performance and stable, fanless, heat dissipation.
Seamless Integration
In addition to the H/W or mechanical design on ARK fanless intelligent systems, Advantech offers "360-degree" intelligent embedded designs (solutions seamlessly integrating hardware, firmware, and software), where "360" refers to triple security, six times more than common energy-saving levels, and zero-distance management.
The triple security refers to white-list protection, backup/recovery, and sentinel hardware key. White-list protection makes use of built-in McAfee security software to designate permitted executable software applications, with all unauthorized applications disabled, which prevents viruses or Trojan horses. Using Acronis-developed software tools that also come with all Advantech systems, the time for automatic backup/recovery can be set without affecting regular operations. The sentinel hardware key allows execution of specific software functions through precisely designated passwords.
The capability of 6 x energy saving is enabled by energy-saving management, highly-efficient time management, and total cost reductions. Energy-saving management saves power through setting upper or lower load levels or on/off times to let systems run in energy-saving modes when there is little or no other work. Highly-efficient time management updates content by remote control without the manager having to travel to the work site. Total cost reductions are achieved through smart power management and stable data transfer during information exchange (for example, when a public bus passes by a stop, it needs stable data transfer). This reduces total equipment cost.
Zero-distance management means remote monitoring, notification, and control. When a traffic light system, for example, breaks down, the maintenance staff - under conventional management - is always dispatched and asked to repair the system as soon as possible, without first ascertaining the cause of the problem (such as software or component failure, vandalism, or weather conditions). Although the repair will be finished eventually, a lot of social resources may be wasted during the repair process, and harm will be done to the product image. It is a different story with remote monitoring. The firmware provides real-time information on system conditions (such as CPU voltage, frequency, temperature), allowing management personnel to monitor the conditions of systems in different locations. The remote notification function can be set to issue warnings whenever there are abnormal conditions, or directly inform the maintenance staff through text messages, and remote control also allows for real-time diagnosis and operation.
Advantech's ARK fanless industrial Box PCs are quality products created through excellent design and comprehensive testing. Therefore they can be totally relied on for their stability and high performance. They are comprehensive embedded intelligent systems integrating hardware, firmware, and software. Their high efficiency, power savings, easy management, and stable performance translate into low maintenance costs. Each of the ARK devices takes into consideration extensibility through integration of wireless modules, and they are ideal IoT solutions. These fanless, intelligent systems offer high management efficiency and accelerate time-to-value to meet various industrial or computing requirements.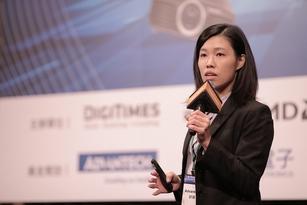 Sandy Chen, Senior Manager of Advantech