Genesis Photonics finds way to Blue Ocean through high-power, flip-chip LED technology
Sponsored content
Tuesday 31 December 2013
Genesis Photonics Inc. (GPI), which has been devoted to developing LED epitaxial wafer and chip technology for over 10 years, has made great strides in flip-chip packaging. GPI has developed MATCH LED and eutectic bonding technology, both of which improve reliability of LED lighting fixtures, allowing them to meet stringent outdoor lighting requirements and reduce production and after-sales costs.
Embracing a corporate philosophy that calls for one to "mull the possibilities, seek solutions, and take actions" when faced with problems, GPI has extended from low- to medium-power LED chips to high-power flip-chip devices for nearly three years and has found the doors to Blue-Ocean markets of outdoor LED lighting. In a recent interview, GPI's Package & New Product Division Assistant Vice President Simon Hsu and Product & Marketing Division Section Manager Yang Shih-yi talked about the company's new products and technology, as well as its strategies that are designed around the goal of meeting clients' demand.
GPI leads in flip-chip technology among LED makers in Greater China
Q: Can you give us a brief introduction to Genesis Photonics' current operations and products?
Yang: Genesis Photonics has 35% of consolidated revenues coming from Japan-based clients, the highest proportion among Taiwan-based fellow makers, and 45% from China-based ones. As China's 12th Five-year Plan emphasizes the conservation of resources and environmental protection, infrastructure projects in China are expected to adopt a considerably large number of LED street lamps and tunnel lamps. Therefore, there will be huge demand for outdoor LED lighting in the China market.
Flip-chip without wire bonding is a technology for securing high reliability of LED light sources and GPI was the first to start flip-chip LED production among Taiwan- and China-based fellow makers. Outdoor LED lighting products take up a large proportion of GPI's shipments.
Flip-chip guarantees quality for outdoor LED lighting
Q: How is demand in the outdoor LED lighting market?
Hsu: When LED lights are switched on, they are always on, and the only problem is about luminance decay. Outdoor LED lighting is faced with challenging environmental conditions such as high/low temperatures, and high-voltage or high-current operations. When a string of LEDs is run by a constant current, the entire string will go off if one single LED chip fails. This will decrease the service life of LED lighting and even result in failure of the entire lighting system.
As 5-year warranty is generally required in the EMC (energy management contract) market, any malfunction during the period may require the support of heavy machinery for repair. The costly maintenance may turn an EMC project into a failure in terms of profitability. Therefore it is necessary to maximize the reliability of LED lights. To enable high reliability, LED players have been keen to develop simplified LED component design. GPI's flip-chip technology is heading towards the same direction.
Q: Can you give us a brief idea about GPI's flip-chip LED products?
Hsu: Our MATCH LED is a flip-chip packaged on ceramic substrates using eutectic boning process. The MA3 series (MATCH LED in 3535 specification), for example, can reach luminous efficiency of 140lm/W for a single LED chip and features non-wire bonding, close arrays, low thermal resistance and high luminous efficiency, making it ideal for outdoor lighting.
Q: Can you explain the flip-chip technology?
Hsu: A general flip-chip packaging process involves soldering, bonding and reflow procedures, with reflow attaining 70% bonding coverage. GPI adopts eutectic bonding technology, which is characterized by direct bonding. The technology places an eutectic layer of gold-tin alloy – with thermal conductivity more than 10 times that for silver paste – between the LED chips and substrate, and with ultrasonic lamination technology the two can be firmly and evenly bonded. Such bonding minimizes bubbles and covers over 80% of the substrate. This enables the high reliability of LED chips when operated at high voltages and high currents.
Q: What are GPI's advantages over competitors?
Hsu: Our MA3 series features non-wire bonding, close arrays, low thermal resistance and high luminous efficiency, thanks to our vertical integration of LED epitaxial wafer, chip, and flip-chip packaging technologies. Based on LM-80 testing, the product life of the MA3-3 is comparable to products offered by leading international vendors. In addition, testing of luminous decay shows that the MA3-3 is well above the Energy Star outdoor lighting standard (94.1%) after working for 6,000 hours at 0.7 ampere and 105 degrees Celsius.
High CP ratio creates win-win situation for GPI and clients
Q: What makes GPI a priority choice for clients?
Yang: Our flip-chip technology is mature and we have begun volume production. And we are the only Taiwan-based maker whose 0.7 ampere-driven LED chips have been widely adopted for LED street lamps. In terms of cost-performance ratio, the chips generally take up 30% of total cost for high-power LED street lamps. For the same level of luminous efficiency and operating voltage, our MATCH LED is 20% less than competitions in terms of production cost, which will translate into a 6% reduction in the total production cost for lighting fixtures. This can shorten the time for return on investment for EMC projects. To sum up, GPI's competitiveness in the outdoor LED lighting market lies in its high quality, low cost and quick return on investment.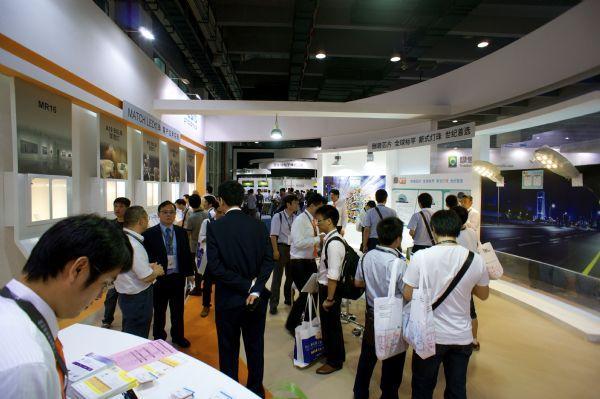 Genesis Photonics showcases LED street lamps adopting its flip-chip-packaged high-power MATCH LED at the 2013 Guangzhou International Lighting Exhibition
DIGITIMES' editorial team was not involved in the creation or production of this content. Companies looking to contribute commercial news or press releases are welcome to contact us.