Advantech Accelerates Intelligent Video Designs with Complete Solutions
Press release
Monday 2 December 2013
As embedded devices move towards intelligent systems, the traditional video surveillance devices are also seeking to add more intelligence, in order to make differentiation in the highly-competitive market. In WPC 2013, Advantech introduced the trend of deploying intelligent video solutions in a wide range of vertical applications and how it will team up with partners to provide complete hardware and software solutions.
According to market reports, the production value of analog cameras, IP cameras and DVR will reach USD 16.4 billion by 2015, and the CAGR for electronic surveillance equipment from 2012 to 2017 is 17.8%.
"Though the video surveillance market is still growing, the fierce competition has made pure video hardware manufacturers almost profitless," Victor Jan, Senior Director of iService-IoT Division, Advantech, said.
Jan stressed that, "In order to survive in the market and create added value for video surveillance, moving towards intelligent video or adopting video analytics solution has become a must. This is also Advantech's strategy to drive the wider adoption of intelligent video from this year."
As more and more cameras are creating video data at unprecedented rates, how to properly handle the unstructured content has brought new challenges for customers. In particular, relying on human operators alone to investigate and review all the video content is very time consuming and imprecise.
Dale Small, Senior Product Manager of 3VR, explained that, intelligent video is a digital video technology integrated with analytical software to automatically track and identify objects, analyze motion and extract video intelligence from analog, digital, or IP video streams.
With this search, analysis, alert, and report functions, video surveillance could be more intelligent to handle the tasks such as counting the number of customers entering a building during a specific time period, identifying the geographic location of something or someone, or detecting suspicious activity and triggering alarms and/or alerts.
Steve Shaw, Founder of TCIT, also introduced how the company's face recognition-based intelligent imaging solutions can to used for applications such as VIP or blacklist recognition, age and gender estimation, and parking lot detection.
"It is the trend that intelligent video go to vertical applications, including retail store, traffic monitoring, digital signage, inspection and so on," Victor Jan pointed out.
FullSee Technology, Advantech's partner in China, introduced its intelligent video solutions in intelligent transport systems (ITS) and traffic monitoring. Matrox talked about its intelligent video walls solutions.
Intelligent Video Analytics (IVA) market in 2011 was worth USD 180 million, and is expected to grow USD 867.8 million by 2017, with CAGR of 30.4% from 2012 to 2017. The potentials are huge.
To help customer move into the intelligent video market quickly, Advantech not only teams up with related software partners but also develops a full range of hardware solutions.
Victor Jan commented that, analog CCTV will still account for the larger portion in the surveillance equipment market in next three to five years. In response to the trend of moving towards IP and HD-SDI cameras, a Tribrid DVR system, which can be compatible with IP, HD-SDI, and CCTV structures, will play an important role in the transition period.
Advantech can offer hardware solutions to fully satisfy this market demand. Meanwhile, though the platform competition among SoC/DSP, RISC, and x86 is getting bloody, Advantech bets on TI's DSP technology. "TI should be the winner in SMB and project-based IP surveillance market," Victor Jan said. With a full range of hardware and software solutions available, Advantech is now seeking partnership opportunity with local companies to further expand the intelligent video market in China.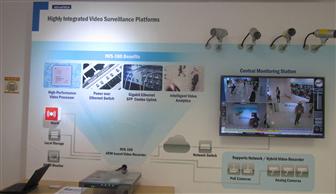 Advantech can offer Intelligent Video hardware solutions to fully satisfy this market demand
Finding more Advantech WPC information
DIGITIMES' editorial team was not involved in the creation or production of this content. Companies looking to contribute commercial news or press releases are welcome to contact us.