Innovation through Partnership to Make IoT a Reality
Press release
Monday 2 December 2013
In WPC 2013, which was held from November 21st to November 23rd in Suzhou, Advantech invited important guests from Intel, ARM, and Loogson to join a panel discussion on the theme of "The Latest Technology Advancements and Industry Outlook to Accelerate Intelligent Solutions" to share their vision and technology, and advise how companies can work together to grow the ecosystem.
As the intelligent system market grows, the world becomes more interconnected, which will ignite new and huge opportunities for everyone involved in the design and deployment of connected devices, including silicon vendors, hardware providers, software providers and system integrators. Thus, a robust and broad ecosystem support is required to make IoT a reality.
All these three companies emphasized the importance of building a strong ecosystem to drive innovation. And they all are key partners for Advantech's embedded offerings.
Hu Weiwu, Chief Architect of Loongson, pointed out that, "The business potential for IoT in China is definitely huge. However, because there is no strong ecosystem support, the IT industry of China is big but very weak. The 10 trillion RMB IT industry revenue only produces 3%~5% profit, and the total profit of Top 100 IT companies in China is only 40% profit of one company in US (Apple). Therefore, in order to establish a healthy industry, China needs to set up an ecosystem for IoT."
Loongson is now building an ecosystem, including CPU, BIOS, middle ware, and application around its MCU offerings. Hu Weiwu said, "Our ecosystem is still very small. We look forward to cooperating with companies like Advantech to build a unified technology platform and commercial ecosystem for IoT in China."
On the other hand, Hu Weiwu indicated that IoT has much higher security requirement than traditional computer and handheld systems. For example, it is dangerous if the power station of China can be remotely shut down abroad. System designers should develop devices with built-in security to reduce any possible risk.
From Intel's perspective, Jim Robinson, General Manager of ISG Segment & Board Market Division at Intel said, "We are now at a major inflection point for the IoT market. In order to lead the transition, Intel is investing heavily in all related fields. One of the actions we took is to form a new business group, which was just announced a few weeks ago."
"This new organization, IoT Solutions Group (ISG), will include the original Intelligent Systems Group and Wind River organizations, bringing together the intelligent systems hardware, software, services and platform elements together into one group. In particular, the group will report directly to our CEO office for the first time, which shows how big and important the market is for Intel."
Intel is a long-term partner of Advantech. With its complete processor, platform, security, and connectivity technologies, Jim stressed that, "We are uniquely positioned to help create the solutions for a wide range of IoT applications."
Nandan Nayampally, Vice President of Application System Marketing at ARM, commented that, "IoT is a trend and not a single sector or market. This trend will need cost effective and power efficient sensing technology that can last for years not hours. These sensors can gather small amounts of data for long periods, so that users can benefit by unlocking the value of the data collected by IoT."
ARM processors span all verticals, and are deployed in all segments from endpoints, gateways, to servers. "8.7 billion ARM processors were shipped in 2012. As sensors will be pervasive in the new IoT era, it is estimated the cumulative shipment of ARM processors will reach 150 billion by 2020. We are just at the beginning of the revolution," Nandan Nayampally said.
He also echoed the viewpoint of ecosystem, saying that, "Enabling ecosystems that drive innovation is a critical part of what ARM does with its partnership based business model. We have commitment to collaborative partnership and will drive embedded applications by standard offerings."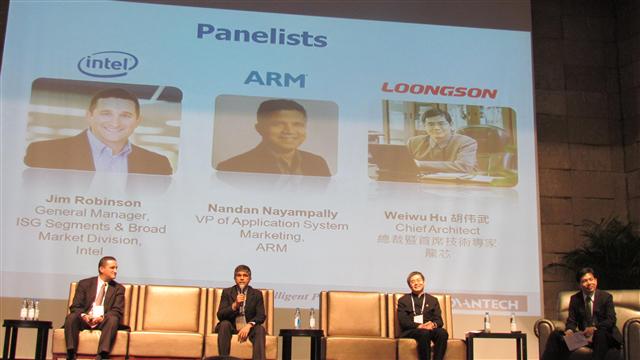 In WPC 2013, Advantech invited important guests from Intel, ARM, and Loogson to join a panel discussion on the theme of "The Latest Technology Advancements and Industry Outlook to Accelerate Intelligent Solutions."
Finding more case study articles
DIGITIMES' editorial team was not involved in the creation or production of this content. Companies looking to contribute commercial news or press releases are welcome to contact us.