Advantech Takes the Lead to Drive Intelligent System Designs
Press release
Friday 29 November 2013
In response to the rise of intelligent systems, Advantech is undergoing an embedded business model transformation, aiming to become an intelligent system enabler and to provide customers with integrated solutions.
At 2013 Advantech World Partner Conference held in Suzhou, Miller Chang, Vice President of Advantech Embedded Computing Group, talked about the initiates that Advantech has been taking to embrace the era of intelligent systems at the presentation titled "Core Engine Accelerate the Era of the Intelligent City."
"Embedded Computing Group (ECG) has made great achievements in the last 5 years," Miller said. "In 2009, there were only 3 key account customers worldwide, each contributing USD 1M sales of our board level products. But this year, we are expecting 35 key account customers, who each purchases more than USD 1M of integrated embedded solutions from us. It's a remarkable 10 times of growth!"
He noted that, according to the shipment data in 2012, over 1.5 million embedded boards and system were shipped, as well as 800,000 sets of embedded OS, 600,000 pieces of peripheral modules, and 400,000 pieces of LCD displays shipped out. The meaning of these numbers behind is that customers are looking for one-stop solutions and more embedded integration, and the traditional single solution business model is no longer suitable.
Building Fully Integrated, Turnkey Solutions
In line with customers' requirements and the emergence of intelligent systems, Miller stressed that, the traditional business model is changing. We need to proactively provide integrated solutions for embedded market, which means that we will move from hardware to turkey solution providers.
Advantech is now aggressively building up a full range of embedded computing platforms, form factors, software, modules, and design-in services to help customers achieve time-to-market goal. "It's our mission to drive the transition to intelligent embedded systems," Miller said.
For Advantech, innovation is the key to realize technology integration. The company is taking the lead to drive embedded form factor design and innovation. For example, its RTX board is designed for ruggedized application, and Q7 for portable application, M I/O Extension provides modularizes flexible I/O, and UBC for M2M focused wireless sensor network.
In terms of IoT gateway and edge computing, Advantech is also keeping up the IoT trend to develop various new products, including UBC-FA30 edge computer, UBC-WN100 IP-based WSN, and UTX-3115 miniature IoT gateway, for applications such as production monitoring, environment protection, and traffic security management.
Not only standard products, Advantech also focuses on some vertical segments, such gaming, digital signage, and machine control to provide integrated solutions. Miller said that, "The acquisition of UK-based intelligent display player GPEK is another example to show our continuous commitments in embedded computing market. With its join, we can upgrade our total solutions to the next level in this area."
Establishing M2M Product Division
Undoubtedly, the opportunities of IoT and smart city market are huge, with billions of devices to be interconnected by 2020. However, moving to the next phase of growth, the industry is still lack of robust and complete embedded M2M solutions for implementing complex remote communications, and for connecting devices to develop monitoring and remote control applications.
In order to bridge the gap, Advantech has established a new product division called Embedded M2M Solutions. The division will focus on providing ready-to-use embedded M2M solutions by integrating Advantech's current embedded platforms, wireless modules, and remote control software; in collaboration with ecosystem partners.
Miller stressed that, "We will work closely with software and silicon partners to provide a wide range of integrated solutions. The new Embedded M2M Solutions division will be launched in 2014. Leveraging our resources at A+TC in China and Taipei-LinKou center, we will be able to help customers in keeping up with IoT trends so they can take the lead. We are ready and look forward to collaborating with more partners for the business growth in the embedded sector."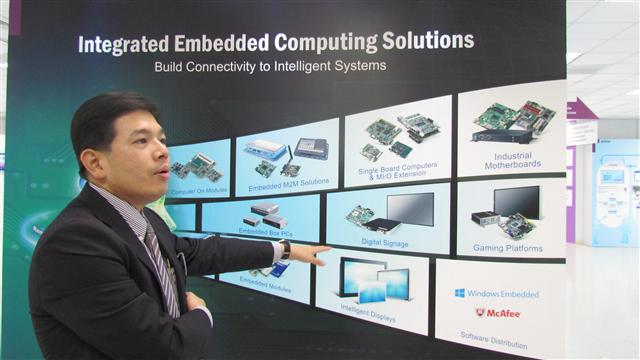 "We will be able to help customers in keeping up with IoT trends so they can take the lead," says Miller Chang, Vice President of Advantech Embedd Computing Group
DIGITIMES' editorial team was not involved in the creation or production of this content. Companies looking to contribute commercial news or press releases are welcome to contact us.