Advantech Unveils Next-Gen SUSIAccess 3.0 with Significant Enhancements
Press release
Friday 29 November 2013
In WPC 2013, Advantech unveiled its latest SUSIAccess 3.0 with significant function enhancements, including cloud-based protection, seamless interconnection, and 3D map-view device management, making it easier to manage intelligent systems through mobile and tablet device anytime, anywhere on any devices!
Advantech has been developing SUSIAccess software for years, with SUSIAccess 2.0 announced in June 2012 and its Linux version in November 2012. As management software plays an increasingly important role in embedded device designs, the company makes big push on it with the latest version, aiming to accelerate the adoption of intelligent system designs and help customers seize the great opportunities of the new IoT era.
"As devices become more interconnected and smart, connectivity, manageability, and security become the key essences for intelligent systems," Miller Chang, Vice President of Advantech Embedded Computing Group, said. "Advantech's SUSIAccess remote device management software helps transform traditional embedded devices into 'intelligent systems' with the three key attributes above."
Benefits of SUSIAccess
SUSIAccess features remote management functions and incorporates system security from McAfee and back-up recovery from Acronis to help customers centralize monitoring and management of remote embedded device in real-time.
The benefits of benefits of deploying SUSIAccess are obvious. It provides complete protection for all remote devices from cyber treats and malware attacks, as well as simplicity of all backup and recovery tasks.
In addition, it can help system administrators stay in sync with device health status, such as temperatures, internet connection speeds, fan speeds, and voltages, sending alarm messages automatically when monitored values exceeded warning thresholds.
Applying SUSIAccess can help customers dramatically save maintenance and energy costs, in particular when embedded devices are mounted in widely spread locations.
New Enhancements
The advanced SUSIAccess will be cloud and browser based and leverage Google and Baidu maps to help administrators find the location of their device easier.
Joyce Wu of Advantech explained that, when faulty devices are detected, the administrator needs to know where it is exactly. With the new map-view management function, he/she can locate it quickly and accurately. Not only maps, it also provides diagrams of building layouts to help locate the device among offices.
In addition, the next-generation SUSIAccess will be cloud and browser based and supports mobile devices like iPad, Android pad, and smart phones. Administrators can easily manage all devices anytime and anywhere on any devices.
SUSIAccess 3.0 will be officially launched early next year, and all Advantech embedded computing products will be pre-loaded the software.
Miller stressed that, "SUSIAccess helps our SI customers differentiate their products with more intelligence, and move from traditional embedded systems to Intelligent Systems. This value addition will bring greater business opportunity for them in the existing embedded market."
Advantech understands that software is critical to intelligent systems. In addition to SUSIAccess, the company already builds up complete embedded software offerings, from BIOS, firmware, operating sytems, to software applications and cloud services, to fully power the essential elements of intelligent systems: connectivity, manageability, identity, analytics, security, and user experience.
In the future, SUSIAccess may move to vertical applications, such digital signage and intelligent retail. According to Advantech, SI customers can customize SUSIAccess for vertical applications with the API provided by Advantech to design management functions for specific requirements. By doing so, they will be able to upgrade their solutions to the next level and provide better services for their customers.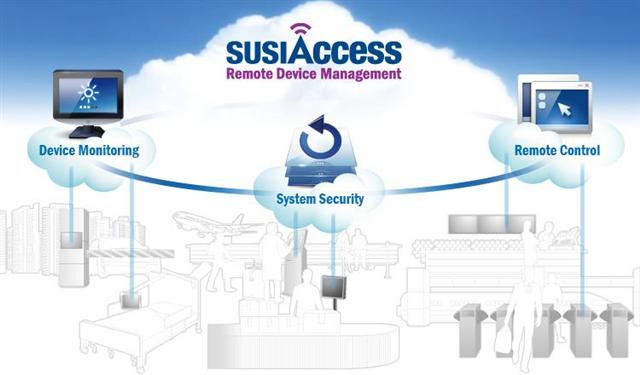 SUSIAccess 3.0 will be officially launched early next year, and all Advantech embedded computing products will be pre-loaded the software.
DIGITIMES' editorial team was not involved in the creation or production of this content. Companies looking to contribute commercial news or press releases are welcome to contact us.