FineTek: Tapping IoT market with wireless smart sensors
Press release
Wednesday 27 November 2013
In line with the rising popularity of IoT (Internet of Things), FineTek (Group) Company, which has deepened its deployments in the industrial sensor market by utilizing its in-house developed technologies, has rolled out integrated wireless smart sensors based on IEEE 802.15.4-enabled Zigbee Pro and WirelessHART 7.3 standards for IoT applications.
FineTek has also optimized a number of technologies for versatility of industrial sensors , including PZT (piezoelectric), magnetostrive, radar, optical, flow and RF technologies, to help upgrade the process automation industry, pioneer the development of wireless technology within the industry and formulate related standards and specifications for industrial certification.
Enhancing R&D capability; setting international standards and certification
Dr. Kelvin Cheng, vice president of FineTek, indicates that there are five categories of physical sensors: temperature, pressure, level, flow and power sensors. These sensors are widely used for process automation in cement, petrochemical, shipbuilding, refrigeration/air conditioning, steel, engineering machinery, food/pharmaceutical machinery industries.
Since it began marketing its products under "FineTek" and "FineAutomation" brands in 2003, FineTek now has become a leading supplier of level sensors globally. With R&D personnel accounting for one-fifth of its total employees and R&D expenditure accounting for 12% of its annual sales, FineTek is typically a paragon of technology-oriented company, capable of handling R&D, design, marketing and manufacturing of sensor products in-house.
With over 95% of owned design and manufacture in products, FineTek won the National Award of Outstanding Small and Medium Enterprises in 2009, the National Quality Award in 2010, and the Taiwan Excellence Award 2012-2013, and it was also inducted as one of the 128 National Backbone Enterprises in 2013. To encourage an integrated development and fundamental research among industries and academics, FineTek has invested large sums in holding an annual scientific thesis contest since 2012. Graduate students in electronics, telecommunications, machinery and related engineering departments are encouraged to participate in the contest.
Dr. Cheng points out that the manufacture of industrial electronic sensors is a complex integrated process combining optics, mechanics, electronics and materials, featuring diverse specifications, customized applications, stringent operating environments and high reliability requirements. After decades of efforts, FineTek's brand image, product portfolios and explosion proof and intrinsic safety related products have built a high barrier that rival companies hard to surpass. This makes FineTek one of a very few companies in Asia that lead the industry in terms of R&D design, owned manufacturing, specifications ruling and owned marketing.
FineTek was the sole representative of the manufacturing sector in Asia to take part in PTB-UL Workshop 2012. FineTek has also played an important role promoting the establishment of China's national (GB) standards, Taiwan's TS explosion-proof certification as well as Taiwan's national standards for low-pressure gas flow calibration.
Enhancing technological services and new product deployments
FineTek's competitiveness lies in its unique capability to pioneer the industry by providing its clients with its "SAVE" technological services that help integrate knowledge between clients and supply chains, shunning cut-throat pricing competition in 4P (product, price, packaging and promotion) areas, Dr. Cheng stresses.
SAVE is an acronym of Solution, Access, Value and Education, representing the company's aims to provide its clients with integrated solutions that enable access to convenient procurement and technology services, that ramp up application value at clients, and that integrate educational training between clients and supply chains, Dr. Cheng explains.
Under SAVE, FineTek offers a number of services to clients, covering product design, on-spot technical support and industry information. It also helps clients enhance their user experience by offering them integrated operating interfaces with wireless communications compatibility.
For small- and medium-size enterprises in the process automation industry, FineTek not only provides them with physical sensors, but also helps them build up needed platforms for Internet connectivity and access to wireless sensor networks. FineTek also offers basic training and industry knowledge for human-machine interaction, as well as other educational programs and real-time technical support for industrial upgrading.
Management consulting company McKinsey has pointed out that a total of 12 out of 100 major technologies currently being developed will have the highest potential in the future, and these 12 most promising technologies will generate total production value of up to 14-33 trillion USD by 2025. FineTek is currently involved in four of the most promising technologies: mobile Internet, Internet of Things (IoT), oil and gas exploration, and renewable energy applications.
The global process automation industry requires the most demanding industrial explosion-proof certified devices. To meet such requirements, as well as rising demand stirred up by IoT development, FineTek is also delivering its core remote wireless monitoring and contactless smart sensing technologies aiming to stimulate new business opportunities worldwide.
Applications for homeland monitoring and new energy exploration
In addition to deepening its development of IEEE 802.15.4-based wireless smart sensor solutions, FineTek has also ventured into the development of radar sensors and magnetostrictive level sensors. FineTek is also capable of offering next-generation low-power physical sensors which are built combining renewable energy (solar, wind, hydro and vibration) and wireless networks for new energy exploration in the wilderness, and environment and homeland monitoring in remote areas.
Optimizing our core technologies and SAVE service model, FineTek's integrated sensor solutions cover microwave electronics technology, radar technology, magnetic components, wireless solutions, flow technology, and PZT and optical applications. These will be recognized as most reliable branded products in the international real manufacturer, fulfilling our goal of becoming one of the top-10 physical sensor providers globally.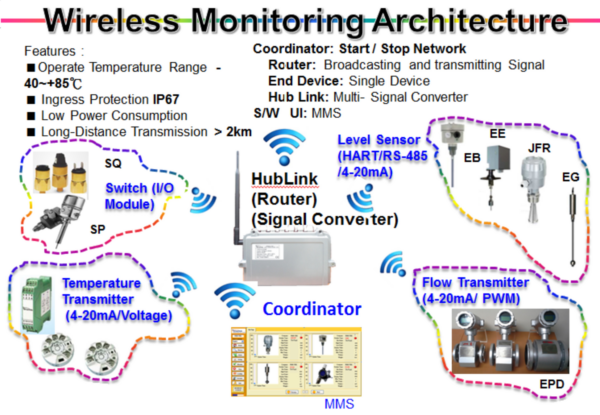 FineTek intelligent wireless sensor networking solutions
DIGITIMES' editorial team was not involved in the creation or production of this content. Companies looking to contribute commercial news or press releases are welcome to contact us.