Smart Green City Summit: Visions & Challenges for a Smart World
Press release
Wednesday 20 November 2013
It is expected that three out of every five people will be living in cities by 2030 to create a global urban population of 50 billion states, according to United Nations data. Rapid global urbanization will place immense pressure on every city in such areas as education, health care, transportation, public facilities and a myriad of other areas.
In order to meet public demand, mitigate pressure on resource use and establish sustainable environments, a number of cities have begun to utilize information and communication technologies to deliver services that will meet people's daily and public service needs while also transforming themselves into smart green cities.
To help cities in Taiwan identify the most suitable business model for sustainable operations, and to help Taiwan's ICT industry tap the US$10 trillion industry catering to smart green city developments, the Ministry of Economic Affairs (MOEA) thus commissioned the Taiwan External Trade Development Council (TAITRA) to recently hold the "2013 Taiwan International Smart Green City Summit" in Taipei. Experts and specialists from the USA, Japan, Singapore, Hong Kong and China were invited to address and share the latest smart green city applications of Global Development Strategy, Sustainable Cities and Integrated Solutions in three separate sessions.
Hui-fang Chiang, director of Trade Development Division of the Bureau of Foreign Trade under the MOEA, pointed out in her opening address to the Summit that the ever-changing ICT industry and the popularity of cloud computing services have not only facilitated the development globalization, but have also accelerated the pace of urbanization. As a result it is urgent for cities around the globe to realize smart cities through information and communication technologies. Taiwan is no exception, and Taipei City Government has been exerting efforts to develop Taipei City into a sustainable smart green city and aims to be selected as the World Design Capital in 2016.
"Taiwan by leveraging its three decades of expertise in the development of ICT and its competitive R&D for solar power systems is set to gain early access to the huge smart green city market, and this trend will allow Taiwan's ICT industry to achieve new heights," remarked Peter Huang, president and CEO of TAITRA.
In addition to a strong ICT industry, Taiwan has also performed remarkably in regard to the management of sustainable cities. For example, the Taichung City Government managed to win first place among the world's Top-7 Intelligent Communities of 2013 awarded by the Intelligent Community Forum. That credit was largely achieved due to its efforts to build the municipality into a green city through cultural construction and use of innovative applications. Huang expressed his hope that the Summit would serve as a hub to connect Taiwan business cities in the world, inspire smart green applications to take root in various cities on the island and open more business opportunities.
Creating the sustainable city: Starting with low carbon emissions, greening projects & smart applications
To help Taiwan-based firms better appreciate the latest developments of smart cities in other countries, Tracye McDaniel, president and CEO of the non-profit corporation Choose New Jersey, showed how more economical and smarter ways can be used to promote the sustainable social and economic growth through various civil or community projects.
McDaniel remarked that issues such as rapid globalization and urbanization have forced every city to address problems related to sustainable living, and they are beginning to evaluate various situations, including energy, environmental protection, water technology, transportation, medical care and architecture.
To enable sustainable living in New Jersey, McDaniel added that the state government has formed a specialized Green Team which has set up a comprehensive assessment system to evaluate various factors in buildings, land, water and energy and to integrate resources of the state government and civic organizations to build strong partnerships to promote programs for the establishment of sustainable communities. The Green Team also organizes regular workshops and online seminars to promote interactive exchanges among communities and provide training and consulting services.
Andrew Leung, president of the Hong Kong-based Asian Institute of Intelligent Buildings, stressed that each city needs different sustainable management solutions to cope with various cultures and environments of each country, and only through autonomous planning and green construction will let each city best build and manage sustainably to meet the needs of its inhabitants in a smart green city.
Stanley Yip, director of planning and development at Arup China, pointed out that as China has outpaced the US to become the largest global producer of carbon emissions since 2006, the Asian giant has been actively promoting the establishment of low-carbon smart eco-cities through improvements to energy efficiency, applications of new energy, forest protection and green economy. In addition, the China government has also been sharing the successful stories of eco-cities through seminars to encourage more cities to embrace the goal of creating "sustainable energy that's environmental friendly."
Koichi Moto, executive managing officer and director of Mori Building, noted that there are diverse ways to realize smart green cities, and Mori has been optimizing underground space, environmental space planning, road planning and multi-transportation networks to construct large complexes and high-rise buildings that are resistant to earthquakes and other disasters. It is also building vertical garden cities such as Gotenyama Garden and Shiroyama Garden which are instrumental to energy saving while reducing carbon emissions.
At the Seminar Mr. K.C. Liu, CEO of Advantech, remarked that, "The information industry has generally seen dramatic changes every 15 years, such as the shift from mainframes to PCs, and then to Internet services. We believe that the rise of smart cities and Internet of Things is leading to a paradigm shift in the IT industry that is happening over a span of 15 years."
Since the development of smart cities involves a wide range of issues, industries in Taiwan have to integrate their resources so that they can thrive in the US$10 trillion smart city market. In addition to interactions between themselves, hardware, software and information service companies industry should also open dialogue in other fields including architecture and medicine in order to pinpoint solutions to building smart cities, said Liu. He added that Advantech's new office buildings in Taoyuan, Taiwan and Kunshan, China – both slated for completion in 2014 – are being built in cooperation with experts in multi-disciplinary areas.
Identifying demand to create the most suitable smart cities
Citing data from the United Nations that there are likely to be a total of 18 mega cities in Asia by 2020 with a population each exceeding 10 million, Mei-chen Lin, VP of Schneider Electric Taiwan, recommended they start by tackling minor issues they currently face and then go on to identify appropriate long term smart city solutions that may effectively prevent and solve problems arising from energy shortages, insufficient public facilities, worsening pollution and park space. Schneider Electric, she pointed out, has already assisted creating more than 230 smart city areas in the US, Europe, Japan and India.
Kok Fei Damian Tang, president of Singapore Institute of Landscape Architects, suggested that through dialogues between experts, scholars, the public sector, community groups and local residents, each city can find the most appropriate business model of its own. They should then encourage citizens to embrace that business model, and motivate them in daily life to comply with programs to save energy and reduce carbon emissions and to contribute to building sustainable smart green cities.
Arding Hsu, senior VP of Siemens Limited China and head of Siemens Corporate Technology in China, emphasized the importance of providing the public with necessary smart solutions and diverse ways to launch smart green cities. Acknowledging that smart green cities can only be realized with the support of the public and through a balance of technologies and service price, Siemens has dedicated itself to the development of such cost-effective smart green city solutions as microgrid technology that shortens the return on investment period from 15 to nine years.
In addition to developing cost-effective intelligent solutions, Advantech also believes that it is essential for related partners to work out smart city solutions that meet demand of individual markets. For example, Advantech is cooperating with Chunghwa Telecom to launch USM services by the end of the year. Retail service providers will be able to remotely control their inventories, carry out security surveillance, reduce carbon emissions and control playbacks of digital signage content, according to Ken Yu, VP of Intelligent Services at Advantech. Advantech has also been actively cooperating with system integrators in the US and Europe, Yu concluded, by offering services in such areas as intelligent retail, intelligent medicare, intelligent buildings and intelligent robots.
In conclusion, rapid urbanization has made it increasingly vital for cities to apply and address such areas as smart green cities, the integration of hardware and software industries and cross-industry alliances to allow cities in Taiwan to apply the most appropriate business model for sustainable development. The good news is that such business models can then be duplicated in other parts of Asia, as they too seek to tap into the growing smart green city market.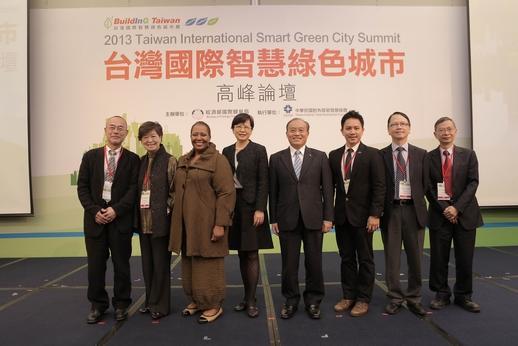 At the opening ceremony of the 2013 Taiwan International Smart Green City Summit are (left to right): Mori Building Executive Manager and Director Koichi Moto; Yu Chi-Chung Culture and Education Foundation President Alice Yu; Choose New Jersey CEO Tracye McDaniel; BOFT Trade Development Director Hui-fang Chiang; TAITRA CEO Peter Huang; Singapore Institute of Landscape Architects President Kok Fei Damian Tang; Arup China Planning and Development Director Stanley Yip and Asia Institute of Intelligent Buildings President Andrew Leung.
DIGITIMES' editorial team was not involved in the creation or production of this content. Companies looking to contribute commercial news or press releases are welcome to contact us.