Gigabyte launches AMD gaming motherboard
Press release; Joseph Tsai, DIGITIMES
Gigabyte Technology has announced its new FM2+ motherboards including the newest addition to its G1-Killer range of gaming motherboards, the G1.Sniper A88X, which features Gigabyte USB DAC-UP, which is optimized for users employing a digital-to-analog converter, and Gain Boost, which provides high gain output for advanced headphones and speakers.
The AMP-UP Audio combines a range of unique features and technologies that are designed to give audio enthusiasts and PC gamers more control over their motherboard audio.
Featuring a gold plated USB 2.0 port, the USB DAC-UP provides clean, noise-free power delivery to users' digital-to-analog converter, the vendor said. DACs can be sensitive to fluctuations in power from the other USB ports and the USB DAC-UP can take advantage of an isolated power source to help minimize potential fluctuations and ensures the audio experience.
The USB DAC-UP also allows the port to be configured in BIOS for enthusiast system configurations which do not require USB power to the DAC.
Gigabyte motherboards also debut Gain Boost, which provides onboard switches to select between 2.5x and 6x amplification modes depending on output device. Most OP-Amps are capable of providing a high-gain audio output that is ideal for high-end headphones and speakers that have higher impedance headroom. Gain Boost allows users to switch between 6x and x2.5 amplification modes depending on the speakers or headphones being used.
To help protect and insulate the Realtek ALC898 audio processor and onboard amplifiers from electrostatic interference (ESD), the Gigabyte G1.Sniper A88X motherboard features an audio noise guard that separates the board's sensitive analog audio components from potential ESD pollution at the PCB level. LED trace path lighting illuminates to show the separation of the PCB layers.
The Gigabyte G1.Sniper A88X motherboard uses the Nichicon MUSE ES series audio capacitors at each channel layout. The Gigabyte G1.Sniper A88X motherboard uses gold plated hardware for improved connectivity and long lasting durability for the USB DAC-UP port and audio connectors, the vendor said. Gold has superb signal conductivity and will not tarnish over extended periods of use. The Realtek ALC898 audio processor is also shielded by a gold-plated cover which eliminates electrostatic interference.
The Gigabyte G1.Sniper A88X motherboard features the new FM2+ APU socket, and is also designed for forthcoming Kaveri AMD APUs, while preserving compatibility for current AMD FM2 Trinity and Richland APUs.
FM2+ AMD APUs offer native support for 8 GT/s PCI Express gen 3.0 as well as DirectX 11.1 support, integrating the high performance Steamroller core. AMD socket FM2+ APUs also offer native support for ultra HD resolution displays on HDMI and DisplayPort.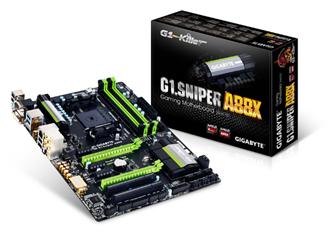 Gigabyte G1.Sniper A88X gaming motherboard
Photo: Company