Rugged PC/104 CPU Board with AMD G-Series T16R Full Upgrade from Legacy AMD LX800
Press release
Monday 5 August 2013
Advantech, the leading embedded platform and integration services provider, announces the arrival of the new PC/104 CPU Board Computer, PCM-3356 , powered by AMDR G-Series processor T16R. PCM-3356 is fully ISA compatible and has similar power consumption and cost compared with AMD LX800 but with 3.16 times better performance. PCM-3356 is a fanless 96 x 115 mm, and is not only an ideal choice to replace the AMD LX800 platform but is also excellent for applications that require a combination of x86 compatibility and graphics.
The Benefits of Migrating to G-series T16R from Geode LX800
AMD G-series T16R provides:
- Lower average power consumption: 2.3W vs. 2.45W
- Unparalleled video processing with hardware video acceleration engine
- Lower cost, faster, higher capacity DDR3 memory compared with DDR1 used by Geode LX series
- Legacy I/O (ISA with DMA) still supported
Designed for Rugged Applications
For high reliability and endurance in extreme environments, Advantech's PCM-3356 is designed with a high-level, industrial-grade ESD COM port driver IC (15KV air protection/8KV contact protection). PCM-3356 alsouses Japanese polymer aluminum electrolytic capacitors with small ESR and better MTBF than electrolytic capacitors, and high Tg PCB (TG-150) that keeps the PCB more stable under high temperature operation. PCM-3356 passed a strict signal verification process during the development stage to ensure high quality circuit design. And the PC/104 stacking mechanical architecture makes it ideal for outdoor applications for the military or transportation fields, or any environment where vibration is an issue.
Fully Legacy PC/104(ISA) & Mainstream I/O Interface
PCM-3356 supports full legacy PC/104 (ISA), and ISA DMA support, which will be attractive to customers with existing legacy carrier boards and PC/104 I/O modules. Besides supporting legacy I/O, PCM-3356 is also equipped with several more mainstream I/O interfaces than the LX800 platform. PCM-3356 has 1 SATA 2.0, 4 USB 2.0, 3 full COMs, dual GbE, dual display, plus two half-size Mini PCIe connectors, 1 for an mSATA device. PCM-3356 can adopt a Wi-Fi module via Mini PCIe and mSATA as an optional storage choice for network connecting and storage.
Superior Graphics Performance & Dual Display Type Solution
PCM-3356 is powered by AMDR G-Series T16R CPU with A55E FCH, supporting up to 4 GB DDR3 memory. It supports an advanced graphics engine with DirectX 11, Open GL 4.0, 2D/3D acceleration, and hardware decoding (UVD3) for H.264, VC-1, and MPEG2. PCM-3356 features 18-bit LVDS display capability; the 18-bit LVDSsupports panels up to 1280 x 800 and VGA is also supported for embedded applications, as well as supporting dual display with LVDS and VGA.
Remote Management: SUSIAccess & Embedded OS
PCM-3356 supports SUSIAccess value-added software services. SUSIAccess provides easy remote management so users can easily monitor, configure, and control a large number of terminals to make maintenance and system recovery simpler. PCM-3356 supports Windows 7/WES7/XP/XPe, Windows CE 7.0/6.0, Ubuntu 12.04, and Fedora 16 operating systems. PCM-3356 is ideal for a multitude of applications such as: military, medical, factory automation, transportation, security and surveillance, etc. Support for AMD G-Series will continue through 2019 Q4 for extended longevity.
Features & Specifications
- AMDR G-Series processor T16R 615MHz
- System Memory: Up to 4GB 204-pin SODIMM
- L2 Cache: 512 KB
- System Chipset: AMDR A55E
- BIOS: AMI 32Mbit Flash ROM
- Expansion Interface: PC/104 and 1 half-size Mini PCIe
- Supports Dual GbE and Dual Display (LVDS + VGA)
- Serial ATA: 1 Serial ATA II interface, up to 300MB/s
- Serial port: 3 RS-232/422/485 ports with auto flow control
- USB: 4 USB 2.0
- Audio: RealtekALC892 codec
- Storage: Supports 1 half-size mSATA
- 5V input power, AT/ATX (power tolerance range: 5V +/-5%)
- Power management: ACPI 4.0 supported
- Watchdog timer: Output System Reset, Programmable counter from 1 ~ 255 minutes/seconds
- Battery: Lithium 3V/210 mAH

PCM-3356 launched in July, 2013. Please contact your Advantech sales rep for more information, or visit the website at http://www.advantech.com/.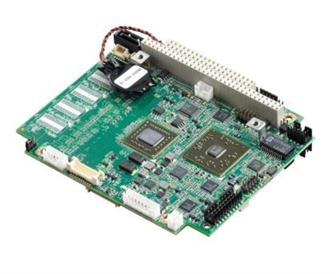 PCM-3356
DIGITIMES' editorial team was not involved in the creation or production of this content. Companies looking to contribute commercial news or press releases are welcome to contact us.