Keeping up with the tabletization of PCs
Sponsored content
Tuesday 30 July 2013
Cloud and mobilization trends in recent years have triggered the third industrial revolution. The hot selling tablets have also accelerated the computer industry's introduction to a wide variety of tablets or transformer (tablet + laptop) products. Functionality of tablets has also gradually evolved from mostly entertainment functions into commercial application productivity features. These features have prompted the industry to develop faster processor performances and larger storage capacities. The leaders in flash memory production have responded to the future development trend of the tablet industry by accurately grasping the speed acceleration demands of mobile terminal devices to provide a full range of flash memory solutions.
PC "Tabletization" revolution
Tarun Loomba, vice president of marketing and client storage solutions for SanDisk, made an opening remark on how to design the popular tablet PC products. He presented some market research reports indicating that on-demand content and social media sharing, coupled with the prevalence of the wireless network, has changed the consumer habits of using entertainment electronic products and gradually switched to tablets instead. At present, tablet users spent 86% of their tablet usage time playing video games, visiting social networking sites, and enjoying multimedia entertainment. Cross-room applications allowed tablets to gradually replace or affect other designated application products such as video game consoles, IP video devices, and the often used desktop PCs.
The hot sales of tablets has affected the sale for other devices as well. An IDC report estimated that shipments for tablets would reach 190 million units in 2013, with an annual growth rate that reaches 48.7%. By 2017, sales of tablets will exceed those of desktops and various portable computer combinations. According to the tablet market sales breakdown, 49.8 million, 23 million, 35 million, and 25.6 million tablets were sold in the Americas, Western Europe, Asia, and other regions in 2012, respectively. Prices for tablets range from US$150 for 7-inch media tablets to US$800 for high-end 11-inch productivity tablets. Tablets also come in Android, Windows, and iOS operating systems.
Design for today's tablets focus on either portability or comfort. In terms of performance, tablets are moving toward 4 or even 8 core processors to provide higher resolutions and larger storage capacities. Tablets have also been promoted for professionals and business users in terms of consumer groups. Looking back at 2010, design features for notebooks (13 to 17 inch) and tablets (under 10 inches) were sharply divided. However, after 2012/2013, tablets became more powerful and have influenced notebook designs to trend toward removable, transformable, ultra-thin, and multi-touch control capabilities in design.
Tablets have evolved from entertainment to productivity
Tablets that emphasize low power consumption are popular in the consumer market; however, consumers are expecting to do more on tablets and enjoy the comforts of tablets while using productivity software. This was acknowledged by the industry by efficient "commercial tablets" being born. The Gartner report also estimates that 13 million commercial tablets were sold in 2012, and that number will reach 53 million in 2016 (300% growth). It is possible that up to half of enterprise employers will formulate the bringing of your own mobile device (BYOD) to work policy by 2017.
If you want a tablet that acts like a PC and has multiple program, multitasking, as well as independent foreground and background running capabilities; then you should not buy an entertainment tablet and should purchase a good performance, lighter, less power-consuming, and reasonably priced commercial tablet.
SATA µSSD – the highly efficient tablet storage device design
Tablets that are currently on the market are divided into two major categories: the entertainment tablet that focuses on low power consumption, uses the ARM processor architecture, and runs on the Android platform; and the high-performance commercial tablet/notebook that uses an x86 processor architecture and runs on the Windows platform. As for storage device choices, the former tends to use Flash memory, and the latter mostly used hard disk drives (HDDs) or hybrid HDDs due to cost considerations.
He noted that most people know that compared to HDDs, flash is more efficient, consumes less power, and is more reliable. If tablet products are designed to use flash, not only would it consume 20% less energy compare to that of HDD, it can also increase battery life by 2-3 hours and strengthen product competitiveness.
In terms of flash transmission interface options, laptops and desktops are presently SATA based and will advance toward PCle in the future. Regarding high-performance mobile devices (such as the commercial tablets), the current mainstream eMMC 4.51/5.0 can only reach up to 200 MB/s. The faster UFS or PCle interfaces have not yet matured, and the tablet transmission interface will face bottlenecks in the future as a result. Current SATA III can reach a high-performance of 600 MB/s. STAT III is mature, supports a variety of sizes, and has low power consumption, as well as advanced multitasking scheduling features. Using SATA for commercial tablet designs would be a good solution.
Therefore, Loombe recommended the µSSD (microSSD) of SanDisk, which has the ultra-small size/low power consumption of eMMC and the high-performance of SATA and complies with JEDEC MO-276 mechanical design specifications. The µSSD standard specification was finalized in August 2012. It has 2-3 times higher performance compared to that of the eMMC and is sold at the similar price level as the eMMC.
When the price of the µSSD and the traditional 500GB HDD are compared, a 32GB µSSD costs approximately 40% of the price of a 500GB HDD and a 64GB µSSD costs approximately 30% more than the price of a 500GB HDD. Therefore, based on the performance, size, and power consumption considerations, the µSSD would be a pretty good choice for commercial tablets.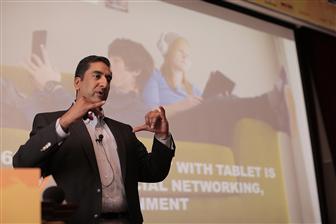 Tarun Loomba, VP of marketing and client storage solutions for SanDisk