Intel outlines strategy for datacenter business
Press release; Joseph Tsai, DIGITIMES
As the massive growth of information technology services places increasing demand on the datacenter, Intel has outlined its strategy to re-architect the underlying infrastructure.
The company also announced additional details about its next-generation Intel Atom processor C2000 product family (codenamed Avoton and Rangeley), as well as outlined its roadmap of next-generation 14nm products for 2014 and beyond.
To help companies prepare for the next generation of datacenters, Intel revealed its plans to virtualize the network, enable smart storage solutions and invest in innovative rack optimized architectures.
Diane Bryant, senior vice president and general manager of the Datacenter and Connected Systems Group at Intel highlighted Intel's Rack Scale Architecture (RSA), a design that promises to increase the utilization and flexibility of the datacenter to deliver new services.
Rackspace Hosting, an open cloud company, has announced the deployment of new server racks that is a step toward reaching Intel's RSA vision, powered by Intel Xeon processors and Intel Ethernet controllers with storage accelerated by Intel Solid State Drives. The Rackspace design is the first commercial rack scale implementation.
As part of its strategy, Intel revealed new details for the forthcoming Intel Atom processors C2000 product family aimed for low-energy, high-density microservers and storage (Avoton), and network devices (Rangeley). This second-generation of Intel's 64-bit SoCs is expected to become available later this year and will be based on the company's 22nm process technology and the Silvermont microarchitecture. It will feature up to eight cores with integrated Ethernet and support for up to 64GB of memory.
The new products are expected to deliver up to four times the energy efficiency and up to seven times more performance than the first-generation Intel Atom processor-based server SoCs introduced in December, 2012. Intel has been sampling the new Intel Atom processor server product family to customers since April and has already more than doubled the number of system designs compared to the previous generation.
Intel also outlined its roadmap of next-generation products based on its forthcoming 14nm process technology scheduled for 2014 and beyond. These products are aimed at microservers, storage and network devices and will offer an even broader set of low-power, high-density solutions for their Web-scale applications and services.
The future products include the next-generation of Intel Xeon processors E3 family (Broadwell) built for processor and graphic-centric workloads such as online gaming and media transcoding. It also includes the next-generation of Intel Atom processor SoCs (Denverton) that will enable even higher density deployments for datacenter operators. Intel also disclosed an addition to its future roadmap - a new SoC designed from the ground up for the datacenter based on Intel's next-generation Broadwell microarchitecture that follows today's Haswell microarchitecture.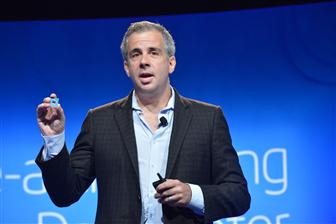 An Intel executive shows off second-generation 64-bit SoC for microservers.
Photo: Company