Apple gives a sneak peek of next-generation Mac Pro
Press release, June 11; Joseph Tsai, DIGITIMES
Apple has showed a sneak peek into the future of the pro desktop with a first look at the next-generation Mac Pro. Designed around a unified thermal core, the Mac Pro introduces a completely new pro desktop architecture and design that is optimized for performance. The new 9.9-inch tall Mac Pro features next-generation Xeon processors, dual workstation-class GPUs, Thunderbolt 2, PCI Express-based flash storage, and ECC memory,.
The next-generation Mac Pro is architected around a unified thermal core that allows the desktop to efficiently share its entire thermal capacity across all the processors. Next generation Intel Xeon E5 processors with up to 12 core configurations deliver double the floating point performance. With two AMD FirePro workstation-class GPUs, the all-new Mac Pro is up to 2.5 times faster than the current Mac Pro and delivers up to seven teraflops of compute power, said Apple. The new Mac Pro also features PCIe-based flash storage that is up to 10 times faster than conventional desktop hard drives and includes four-channel ECC DDR3 memory running at 1866MHz to deliver up to 60GBps of memory bandwidth.
With six Thunderbolt 2 ports that can deliver up to 20Gbps of bandwidth to each external device, Mac Pro is able to connect to external storage, multiple PCI expansion chassis, audio and video breakout boxes, and the latest external displays, including Ultra HD desktop displays. Each of the six Thunderbolt 2 ports supports up to six daisy-chained devices, giving users the ability to connect up to 36 peripherals. Thunderbolt 2 is completely backwards compatible with existing Thunderbolt peripherals.
The next-generation Mac Pro will be available later in 2013.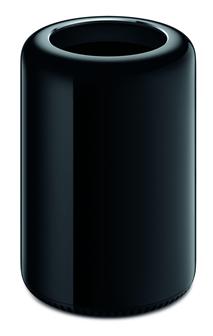 Apple next-generation Mac Pro
Photo: Company