When technology meets creativity, innovative design is ingrained in the DNA of corporate culture
Sponsored content
As Chenbro moves into its thirtieth year of business, the company is ever more aware of how vital it is to infuse culture into the technology industry if products are to become an even greater part of people's lives. For this reason, the company has proactively promoted the concept of "combining technology with creativity" in its corporate culture over recent years. Chenbro would like to invite the Taiyuan Puppet Theatre Company, which benefits from the company's sponsorship, to take the stage at the Computex Taipei 2013 computer show on the theme of "Prospering Together", and demonstrate the creative energy that happens when technology meets innovation.
Visitors to the Chenbro booth at Computex 2013 in Taipei will not only gain an insight into the company's comprehensive product line, but will also be treated to most usual sight for Computex. In contrast to the customary ranks of showgirls and noisy displays, Chenbro will host a performance by Taiyuan Puppet Theatre Company, part of the Lin Liu-Hsin Puppet Theatre Museum. The performance will use the artistry of traditional puppet theatre to demonstrate the vibrant energy that is generated when technology meets creativity.
Culture must not be neglected in technological innovation
National Culture and Arts Foundation chairman Stan Shih and his wife have proactively supported the integration of the arts and culture into business over the last few years and kindly agreed to deliver the opening speech at Chenbro's opening press conference at Computex. Mr Shih noted that the Taiwan technology industry's beginnings in OEM work for European and American companies have resulted in product development being centered on the culture and requirements of the European and American markets; over the last decade, however, the Taiwan technology industry has continually strived to innovate and build brands, and should therefore reach back to its roots in the culture it knows best - Chinese culture - as the basis for inspiration, taking the high road by promoting the accomplishments of Chinese culture within the enterprise, while also supporting creative and cultural organizations that have quietly fostered culture within Taiwan; only in this way can we increase the value of our culture and improve the competitiveness of our businesses.
Chenbro CEO Maggi Chen echoes Stan Shih's sentiments, commenting that Chenbro strives to "start out from the heart". Ms Chen stresses the need to return to the basics of manufacturing and product design, take to heart the voices of customers and create products that meet their needs; in order to stay as close as possible to customers' requirements, it is essential to incorporate aesthetics and the ability to appreciate culture into a company's corporate DNA; only then will the organization as a whole be able to grasp what users want from their lives and culture.
"Taking Chenbro chassis products as an example, a chassis is almost like a jacket - every detail from the design onward must correctly gauge its relationship with the user, in order to fit in with how people are used to using it and create the best possible product." Ms Chen went on to say that the only way to develop products that can become part of consumers' lives is to understand what touches people; for this reason, she has always strived to instill a greater appreciation of culture into the entire business organization of Chenbro.
It was this conceptual background that led Maggi Chen (Chen Meiqi) to find herself deeply touched when she encountered the work of Dr Robin Ruizendaal, the director of the Taiyuan Puppet Theatre Company, who left his home in the Netherlands more than twenty years ago to research traditional puppet theater culture in Taiwan. Ms Chen commented that if a foreigner could write plays and design sets for Taiwanese puppet theater for so many years, she felt she should make a contribution to promoting her own traditional culture as a Taiwanese person. For this reason, Chenbro has contributed NT$3.0 million in sponsorship over three years to Taiyuan Puppet Theatre Company to help promote traditional Taiwanese culture. The company also regularly sends employees to volunteer at Taiwan Puppet Theatre to help its staff do their bit for traditional Taiwanese culture, as well as allowing them to immerse themselves in traditional culture and increase their own appreciation of the arts.
Dr Ruizendaal, who speaks fluent Chinese, commented in his speech that Taiwan possesses both advanced technology and a beautiful traditional culture; for this reason, if Taiwanese companies are able to join forces with the arts and use the power of technology to create even more unique culture, it would bring Taiwan to an even better place.
Culture and cultivation as a means of increasing soft power
Chenbro consultant Tony Tsao (Cao Anbang) comments that thirty years ago, information in the global business environment was neither transparent nor symmetrical. At that time, Taiwan-based companies could essentially do business out of a suitcase; but as the IT industry has rapidly developed, in this age of symmetrical information, the value of each company and the specification of every product has become transparent. The old business model is no longer fit for purpose and Taiwan's technology industry cannot afford to remain stuck in the outmoded thinking of trying to beat competitors on specification alone; instead, it is vital to start out from the perspective of innovative design and culture, develop forms of art and craftsmanship that are truly one's own, and deliver both the quality and the prices that will enable businesses to conquer larger markets.
"As technology are culture are both parts of expressing life, if you want to develop innovative products, you have to start from a sound understanding of culture, and this is precisely why the entire world has been advocating the concept of soft power in recent years," notes Zheng Weichang, general manager of Chenbro. Mr Zhang explains that, faced with such trends, Chenbro has also been actively working to nourish the design and cultural elements of its company organization, an effort that began with fostering cultural appreciation and involvement amongst employees and extends right through to product design; Chenbro is striving to make technology a less cold, more vibrant business.
Lin Yongtuan, deputy general manager at Chenbro, adds that the company has consistently been extremely competitive in manufacturing, including technologies for stamping dies, plastic molding, sputtering, and glass and plastic optical coatings; its hard power in all these areas has won the admiration of customers. Over the last few years, Chenbro has built on its existing hard power, while also changing its corporate philosophy to uphold and give back to society, to continue to support a variety of charitable and cultural activities; the goal of this effort is not only to make a contribution to Taiwanese culture, but also to inject the nourishing creative elements of art and culture into Chenbro's own design DNA, in order to make stuffy technology products a more vibrant and exciting affair.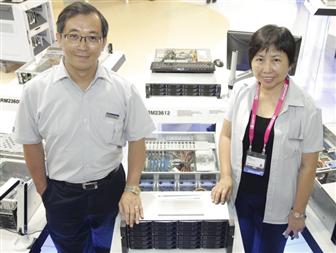 Chenro executives: General Manager Steven Chang (left) and CEO Maggi Chen (right)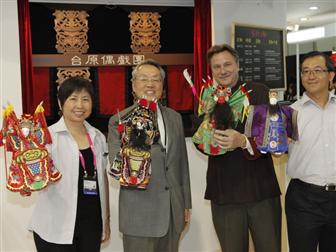 (From left to right) Maggi Chen, Stan Shih, Dr Robin Ruizendaal and Steven Chang