Waltop presents slim 4.5mm battery-free digitizer pen for mobile devices
Press release
Friday 7 June 2013
Waltop International Corp., a global leader in electromagnetic (EM) based pen input design and manufacturing, announced the launch of the world's first battery-free digitizer pen with only 4.5 mm pen diameter, which targets the mobile device market with pen input solution. The Waltop EM digitizer module with 4.5mm pen effectively reduces 1~2mm thickness of smartphone body to 9.0mm & tablet to 7.8mm, or less, making it an indispensable handwriting tool for mobile devices that are created to be thinner and lighter.
The newly-released 4.5mm digitizer module is Waltop's latest design innovation based on the company's patented EM technology. The slim pen features lightweight and low power consumption, 1024 levels of pressure sensitivity, precise and instant response, and hovering preview. In addition, Waltop provides exclusively developed customized stylus application and a comprehensive design reference kit which supports multiple transmission protocols to enable device makers implement Waltop solution from kick-off to mass production in two months to match the critical market timing. Customers using Waltop solution have successfully designed on Qualcomm, MTK, and Spreadtrum platforms; leading tablet manufacturers in Taiwan, as well as China's first-tier handset brands and solution providers have also adopted Waltop solution on their products that are in mass production. These rich experiences in system integration are valuable to help customers entering the global market of mobile smart devices.
Waltop EM digitizer modules (including sensor board, digitizer control IC, and Pen) are positioned to meet the emerging market demands for drawing & writing application on mobile devices by providing unparalleled smooth user experiences just like using traditional paper and pen. As mobile devices with pens gain in popularity, Waltop's EM digitizer module offers precision and accuracy that are especially useful and appropriate for ideogram character (such as Chinese Characters, Japanese Kanji, etc) input with personal style and originality. It also allows users to write or draw on EM digitizer-enabled touch screen in the work or play, while enjoying the convenience and ease of mobile life on the go.
Waltop will showcase its latest lineup of digitizer products including live demo of devices embedded with EM modules at the upcoming Computex Taipei 2013, which opens on June 4-8, booth number TWTC Hall1, #B0626, to visitors worldwide.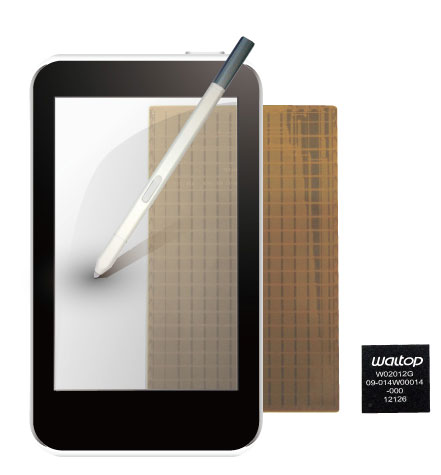 For more information about Waltop, please visit http://www.waltop.com/.