Rockchip RK3168: Dual-core chip with low power consumption
Press release
Friday 7 June 2013
Fuzhou Rockchip Electronics held a promotional event, the "A9 Dual-core Chip RK3168 of the World's Lowest Power Consumption," at the Midsummer Hall on the third floor of the Shenzhen Pavilion Hotel in China last month. During the event, which attracted a large number of solution providers, brand manufacturers and media personnel, Rockchip announced that RK3168 had entered mass production.
Compared with other dual-core chips on the market, RK3168 has three major advantages:
- Power consumption: Rockchip's dual-core chip boasts the world's lowest power consumption, half of that for the dual-A7 program.
- Design: It is quad-dual compatible, one board for double purposes.
- Performance: The performance of RK3168 with dual-A9 core doubles that of the dual-A7 program, but consumes only half as much power because it is made using at the 28nm node. RK3168 supports the latest Android 4.2.2 and Miracast screen mirror, as well as multimedia sharing between mobile phones, tablets and TVs.
RK3168 chips are ultra-low power consumption, only half of that of the Cortex-A7 dual-core chip. A 7-inch tablet running on RK3138 and a 3000mAh battery can play HD video for eight hours continuously. RK3168 uses ARM Cortex-A9 dual-core architecture; the highest frequency is 1.2GHz.
Its quad-dual compatibility, with one board for double purposes, is the most significant feature of Rockchip's RK3168. RK3168 can achieve quick switching between dual-core and quad-core of the same PCB board. Dual-core RK3168 can be replaced with a high-end 28nm RK3188 quad-core chip pin to pin, so that solution providers and brand developers can save costs and time in product development, have a more comprehensive product layout and quickly respond to the changes in the dual-core/quad-core market.
The RK3168 program has passed the Google Global GMS and CTS certification, and can help customers access the mainstream market in Europe and America.
Nowadays, quad-core has become the hottest topic in the tablet market, but single-core still occupies a large part of the market. Dual-core is expected to replace single core this year. RK3168 features high-end performance, low-power consumption and is cost effective.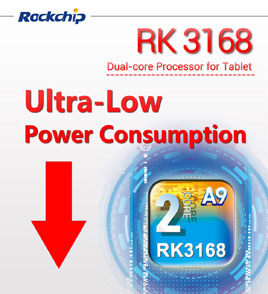 CONTACT: Chanel Xing, +86-591-83991906, xyy@rock-chips.com