Gaming in the clouds: Nvidia GRID VCA and gaming everywhere
Sponsored content
Wednesday 5 June 2013
Just like Netflix or YouTube can be streamed to any screen, there exists the promise of amazing quality cloud gaming that can be played on a mobile phone, tablet or TV regardless of the hardware specs of the client device, and NVIDIA is currently doing its best to make this opportunity a reality. The company believes that uploading high-end PC games onto a GRID server and then streaming the games as video to various devices is the wave of the future, and it is making the related investments that will not only allow it to capitalize on this trend, but also make it one of the main drivers of the market moving forward.
The NVIDIA GRID opportunity
For NVIDIA, the opportunity is simply the evolution and natural progression of online gaming. Looking back at the industry's history, from the very first one-on-one games that pitted one PC user against another, to the development of hosted gaming on local area networks or the Internet, the structure has basically been the same.
While each user would be connected to a game server in the cloud in order to download a copy of the game and keep track of the relevant positions of the other players, the rendering of the game itself has been and continues to remain on the client device. So up to this point, when it comes to gaming, the most important aspect is the hardware device that you are playing on.
NVIDIA sees this changing and in its vision all the rendering will be done on the server. The game progress would then be encoded into video and streamed to a client device, much like Netflix streams movies to its customers. The advantages of this method are many, and include the fact that users will be able to play high-end PC games on devices such as tablets, smartTVs and smartphones and that users can start playing on one device, pause and continue playing on another device right from where they left off.
According to Phil Eisler, General Manager, NVIDIA GRID Cloud Gaming, this natural progression fits in with the evolution of cloud computing in general. Eisler explained that when users first started utilizing the cloud, the first thing that went to the cloud was data, which basically meant users put their hard drives in the cloud. Then CPUs started moving to cloud to process the data, and now what the market is seeing is a desire to move GPUs to the cloud in order to render the data and then have it streamed back to any client device. Aside from being able to play games on any device, users will also be able to play games from any location. Systems like Xbox limit users to only one location but imagine opening a web browser on any device and having access to all your video games just like you can do for YouTube videos or Netflix movies today, said Eisler. NVIDIA views this as Cloud 3.0.
Looking at the TAM
There are no doubts that the computing trend is increasingly being driven by a desire for mobility and access to information from cloud-based services on all different types of devices, so there are definitely opportunities for cloud-based gaming. But just how big of an opportunity is it?
According to Eisler, the global broadband market is on trajectory to soon have a billion households that have bandwidth of 10Mbit or faster, which means the streaming of Full HD video into homes is becoming commonplace. NVIDIA and its partners have already started implementing trials to offer cloud gaming to broadband customers. Currently there are 15 trials undergoing across North America, Europe, and Asia, with the data indicating that there is around a 10% connect rate for users accessing streaming games. Using that percentage and expanding it to the current 700 million households globally that have the bandwidth to support the service, and considering an average price of about US$120 a year for games, this translates into about US$10 billion a year in revenues for cloud gaming services.
Eisler noted that the server portion that is allocated to this total is about 25% or US$2.5 billion while the GPU unit portion is about a US$1 billion market. NVIDIA believes it will take about five years for the market to grow to that size, but it is confident that the market will succeed.
Addressing the challenges: Scaling and latency
NVIDIA is currently offering two boards to address the market. Its GRID K520 model has two GPUs and allows for the streaming of up to 12 games. Its latest visual computing appliance is the GRID K340, which has four Kepler GPUs, and allows users to stream up to 24 concurrent gaming sessions from one board. NVIDIA also offer the GRID software development kit for Windows and Linux that helps reduce latency and includes access to its hardware encoder in order to encode multiple game streams.
NVIDIA is also working on a technology called the virtual GPU (GRID VGX), which allows the GPU to be divided into one, two, three or four virtual GPUs, which is a key development for the scaling of cloud gaming systems. Eisler explained that a total of 3 GRID K340 boards with 4 GPUs each can be installed into one server that yields a total of 12 physical GPUs in a single system. When used with the NVIDIA GRID VGX software, the GPU can be divided virtually into 4, so that you can run up to 48 concurrent game streams from a single server, giving service providers new economies of scale.
In terms of latency enhancement, a lot of early cloud gaming systems use software encoding, but NVIDIA has developed its GRID server to have an improvement of 30 milliseconds on average due to the company's hardware capture and encoding capability. This means that when playing a game via GRID cloud computing users have a similar experience to playing from a local game console.
Battery life is also a consideration. With most client devices increasingly being mobile devices and thus battery powered, a major benefit of shifting GPU processing to the cloud is that the power is being transferred from the client to the server room. This way battery life can be extended on battery-powered devices, and they can be designed to be thinner, lighter and cooler.
Furthermore games take up a lot of memory space on mobile devices with limited storage. With Cloud Gaming, all of your games are maintained on cloud servers and your gaming device only needs to install a small game streaming client that can access 100's of games in the cloud.
Building an ecosystem
NVIDIA cannot develop this new industry alone and the company is sharing its vision with players throughout the supply chain to build an ecosystem. In terms of hardware, NVIDIA is working with a number of OEM/ODM partners such as SuperMicro, Asustek Computer and Quanta to make servers for GRID cloud gaming.
NVIDIA is also working with a number of middleware partners who create the system software to allow users to select games and log in. These cloud gaming middleware companies include Agawi in the USA, Playcast in Israel, G-Cluster in Japan, Cloud Union in China and Ubitus of Taiwan. There are about 10 operating cloud gaming services available in the world that are based on NVIDIA GPUs and operated by broadband providers, such as SFR, Orange and Bouygues in France and LGU+ and SK Planet in Korea that offer the ability to stream games through a cable set top box (STB) to your TV. On the client side, pretty much all that is needed is a device that has a H.264 decoder, meaning wherever Netflix and YouTube can go, cloud gaming can go as well.
But is NVIDIA the main company driving this market? Eisler says that it is a combination of NVIDIA and its middleware partners. He also thinks broadband service providers that offer video on demand, such as SK Telecom, are becoming increasingly more interested in adding services to their broadband menu in order to drive up revenue per user. Gaming is a potential service they feel strongly about.
Game developers
The development of cloud gaming could also affect how games are developed in the future. In the past, a lot of focus was spent on looking at the hardware specs of the client devices. With gaming devices becoming diversified it has become increasingly difficult for developers to reach customers who use different devices such as a Mac, PC, Android, etc. Developers therefore have been interested in tapping the cloud gaming market to reach any user, no matter the device.
There are already startups that have begun developing solely with the focus of doing cloud-based gaming and NVIDIA expects that major developers will follow as the market matures. In fact, Eisler believes that this is a major benefit for developers, since they won't have to worry about the multiple types of hardware being used for their games. Also, as Smart TVs become more popular, users will be able to play high-end games on their TV by simply downloading an App.
NVIDIA currently has about 200 people that work with game developers on a daily basis to enhance their games for Nvidia GeForce technology as well as optimizing for GRID cloud gaming. The company is also working with innovative game developers who are looking for ways to differentiate their cloud games and reach new customers. Eisler noted that NVIDIA is seeing interest from online free-to-play game developers and some game distributors.
Ultimately it will be users who benefit, as they continue to see an improvement in quality and are able to easily and quickly access games that would ordinarily require a large initial investment in hardware.
In addition, new types of hardware will be introduced to access cloud gaming. NVIDIA has introduced SHIELD, a portable console that can take advantage of accessing GPU processing over a network. SHIELD runs on the open Android platform and it is a perfect client for cloud game streaming. It has integrated game pad functionality so users have better controls for game playing and NVIDIA has implemented some technology into the device to optimize its ability to handle the decompression of streamed video to enhance the experience of playing games in a wireless network. NVIDIA is also a supporter of the "OUYA" device, a US$99 gaming console powered by Android that is able to connect to TVs.
Not only gamers to benefit from GPUs in the cloud
In addition to cloud gaming, NVIDIA believes that putting GPUs in data centers and having them run applications will also benefit business customers. Creating servers that allow customers to run their desktops in multiple locations will allow them to have more flexibility, Eisler pointed out. For example, you can open up a document on your tablet and show customer information that is running on a server back in the office. This type of implementation is also secure because the user is just streaming video at one point and time. Eisler indicated that NVIDIA has even received interest from car developers who are looking to allow customers to pre-order the type of car they want and take it on a virtual test drive. These systems can access a car design database, render a photorealistic 3D image in the cloud and then stream it to any dealership.
Eisler argues that GPU in the cloud would also increase the adoption of Virtual Desktop Infrastructures (VDI) in businesses. Virtual desktops have been touted by platform providers like Citrix as well as customers such as banks, insurance companies and military contractors, who already see the security and any-device benefits of virtualization.
However, the adoption rate of VDI has thus far been quite slow. According to Eisler, the key issue is that few people live in a world where it is only text that needs to be accessed virtually. Most business applications make heavy use of multimedia and it is this issue that creates lag, since all of the graphics are being rendered on the CPU. There has been strong resistance among end users for VDI as a result.
The benefit of moving GPUs into VDI servers is that you can give them full performance virtual desktops with full multimedia integration of 3D graphics and video. This creates a "no-compromise" type of virtual desktop which will enable IT managers to deploy VDI without a user revolt. This has been welcomed from many IT departments in all sorts of businesses, stated Eisler.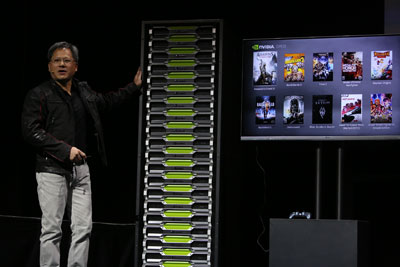 Photo: Company