AMI emphasizes technology integration and responds to market changes with comprehensive deployments
Sponsored content
Wednesday 5 June 2013
Seismic shifts in the PC market have posed harsh challenges to the supply chain, of which independent BIOS vendors (IBVs) are a key part. Pai-Lin Huang, director of the Strategic Marketing Department at American Megatrends (AMI), indicated that AMI is the only IBV in the market that is able to provide comprehensive support for the full range of computing architectures, as well as products that cover all sectors of the computing industry, from enterprise to consumer-level solutions. In addition to its Aptio UEFI BIOS firmware, AMI's core technologies also cover mobile and pre-boot applications, network storage solutions, server and remote management, and more. AMI has also recently extended its support to platforms based on ARM architecture in an effort to respond to future market shifts and rapidly evolving end-user needs.
Computex 2013 provides a showcase for AMI to highlight its renewed focus on the company's "technology integration" capabilities. Huang pointed out that not only does AMI possess cutting-edge technologies in many areas, but it also excels at integrating these diverse technologies to provide comprehensive services and solutions to its customers.
Taiwan has always been a strategic center for ODMs and OEMs, and from its local office in Taipei, AMI provides development tools and technology training, working directly with its OEM and ODM customers to help complete their projects. Throughout its 28-year history, AMI has helped its customers differentiate and strengthen the features and value of their own products. Huang stressed that the only way to create a "win-win" situation in today's competitive environment - where products have to be developed rapidly and dynamically - is to stand closely with customers and face challenges together.
Product differentiation is critical in the OEM/ODM industry, and Huang believes that the flexibility that UEFI provides can help the industry to achieve this. Huang further explained that from the software perspective, UEFI has the greatest potential to integrate all of the relevant firmware designs, which enables a clearer division of labor, and gives software and hardware developers increased development flexibility. To provide this flexibility, the UEFI Forum developed the UEFI Shell specifications, akin to a small operating system that essentially replaced DOS. The UEFI Shell specifications enable UEFI to integrate different libraries and allow OEMs/ODMs to create highly differentiated products.
For example, OEMs/ODMs can transfer their post-sales service modules directly into the UEFI BIOS, so that customers will no longer need to rely on the OS environment being connected to the Internet to access these. Customers also do not need to worry about forgetting to install the post-sales service programs when they re-install the OS. Additionally, UEFI has a wide range of applications in the embedded market, which frees many embedded products from overt reliance on the more powerful functions of the OS. In this way, the UEFI Shell provides an excellent application and development environment that empowers OEMs and ODMs to add value to their products.
During the market's gradual transition to UEFI, Huang has observed that time to market (TTM) for products has shortened, demand for differentiation is on the rise, confidentiality requirements are becoming more stringent and more customers are eager to maintain in-house product development in order to keep key technologies within the company. This makes it more important to provide "DIY" customers with powerful and easy-to-use development tools, as well as modular components with high flexibility and good compatibility.
In direct response to these observations, Huang indicated that AMI's cross-sector technologies have culminated in a series of UEFI specification-based development tools, the newest version of which is Aptio V. The primary advantage of Aptio V is its direct compatibility with EDKII, which allows non-AMI developers to quickly get started with these tools. The benefit of this compatibility is the way it allows developers to use previously-developed modules while simultaneously pursuing the newest technologies at the forefront of the industry.
Huang stated that AMI's Visual eBios (VeB) is an integrated graphical development environment developed entirely by AMI, which is its biggest advantage when compared to the company's competitors. The VeB development tool can greatly simplify development activities for engineers, allowing them to make modifications by changing the parameter settings of the development environment - thus reducing the chance of human error.
Moreover, AMI's VeB development tool also allows multiple projects to share the same source code without interference, thereby reducing manpower costs. Huang indicated that AMI's dedication to the needs of its customers has received strong recognition and support from its partners, another one of the company's unique advantages.
In addition to its UEFI firmware and VeB development environment, AMI also provides a series of "Pre-OS" or "pre-boot" applications that comply with the UEFI specifications, such as AMI Provisioning, which provides a UEFI Application Integration Interface; AMI Rescue, a tool for system backup and recovery; AMIDiag, for system diagnostic functions, and vRoom, which provides support for multiple operating systems. AMI is also committed to incorporating UEFI with ARM-based platforms and the Android operating system; these products are already on the market and available to customers for volume production.
The rapid growth in popularity of the ARM platform poses both challenges and opportunities for the industry. In response, Huang indicated that AMI plans to use Aptio V as a basis to extend support to the ARM SoC, allowing seasoned UEFI engineers to seamlessly integrate projects with the ARM SoC and get working more quickly and efficiently. With respect to the ARM architecture, AMI already has significant experience in tablet and embedded product development on this platform and is now focused on ARM-64 architecture development in cooperation with several ODMs and OEMs.
Despite the sluggishness in the PC market, Huang stated with great confidence how AMI continues to expand its market presence - to include tablet PCs, notebooks, all-in-one (AIO) PCs, servers, industrial computers, cloud computing, remote management and network storage software and hardware solutions. Turning to the Android market, not only has AMI worked with native Android applications on x86-architecture hardware, but also developed its unique DuOS software that enables users to run Android on both Windows and Linux environments and enjoy the great number of Android apps available today. Achievements like these underscore how AMI has evolved to provide truly comprehensive deployments and show how the company embraces a strategy of diversification to drive company growth and adapt to market changes.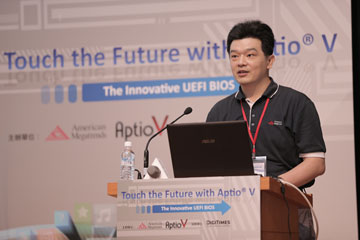 Pai-Lin Huang, Director of the Strategic Marketing Department at American Megatrends (AMI)