Focused on mobile storage and peripherals: Q&A with Carry Tech president Taron Chang
Jessie Shen, DIGITIMES, Taipei
Once chiefly known as an OEM for PC card readers and memory modules, Carry Technology has expanded its product portfolio to include Wi-Fi products and other peripherals for mobile devices such as smartphones and tablets. While continuing to maintain close relationships with its OEM clients, Carry Tech has also moved to expand its own-brand products, particularly in emerging markets.
In an interview with Digitimes, Carry Tech president Taron Chang talked about the company's efforts to expand its own-brand business, which is now generating higher gross margins than its OEM business. Chang also shared his views about the prospects of the memory industry, as well as challenges and opportunities faced by the company.
Q: At the end of 2011, Carry Tech launched its Apotop brand for storage solutions and peripherals targeted mainly at mobile devices. What progress has there been since the brand made its debut?
A: At Computex 2012 we officially announced the Apotop brand. Products under the brand include not only the company's traditional areas of focus, such as card readers, DRAM modules, flash drives and SSD devices, but also innovative new products.
Backed by our experienced R&D team, we introduced wireless storage devices designed specifically for popular iOS devices. In 2012, Carry Tech launched a travel Wi-Fi router enabling iPad users to set up their own Wi-Fi hotspots for use in places like hotels that only offered hard-wired access, and its second generation that includes a USB port and SD card slot for expanded memory - an all-in-one peripheral device to bring more convenience to popular tablet devices.
This year, Carry Tech has enhanced its wireless storage devices by developing products targeted at not only iOS devices, but also devices running the Android OS platform. Designed for smartphones and tablets, our 2013 series can operate as a card reader, reading and sharing data much faster than the previous generation; as a connector, transferring files to devices from an SD card or USB drive; as a power bank, i.e. a portable battery charger; and as a wireless access point.
With our expanded wireless storage products for popular mobile devices, the Apotop brand has gained wider recognition over the past year. You can find Carry Tech's Apotop products in all Apple outlets in Taiwan and around 200 others in Asia. We have also partnered with several airline companies to do inflight promotions for Apotop products.
Though the value of sales generated from Carry Tech's own-brand products remains a lot smaller than its traditional OEM business, the former segment is generating higher gross margins than the latter. We expect the Apotop-brand products, particularly the wireless storage device series, to be the key growth driver for the company in 2013.
Q: Carry Tech is a 21-year-old company that used to focus on the OEM business in the PC card reader and memory solution segments, with clients mostly from Europe, Japan and the US. What proportion of sales comes from your traditional business now?
A: Currently, about 70% of Carry Tech's total revenues come from the OEM business. While exploring new growth opportunities, we continue to ensure a consistent supply to our contract customers. Carry Tech has steady income generated by its OEM business and production plants, where six SMT lines are installed.
Q: Companies face certain issues when producing their own products both as an OEM supplier and also under their own brand. Does Carry Tech have similar issues?
A: Our OEM and own-brand businesses are clearly distinguished. For the OEM business, we secure contracts from the world's major memory module vendors, which sell their solutions mostly in developed countries.
Carry Tech's own-brand products are marketed chiefly through retail channels in emerging markets, such as Southeast Asia and the Middle East. But for Apotop-branded wireless storage devices, the product line represents our own innovation and does not overlap with our clients' products.
Q: Which memory companies do you source chips from? Has Carry Tech been able to secure a steady supply from its chip partners in 2013?
A: Carry Tech has maintained steady relationships with its existing suppliers, which provide timely delivery and quality products as promised. We need to ensure the reliability of our partners so that we meet our client's high standards.
Carry Tech also takes appropriate measures to minimize the impact of supply-side constraints caused by uncontrollable events, such as power outages or severe weather conditions. In addition, we employ different procurement strategies for different markets so that the company is flexible in its operations to satisfy different market segments.
Q: According to a new IHS iSuppli report, the adoption of SSDs in PCs will expand through 2017. What is Carry Tech's involvement in the field?
A: Three years ago we expressed optimism about the PC SSD market, which, however, has thus far been a disappointment. But still, the market outlook is promising.
SSDs will not be able to overtake hard disk drives as the major storage medium for PCs and notebooks in the short term, because prices for the former are still too high compared to those for the latter.
Q: Some observers have noted that Thunderbolt is struggling to compete against USB 3.0 due to its high cost. What's your view on that?
A: Thunderbolt and USB 3.0 interfaces both have their own strengths, therefore they target different tiers of the market.
The transmission speed of Thunderbolt is twice as fast as USB 3.0, with the former technology allowing an entire HD movie to be transferred in 30 seconds. Therefore, developers specializing in Thunderbolt-compatible hardware demand high performance for multimedia and gaming, targeting the specific market tier that usually attracts gamers and PC graphics enthusiasts.
USB 3.0 is considered a fast, user-friendly option. Hardware developers that favor USB 3.0 over Thunderbolt are generally more focused on user-friendly design in terms of price and functionality required.
Carry Tech is proud to have been chosen by Intel as one of very few Thunderbolt partners in Taiwan to develop a variety of Thunderbolt-based storage products and media devices. We also have a lineup of USB 3.0 products for the mass market.
Q: What is your outlook for the 2013 memory market?
A: DRAM companies should find themselves in a more stable market. We see suppliers continue to scale down their output for the commodity memory sector, as demand shrinks due to weak PC sales. The market has now returned to a more balanced state, enabling price stability.
I don't think that DRAM prices will see significant falls in 2013, unless some uncontrollable events happen.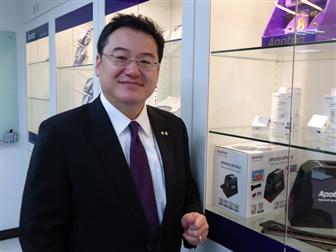 Carry Tech president Taron Chang
Photo: Jessie Shen, June 2013