Gigabyte to stay competitive by expanding existing advantages: Q&A with Gigabyte executives
Joseph Tsai, DIGITIMES, Taipei
With the motherboard industry reaching maturity and competition growing fierce, as the world's second ranked brand vendor, Gigabyte Technology has been aggressively trying to stay competitive in the market by coming up with new innovations to satisfy consumers.
Digitimes recently had a chance to sit down with James Lo, director of Gigabyte's Motherboard Business Unit, Taiwan Sales Department and Service and Marketing Center; Raymond Tseng, vice president of Gigabyte's Motherboard Business Unit, Innovation & Creative Value Center; and Stewart Haston, marketing manager of Gigabyte's Motherboard Business Unit, to discuss the latest innovations the company is ready to display at Computex Taipei 2013, as well as its future outlook.
Q: Where is Gigabyte's current position in the motherboard market? And what is the company's current status?
Lo: In terms of sales, we are mainly focusing on the retail channel motherboard business and are currently the top-two vendor worldwide.
Of current retail channel motherboard shipments, including those from brand motherboard vendors and regional brands, which are about 60-70 million units, Gigabyte and the number one vendor, Asustek Computer, together account for 40 million units, about two-thirds of the total volume, showing that we are one of the top-tier players in the industry, no matter whether you look at it in terms of volume, quality or revenues.
Q: What new products or technologies will Gigabyte showcase at Computex 2013? What advantages do these products have that will allow them to outmatch their competitors?
Lo: Basically, for this year, we have separated our motherboard product line into three major series: Ultra Durable, our conventional motherboard series for the mainstream market; OC, which has many unique functions designed specifically for the overclocking industry; and Gaming, a series that features the most advanced hardware and technologies to satisfy the demands of gamers.
People used to use PCs only for work, but are now also using them for entertainment. Although some people are satisfied with standard specifications, there are always people hoping for better, and this has helped turn motherboards into premium products like smartphones, where there are a variety of choices from NT$5,000 (US$167) models to NT$20,000 models based on consumer needs. Gigabyte has become a well-known brand for supplying premium motherboard products.
We have also become particular about our industrial design, especially our PCB coloring. In the old days, our motherboards were usually blue and black, but we are now making our motherboards and cooling components such as heat-sinks and heat-pipes in colors that are popular among gamers, such as green, orange and gray, to satisfy their desire to build PCs that will stand out at a LAN party or gaming tournament, as well as delivering the technical specifications expected of a performance PC.
Haston: At the high-end level, it's not just about the hardware or specifications; it's about creating a brand, and most enthusiasts and DIY builders know that Gigabyte green is meant for gaming, while Gigabyte orange or black is meant for overclocking.
We were the first vendor to launch an overclocking-specific motherboard and the move blew away overclockers and triggered many competitors to follow suit. So, the business is all about leadership, it's all about jumping in and doing things first.
We have a competitor which only colors its products red for both the overclocking and the gaming segments, but for us, we see two different paths. Gaming is one specialized area and overclocking is another, and this strategy is how we differentiate ourselves in the high-end market.
Tseng: Let me give a brief introduction to some new technologies we've put onto our motherboards. For the OC series, we soldered a couple of USB ports directly onto the motherboards, which is a feature optimized purely for overclockers.
Meanwhile, we have also designed several features on our OC series motherboards to satisfy customers' need for fast, responsive Internet connections and better audio output, and some of these designs have also been adopted in our gaming and mainstream motherboards.
Our strategy is aimed at satisfying customers from all different groups.
We also designed a new BIOS, which took us one and a half years to complete, that changes its user interface color and adjustable options with the motherboard series being used, in order to give both visual and technical satisfaction to our customers.
Q: What is onboard Amp-Up Audio technology? What factors did Gigabyte consider in deciding to push this technology?
Tseng: Amp-Up Audio allows DIY users to replace the audio amplifier chip on their motherboard. By changing chips, the sound capabilities on their boards can be completely altered, allowing users to pick whichever they prefer.
Haston: It's the DIY concept. The whole point of DIY is to allow users to try out different configurations, and so why not provide users the same option for their motherboard audio chips?
We have done tests with the technology, and audio quality on motherboards without an Amp-Up chip inserted show a huge difference from those with a chip. And it's not just differences in audio volume, there are huge improvements in audio quality and clarity, while chips made by different companies will also output different kinds of sound.
At launch, we will offer what we call the premium upgrade kit, which contains three Amp-Up chips for users to play with.
Q: Since the motherboard industry is already mature, is there anywhere else that Gigabyte's motherboard business is looking to for opportunities?
Lo: We are already in the top-two in the global motherboard industry; so basically, we already have a rather superior branding position, and with our long and attentive channel development, no matter what kind of fluctuations occur in the market, we will continue to be optimistic about performance in the future.
In addition to motherboards, we also have a new product called Brix, designed based on Intel's Next Unit of Computing (NUC) concept.
Haston: The Brix is smaller than Intel's NUC reference model and can support up to Intel Core i7 processors.
Tseng: This product is a result of cross-business-unit cooperation. Although the Brix is made by other business units, the motherboard business unit is the one handling sales to retail channels.
As James just said, we stand in a rather good position; therefore, in addition to strengthening our existing product lines, expanding into more PC-related applications is one of our major goals. Applications such as thin mini-ITX form factor motherboards and all-in-one PCs are both product lines that the motherboard business unit is providing support on.
Light industrial PC applications such as kiosks, which need small form factor motherboards, for small-to-medium enterprises are also an area that we are expanding into, and in fact, many of our motherboard competitors are also aggressively competing for orders in these areas.
Q: What is the status of motherboard competition in China? What strategies is Gigabyte taking to gain advantages in the market?
Lo: China is a market with a scale similar to that of North America or Europe. There are 300-400 first- to third-tier cities in the country, with third-tier cities having populations of at least 1-2 million. The country's high population and good economy have allowed it to achieve a PC penetration rate higher than all other emerging markets, which has boosted motherboard demand in the country.
Currently, close to 40% of motherboard shipments in the global DIY market are contributed by the China market, showing how important this market is to the motherboard industry. However, motherboards shipped to China are still mainly entry-level and low-end models.
Since demand in the China market mostly comes from first-time buyers, while a large portion of consumers are price-oriented, price competition is a common strategy for gaining share in the market.
Gigabyte has already been operating in China's motherboard market for more than 10 years, but we actually do not have any special strategy for the market except careful channel management, which includes both channel expansion and maintenance. For the future, we will continue strengthening our brand and releasing more new products and better services for the market.
Currently, we are seeing rather healthy progress towards achieving our motherboard shipment goals for 2013.
Tseng: Market shares have become an important index for the motherboard market. Only vendors with a good position can expect to continue to survive in the market.
Many of the second- to lower-tier vendors have already been left out of mainstream motherboard competition, and we've seen most of them turning to focus on other industries to find better opportunities.
Q: How about other emerging markets? What are Gigabyte's plans for them?
Lo: We have also been operating in emerging markets such as Brazil, Russia, India and Southeast Asia for over 10 years, so these markets are not really much of a problem for us. As for the Africa market, we are still observing its status, but the market is still rather small currently.
Q: What do you think of Thunderbolt's progress in the motherboard industry?
Lo: In terms of technical ability, Gigabyte has no issues developing motherboards featuring Thunderbolt, and we are one of the few players able to do so.
However, whether Thunderbolt can become a popular standard will depend on consumer demand.
Q: What is the company's view of the motherboard market in the second half of 2013? Will Haswell or Windows 8 have a chance to boost motherboard demand?
Lo: New product launches will definitely benefit us, as many consumers will try to replace their old PCs with new ones; therefore, we are optimistic about the sales contributions from Haswell and Windows 8.
As for the second half, we expect the market to stay healthy and Gigabyte will continue to remain on a stable track.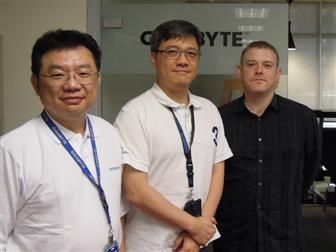 Motherboard executives at Gigabyte (from left to right): James Lo, Raymond Tseng and Stewart Haston.
Photo: Joseph Tsai, June 2013