The GTX dream from Gigabyte: Gaming laptops and discrete graphics capabilities at Computex 2013
Press release
Tuesday 4 June 2013
Gigabyte Technology is showcasing its range of products with Intel's new Haswell platform and Nvidia GeForce series at Computex 2013. The products range from gaming laptops called "Ultrablades" with GTX graphics cards, to business laptops with discrete graphics card that are ultra thin-and-light, Windows 8 tablets for productivity on-the-go, and touchscreen laptops including an Ultrabook and a convertible laptop that works both as a tablet and a laptop.
Ultrablade gaming laptops P35K/P34G
P35K - The 15.6-inch P35K Ultrablade with the latest fourth-generation Intel Core i7 processor is designed for mobility. Just 21mm thin, weighing 2.2kgs, and with GTX 765M gaming graphics, this machine is geared for gamers and 3D designers alike. Its storage capacity with a quad-storage system supports up to 3TB of space. Users can enjoy DVDs on the Ultrablade with the swappable DVD-ROM/HDD slot on a 1080p FHD IPS display.
P34G - The 14-inch P34G Ultrablade with a GTX 760M gaming graphics weighs 1.7 kgs and at 21mm thin is designed for users looking for mobility and powerful performance. It supports up to a 256GB mSATA SSD and a 1TB HDD in its slim and lightweight chassis. It features a 1080p Full HD display. The P34G Ultrablade marks Gigabyte's first foray into the 14-inch gaming laptop segment.
Gaming notebooks P25W/P27K GTX
P25W - The P25W is a reloaded version of its predecessor - the P2542G. The chrome yellow with silver trim chassis makes a comeback and this time it's more powerful. Equipped with a GTX 770M GDDR5 3GB discrete graphics for gaming and a backlit keyboard, the P25W expands its storage capabilities to install two 256GB mSATA SSDs and 1TB HDD. It also comes with a Blu-ray RW for a 4.1 speaker system.
P27K - The P27K carries on where its predecessor left off, delivering better graphics with a GTX 765M DDR5 2GB graphics card, backlit keyboard and upgradeable memory space up to 24GB. With ample storage - 256GB mSATA SSD plus additional 2TB - and Sound Blaster sound quality optimization technology, the P27K comes in two colors - orange and black. Both the P25W and P27K have full HD a 1080p display.
The U35F/U24F/U24T
U35F - The new U35F with the latest fourth generation Intel Core is geared towards businesspeople. The Gigabyte R&D team designed the U35F with a dedicated GT 750M GPU DDR3 4GB, and a quad-storage system that supports two 512GB mSATA SSDs and two 1TB HDDs. There is the swappable DVD-ROM/HDD slot on a 1080p Full HD display, with Sound Blaster sound quality optimization technology and high quality multimedia with HDMI digitalized interface.
U24F - The U24F is designed with a streamline design that is just 1.69kg and a sleek form factor from 18.5-21mm. With the GT 750M discrete graphics designed to deliver the fusion of design and performance, the U24F is able to hold a 256GB mSATA SSD and a 1TB HDD.
U24T - The U24T touch-enabled Ultrabook comes with a multi-touch screen, a dedicated GT 750M GPU running games such as Crysis 3, a high-speed 256GB mSATA SSD and a 1TB 2.5-inch HDD in a 20.5mm slim and lightweight body. Designed for power users, this Ultrabook is equipped with I/O ports, such as Ethernet, VGA, and USB ports.
Convertible U21M
U21M - The slim U21M is 20mm thin, weighs 1.49kgs, and comes with a 180-degree swivel 11.6-inch touchscreen, a high-speed 256GB mSATA SSD and a 1TB 2.5-inch HDD. Multiple I/O ports on the U21M provide various connectivity options for the power user. The convertible laptop U21M is a choice for users looking for both the power of a laptop with the touch capability of a tablet.
Detachable tablet Padbook S1185 and Slate S10A
S1185 -The 11.6-inch Padbook is a detachable tablet with Windows 8 for work and play, Intel Core processor, Full HD IPS display and capacitive multi-touch screen. The kickstand feature makes for a complete hands-off experience when viewing movies or reading. It also comes with fixed standard VGA & HDMI ports, magnetically attached keyboard kit, multi-directional mouse pointer joystick and mouse buttons.
S10A - The first for a Gigabyte tablet, powered by the latest AMD Temash A4-1200, the S10A is a mobile device to enhance and increase mobile productivity. With its full PC features, including Windows 8, a large storage HDD (up to 500GB), and multiple connectivity ports including USB 3.0, the S10A is a tool with 14 hours of productivity for work and play. The S10A also comes with free Office Home 2013 version. The S10A comes with a keyboard kit and an entertainment center with the D1080 multimedia docking station.
Laptop for work and play - Q2546N/Q2556N
Q2546N/Q2556N - Featuring angular diamond lines in matte black textured finish, the Q series is an affordable device to the wide family of Gigabyte products designed to satisfy needs for work and play. Including a GT 740M GPU, with dual-storage system and Sound Blaster Cinema sound quality optimization technology, it provides faster computing performance for multitasking. The Q2556N provides swappable ODD/HDD slot and also comes equipped with the latest fourth-generation Intel processor. The Q2546N is equipped with the third-generation Intel processor.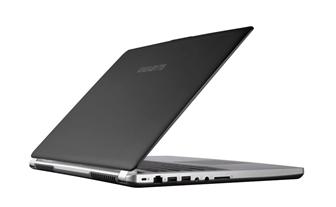 For more information:
Please contact: Hanif Wang +886-2-8978-5345 ext. 515
About Gigabyte
Gigabyte Technology, headquartered in Taipei, Taiwan, is known as a leading brand in the IT industry with branch offices located in 24 countries around the world. Founded in 1986, Gigabyte started as a small research and development team and has since taken a position as one of the world's top motherboard manufacturers. In addition to motherboards and graphics cards, Gigabyte further expanded its product portfolio to include notebook and desktop PCs, datacenter servers, networking products, mobile handsets, and home entertainment devices to serve each facet of the digital life in the home and office. Visit http://www.gigabyte.com/ for more information.