Fintek: A total solution provider for electronic devices
Press release
Tuesday 4 June 2013
Feature Integration Technology (Fintek), a leading supplier of super I/O, has launched a new series of high-performance, low-power solutions such as SIOs, uSIO, USB fast charging controller ICs, level shifter ICs (F75909/910), hardware monitor (HWM) ICs, LED driver ICs, bridge ICs (PCIE to ISA, PCIE to 4/8/12 UART) and a multi-protocol serial transceiver IC (F81438). Furthermore, Fintek also offers a high definition (HD) DTV modulator, the F18800.
Unlike the traditional cable connectivity HDMI and USB, or wireless WiFi, the F18800 uses wireless digital TV modulation formats such as DVB-T, ATSC, DTBM and QAM via a vacant frequency band to stream HD video to HD digital TVs and digital signage.
The Fintek super I/O implements the legacy and ErP-Lot 6.0 functions. The integrated HWM can monitor several temperatures, voltages & FANs. The uSIO - F76761 - integrates the above features and embedded 8032 uC with 1M byte flash and Intel Digital Thermal Sensor 2.0. The Fintek level shifter ICs - F75909/910 - provide the best voltage design flexibility for PC vendors. The Fintek HWM ICs are approved by the many companies worldwide and continue to be the best choice.
Testing the burn in test utility with many UART ports and 3D Mark, overrun would easily occur. The F81866A, F81803 and F81216H with the 128 bytes FIFO could reduce or eliminate the overrun occurrence. For special usage, Fintek offers the bridge IC PCIE to ISA, F85526, and PCIE to 4/8/12 UART, F81504/508/512, which could be used on the board or at the express card as well. Fintek will also launch a brand new USB2.0 to 4 UART IC targeted for ARM-based platform with more UART ports requirement.
Fintek also provides 8051 MCU LED lighting solutions - F66100E/F66101S - with up to 40V operating voltage, which is especially suited for the smart color temperature bulbs, special lamps and multi string decoration LEDs.
USB fast charging controller ICs F75198/F75204 are all compliant with the USB charging standard such as USB Battery Charging 1.2, China YD/T 1591-2009, all Apple portable devices and Samsung Tab charging standard. Fintek launched the third generation USB charging controller product with better compatibility in fourth-quarter 2012.
Embracing a philosophy that emphasizes continuous improvements and commitment to provide the best products/services to the customer, Fintek will develop and provide a variety of creative solutions to meet the market demand for multiple applications.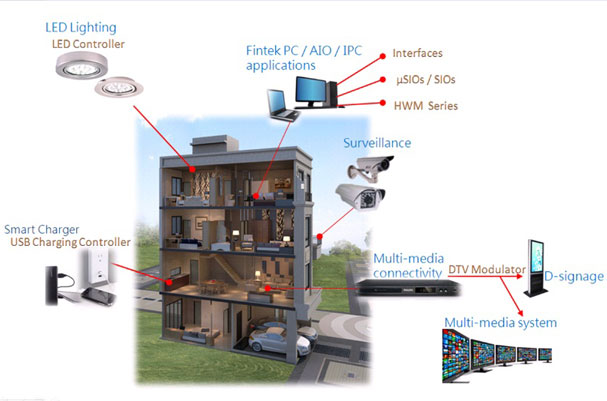 Fintek solutions
Please contact: marketing@fintek.com.tw or 886-3-5600168; or visit http://www.fintek.com.tw/