Compuware offers cleaner, smarter and more efficient power supply solutions
Press release
Tuesday 4 June 2013
Compuware promises to smarter and more cost-efficient servers with fully digitalized power supply!
Full digital power supply CPR-1221-5M1
While natural resources are being drained slowly, energy costs are rising. With over 10 years of experience in the high-efficiency power supply unit sector, and as one of the industrial leaders in the power supply market, Compuware Technology, showing its promising strength in innovative technology, has launched its full digital power supply unit: the CPR-1221-5M1. At 1280Watt, which exceeds the 80PLUS Platinum standards, the unit boasts the highest energy efficiency of 95%, and the highest performance in power factor and total harmonic distortion in the whole industry. Whether used in cloud computing or IT industrial platforms, it is highly reliable and accurate.
The new full digital 1280W module, which is being showcased at Computex 2013, is the result of Compuware's months of developing and testing. Test results show promising results: at maximum power, THD is lower than 10%; the PF rating is close to 1, yet it still exceeds the requirements specified in the 80Plus Platinum standard.
Continuously investing in developing highly energy efficient products, Compuware has achieved the 80PLUS Platinum energy efficiency standard for all of its models and digital solutions, allowing users to significantly lower carbon emissions and electricity expenditures. Furthermore, the smart digital structure will also allow IT personnel to monitor server status with ease.
The CRP-1221-5M1 is currently being shipped to the North America region, and has been fully tested and certified by the 80Plus organization concerning its reliability and energy efficiency.
The benefit of using CRP-1221-5M1 is expected to save millions of dollars in annual electricity use as the power supply needs less energy to provide the same amount of power. It generates less heat, and the air conditioning cost or PUE and the total power consumption can be both significantly lowered.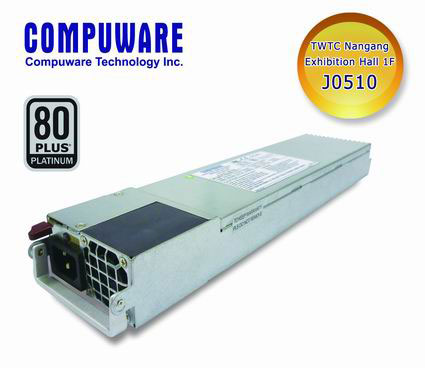 Compuware offers full digital power supply