Redefining the computing experience
Sponsored content
Thursday 2 May 2013
Intel, being a high-tech company with the spirit of innovation deeply engrained in every employee and with numerous innovative platforms and technologies, has been cooperating with ecosystem partners in Taiwan to deliver new technical know-how into end-market devices.
Moreover, this cross-industry cooperation has led to numerous innovative ideas being incorporated into the development of new products, enhancing the structure of Taiwan's industries even further, according to Grace Wang, field application & support team director at Intel APAC.
Intel's product architecture covers all cloud-based and terminal applications, with its cloud-related applications already being applied in an array of equipment, such as servers, storage systems, switches and network equipment.
For terminal applications, Intel began to promote the concept of its ultrabook platform in 2011, using its Sandy Bridge processors and rolling out five concept ultrabook models at that time. By 2012, the notebook industry started producing ultrabooks built around third-generation Intel Core (Ivy Bridge) processors, resulting in the roll-out of more than 140 ultrabook models in volume shipments, while pushing the product into the mainstream price segment. Since then, notebook brands have also begun to adopt multi touch solutions for ultrabook devices and have launched over 40 touch-enabled models based on Microsoft Windows 8, said Wang.
However, the notebook industry will once again be redefined when Intel soon unveils its fourth-generation Core (Haswell) family processors, Wang asserted.
The impact of ultrabook devices on the notebook industry includes reducing the average thickness of notebooks from 35mm to below 25mm and cutting the TDP (thermal design power) to 17W for Ivy Bridge-based models compared to 30W for previous mainstream models. Additionally, ultrabooks have also ushered in new industrial designs, new applications, touch functionality, transformable chassis designs, thin form factor disc drives, and other new materials. Furthermore, Intel also unveiled its third-generation Core CPUs with only 7W TDP, which will enable OEM/ODM makers to roll out more lighter, thinner ultrabooks with longer battery life.
Intel's fourth-generation Core processors will deliver advanced protection technology including Intel anti-theft technology (Intel AT) and Intel identity protection technology (Inter IPT), and come with quick response capabilities enabling interactive movements between touch and voice controls, fast boot and data updates. The new Core processors will also provide better mobility, with extended battery life to enable operations under all-weather conditions for more than nine hours and will support Intel wireless display (WiDi) technology that will allow users to quickly stream content and apps from devices to big displays, Wang highlighted.
In light of the increasing popularity of natural intuitive computing applications, somatosensory, gesture control and face recognition technologies will soon be integrated into notebooks, with the prospects that interactive human sensory computing applications are also likely to be incorporated into notebooks.
Wang also discussed the company's progress with the Intel Atom processor Z2760 (Clover Trail) launched in October 2012 for tablets. Intel has been shipping to OEM/ODM partners for the production of tablets, including models that will run on Windows 8.
While the Atom Z2760 is based on a dual-core design with a clock speed of 1.8GHz and a battery life of up to 10 hours, Intel's next-generation Atom processor (Bay Trail) will come with a quad-core design made with a 22nn process and will deliver up to double the performance of the current generation Atom processors, Wang revealed. Intel is now cooperating with ODMs, including Wistron, Compal Electronics, Elitegroup Computer Systems (ECS), Quanta Computer, Pegatron Technology, aiming to roll out Bay Trail-based tablets for year-end seasonal demand in 2013.
Since the launch of the first smartphones with Intel mobile application processor inside in January 2012, Intel has been awarded 10 smartphone design wins, with products shipping in 20 countries through OEM/ODM partners and telecom operators, including Acer, Lenovo, ZTE, Motorola Mobility, Lava Mobile, Megafon, Saraficom and Orange.
Intel's 1.2GHz Atom Z2420 (Lesington) smartphone platform, which support Hyper-Threading technology and enables optimization of Android OS, fast web browsing and HD video, has also found its way into a number of smartphones, including Acer's Liquid C1, Lava's Xolo X-500, Safaricon's Yolo, and Etisalat's E-20.
The new Intel Atom processor Z2580 (Clover Trail+) for smartphones, which delivers up to double the CPU performance and triple the graphics capability compared to previous generation Medfield processors, is also helping to usher in an array of new devices, such as the Atom Z2580-based IdeaPhone K900 smartphone showcased by Lenovo at CES 2013.
Intel's next generation smartphone products will come with a 22nm process and tri-gate transistor architecture for the delivery of the upmost performance and brand new user experiences, Wang concluded.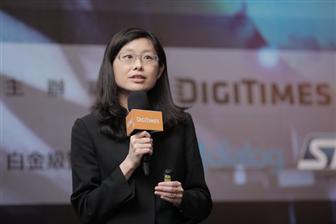 Grace Wang, field application & support team director at Intel APAC