AptObject will demonstrate the latest AptBee system in 2013 Secutech Taipei and COMPUTEX
Press release
Wednesday 3 April 2013
In Secuteh Taipei 2013 and COMPUTEX 2013, AptObject Corporation will demonstrate the latest "AptBee Smart Energy, Safety and Security Management System Cloud Service".
The "AptBee Smart Energy, Safety and Security Management System Cloud Service" integrates wireless sensor network and web-based database system, which can track energy usage and monitor environment safety and air quality to provide users service from the cloud. The goal of this system is to help users achieving carbon reduction and enhance the environmental safety.
In the wireless sensor network, devices are responsible for data collection and equipment control, all the data and control commands are transmitted via wireless signal. The cloud web server is responsible for data storage and providing intelligence to control remote equipment.
The Human-Machine Interface uses common browsers, users do not need to purchase or install any other special software. From your notebook, desktop PC or tablet, just log on to the system with your account and password, you can access and control all your own devices and browse all the latest and historical data of those devices.
Each sensor device and the cloud system service all contain a certain degree of "intelligence", which makes them can analyze the data in real time; According to the settings of the system or devices, when abnormally, dangerous or emergency situation happens, the system triggers alarms and alerts users immediately. Therefore, the system service can be applied to the field of energy-saving and safety monitoring.
Main Features
The AptBee system cloud service is a multi-tier web-based database system, runs on Unix, Linux or Windows platform; based on the coverage size of sensor devices, the system can be distributed and clustered,
Better off, the system supports a variety of device communication protocols from different vendors, simultaneously. Just in one user interface, user can monitor and operate all the authorized devices connected to the system.
Compared with traditional monitoring and control systems, customers do not have to install special software and hardware to set up a system. This dramatically reduces the installation and maintenance costs.
Another feature is the server-push technology; the server can actively "push" the latest information into users' browser or mobile App. So that users do not need to click refresh button to see the latest information. Therefore, this makes the system applicable to the real-time monitoring of the environment.
AptBee system now had been setup in areas of health care, smart energy management, safety and security management and smart home appliations, providing services to corporate customers and householders.
About AptObject Corporation
AptObject Corporation, established in 2000, helps corporations and government agencies design and development software and hardware systems, provides feasible and helpful system solutions and increases operating efficiency and reduces operating costs.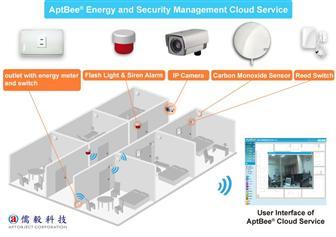 AptBee Smart Energy, Safety and Security Management System Cloud Service
DIGITIMES' editorial team was not involved in the creation or production of this content. Companies looking to contribute commercial news or press releases are welcome to contact us.