Global LED lighting market will be worth US$25.4 billion in 2013, says new report from Digitimes Research
Press release
Tuesday 26 March 2013
Taipei, Taiwan, March 26, 2013 - The global LED lighting market will be worth US$25.4 billion in 2013, representing 54% growth on the 2012 figure of US$16.5, while the LED lighting penetration rate will also rise to 18.6%, according to a new DIGITIMES Research Special Report titled "Global high-brightness LED market forecast."
The report describes how the luminous efficacy of LEDs continues to rise, with manufacturers likely to be well ahead of the US Department of Energy's (DoE) development targets of 129 lm/W for warm white light LEDs and 164 lm/W for cold white light LEDs.
LED lighting product prices are likely to drop by 20-25% in 2013, as LED component performance/price ratios rise from 2012's 500 lm/US$ to 1,000 lm/US$ in 2013.
Looking further ahead to 2015, the US DoE targets are for LED component costs to drop 37% from 2013 levels, while 60W-equivalent LED bulb costs are to drop by 38% from 2013 levels by 2015. LED lighting prices would then be at a price point even more acceptable to general consumers.
Lighting policy in many countries is also critical to the development of LED lighting, and this effect has been most marked in the Asia region. For example, Japan now has the highest LED lighting market penetration rate of any region, with the rate set to rise to 73.8% by 2015; South Korea's Korea Association for Photonics Industry Development (KAPID) projects that the country's LED lighting industry will have an output value of US$7.8 billion by 2015, 5.6 times the figure for 2012; while China's LED lighting market is growing by 30% per year, which will give the country nearly one third of total global output value for LED lighting in 2015.
All of these factors will drive major growth in the LED lighting market, which will beat even the significant gains forecast over the last one to two years. "In addition to the rise of LED TV applications, LED lighting will begin to replace conventional lighting technology in the market. LED lighting will take 38.6% of the global lighting market by 2015," predicts Jessie Lin, author of the report. DIGITIMES Research in fact projects that the global LED lighting market will be worth US$44.2 billion by 2015.
The DIGITIMES Research provides region-by-region analysis of the LED lighting market, including major players and prospects for each region. The report covers the US, Europe, China and Japan, with insights into government policy, corporate mergers, unique regional factors and other key aspects of market development.
For more information about the report, visit Digitimes Research.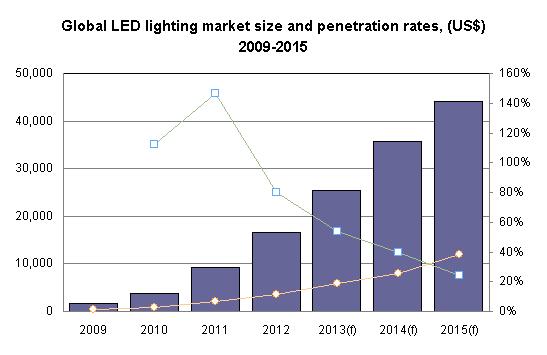 Source: Digitimes Research, March 2013
About DIGITIMES Research
DIGITIMES Research is the research arm of DIGITIMES Inc., Taiwan's leading high-tech media outlet. Operating as an independent business unit, DIGITIMES Research focuses on quantitatively monitoring key high-tech industries, while also guiding clients toward suitable new businesses. DIGITIMES Research provides market intelligence and analysis to more than 1000 corporate customers worldwide. Research and consulting services cover a full range of industries, including information and communications technology (ICT), flat panel display (FPD), LEDs, semiconductor design and manufacturing.
Contact: Michael McManus (Michael.mcmanus@digitimes.com)