Nuclear power plants: My neighbours
Jackie Chang, DIGITIMES, Taipei
Well, I don't live next door to nuclear power plants, but I live close enough to two. If they go wrong, I will definitely have to flee.
I did some measurements on Google Map. The First Nuclear Power Plant (Nuke 1, as it is usually called) in the northern tip of Taiwan is about 50km from my house - which is located in downtown Taipei City (the capital of Taiwan that houses around three million people) and only about 1km from the Presidential Palace. A car ride from the plant to my home takes only one hour and nine minutes.
The distance from my house to the Second Nuclear Power Plant (Nuke 2) is actually closer, only around 45km. Nuke 1 and nuke 2 are close to each other. This means, I am living in the range of 50km away from two nuclear power plants lying along the coast of New Taipei City, which has a population of six million.
According to an article in the New York Times, the US Embassy recommended US citizens living within 50 miles (80km) of the Fukushima nuclear power plant evacuate on March 17, 2011, amid threats of a meltdown. That means, I live within the recommended evacuation zone if something as drastic as what happened to the Fukushima plant happens to any one of the two nuclear power plants near my city.
And the Taiwan government and the state-run Taiwan Power Company (Taipower), which owns and operates all three existing nuclear power plants in Taiwan and is building another, which may be a littler farther from my house, but still close enough to send us all in the area worrying about its safety, and many calling for termination of the project.
According to Taipower, the current nuclear power plants account for around 20% of Taiwan's total electricity generated. And if the three nuclear power plants get decommissioned and the construction of the fourth plant gets halted, the electricity price in Taiwan will have to increase by 40%. According to a recent article by Taiwan-based Business Today, Taipower has not been consistent about the reasons why the construction of Nuke 4 has to continued, and actually the company has changed its argument many times. Also, the figures Taipower has presented to the Ministry of Economic Affairs - the governing authority of electricity - have been changed frequently. In addition, the report added, ever since Japan shut down its 54 reactors after the March 11 earthquake (with nuclear power accounting for more than 30% of total power generated in Japan), the electricity price only increased by 17%. So how is it that Taiwan will suffer a 40% increase in electricity price when nuclear power only has a 20% share? Taipower's figures are doubly questionable because the country has yet to use the electricity from Nuke 4.
Taipower's argument is that nuclear is the cheapest energy source in Taiwan. Compared to figures provided by other countries such as South Korea and China, Taiwan seems to have the cheapest nuclear power, and you cannot but wonder why nuclear energy is cheap in Taiwan, or whether Taipower's figures are biased. The skepticism is supported by the Business Today report, which claims that Taipower has been underestimating the costs of disposing nuclear waste and decommissioning. According to Taipower, the cost of producing electricity using nuclear power is NT$0.69/kWh (US$0.02/kWh). But a 2007 report by International Energy Agency (IEA), the cost of nuclear electricity from new power plants ranges from US$30-57/kWh, depending on the investments. The figures provided by Taipower are hard to believe because Taiwan imports the required equipment and components, not to mention the materials. It is nearly impossible for Taiwan to have the cheapest nuclear electricity cost compared to other countries.
And the dispute over Nuke 4 is not just about nuclear safety in general but also about alleged corruption and lack of quality plaguing this specific project. In the past 16 years of construction (yes, the plant has been under construction since 1997), Nuke 4 reportedly has experienced seven cases of flooding and several fires. Also, the project has been broken into several sub-projects with contractors for each of them having little coordination between them. There have been allegations that some of the work has been illegally outsourced.
The government should focus on campaigns to raise awareness of energy conservation and make the country a safe place to live in instead of constantly threatening citizens into supporting Nuke 4 with talks of imminent power shortages and increases in electricity prices. The government should help citizens to understand that as a nation that lacks energy resources, energy is very valuable. If we can rely less on imported materials to create energy, we should do so, and at the same time develop sustainable ways to maintain our quality of life.
The area affected by the Chernobyl meltdown is around three times the size of the entire island of Taiwan. And that was just the blast of one nuclear power plant. Taiwan cannot afford to have any radiation leak. What if there is an earthquake - which is very common here - that stops the cooling systems of the four nuclear reactors in Nuke 1 and Nuke 2? The debate about Nuke 4 and nuclear power at large is less about how much electricity we need than how it will affect the next generations.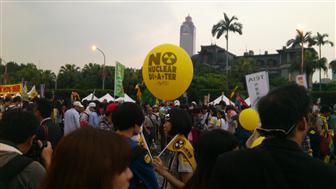 A massive anti-nuclear protest in Taipei on March 9, 2013
Photo: Jackie Chang, Digitimes, March 2013