On site: Anti-nuclear power protest in Taiwan
Jackie Chang, DIGITIMES, Taipei
On March 9, 2013, more than 100,000 people across Taiwan took to the streets protesting against the government's plan to continue a controversial project to build the country's fourth nuclear power plant (Nuke 4) and prolong its reliance on nuclear power. Green Party Taiwan, one of the participating organizations, demanded the government terminate the Nuke 4 project, immediately decommission the existing three nuclear power plants, remove all low-level radioactive wastes from the remote Orchid Island, and work out an energy policy to achieve the target of "zero growth of energy demand."
Many of the protesters were young people and mothers with their children. Compared to many other protests that have taken place in Taiwan, this latest one was very different in that it was much less political. The government would usually label any protests as politically-motivated, but the anti-Nuke 4 protest was supported by groups of people much different from the ones in political demonstrations. A lot of young individuals made their own slogans and signs. Many celebrities also showed up to support the protest and to raise the awareness of how dangerous nuclear power plants can be. Some held signs with the Taiwanese slang "he-li-shi" - it means it will kill you, with the word "he" sounding like the Chinese character for nuclear. Some signs said "put nuclear waste in the president's residence."
According to polls done by various media establishments in Taiwan, more than 50% of people surveyed want to abolish the use of nuclear power. One of the polls done by Business Today showed that 50% of people surveyed support the abolishment of nuclear power even if it means increases in electricity prices.
March 11, 2013 marks the second anniversary of the earthquake-tsunami induced disaster at a nuclear power plant in Fukushima, Japan. The disaster shocked the world and especially Taiwan because Japan and Taiwan are geographically similar. According to US-based Fox News, the earthquake "blew out" the cooling systems of two nuclear reactors in Japan's Fukushima plant, meaning the two reactors did not have cooling mechanisms which were used to prevent radiation leaks. As one of the countries on the earthquake belt (also known as the Ring of Fire), Taiwan experiences earthquakes on a daily basis. With two nuclear power plants situated in the northern part of Taiwan and one in the southern county of Pingtung, it is amazing that Taiwan is still fully intact.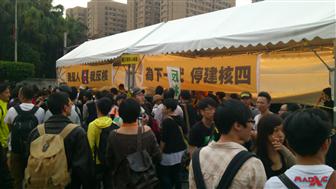 The banner on the right says: "Stop constructing Nuke 4 for the next generation."
Photo: Jackie Chang, Digitimes, March 2013