Auto Safety Airbag High-Pressure Tank Testing Machine
Press release
Wednesday 16 January 2013
When an airbag-equipped vehicle is involved in a collision, a storage tank full of compressed air causes airbags in the center of the steering wheel and on the sides of the instrument panel to rapidly inflate, preventing people in the vehicle from suffering injury. In line with maintaining the safety of the driver and passengers, an airbag system with a safety and quality guarantee must assure the quality of its air storage tank.
If an air storage tank ruptures, the gas escaping at high velocity causes the container to shatter, and may cause great injury to nearby objects and persons. Because of this, manufacturing, quality, and inspection guidelines have been drafted for high-pressure steel tanks. In addition, specialized air-container-failure-limitation-test machines that test the containers are a necessary means of ensuring product quality and safety during the manufacturing process.
Various types of steel tanks require container verification testing during the manufacturing process. The high-pressure tanks used in auto airbags are only the size of two fingers. The main test items for these tanks are fatigue and rupture testing. First, a test machine's fatigue testing system must automatically pressurize containers to the specified test pressure for a preset number of cycles. In addition, the rupture testing system must monitor tanks subjected to high pressures in order to find out at what pressure level they do rupture. Afterwards, the system must also record the test process and calculate pressure-time curves, which facilitate the acquisition of detailed information concerning the pressure that can be withstood by the tanks, allowing analysis and revision of the product. In the past, this kind of test equipment employed a PC and programmable logic controller (PLC) to perform processing of test data. However, because PLCs have insufficient analog signal sampling speed, data distortion could occur. As a result, when a correct sample cannot be obtained, the tank's tolerance cannot be precisely analyzed. Furthermore, Taiwan currently does not produce this type of standard test machine, and our customers must therefore develop and assemble their own air container failure limitation test machines. These customers require immediate local support in order to resolve technical issues quickly. Customers may also feel concern about whether they can purchase all parts and components from one source, and whether products from different suppliers will have compatibility problems.
Advantech provides IPC-7220, AIMB-767 and PCI-1711L I/O cards to quickly acquire data. Other features include IEC 61 131-3 control software, which can reduce customer R&D time, APAX I/O modules for controlling various valves and equipment, and the WebOP- 2057V programmable user interface for real-time display of data. These features ensure that a test machine can accurately measure and record data and provide reports. The AIMB-767 is Advantech's basic industrial motherboard, and can support an IntelR Core 2 Quad processor, DDR3 memory, 5 PCI slots, and 2 PCIe slots. It also allows customers to install various types of I/O cards and interface cards. Apart from greatly increasing the sampling rate, the system offers a speed roughly ten times faster than that of PLC products. As for customer need to obtain accurate pressure data, the PCI-1711Lcan perform rapid data acquisition 100 times faster than a PLC. This can resolve the problem of data distortion encountered by customers using PCs in conjunction with PLCs.
Advantech's wide range of products can satisfy most customer hardware and software needs. From the most basic embedded industrial computers to all types of I/O modules and software, customers no longer have to settle for cobbled solutions involving different configurations of individual products. Our nearby professional technicians can provide real-time assistance throughout customers' R&D and assembly processes, assisting with the resolution of problems and bottlenecks, and shortening test machine completion time.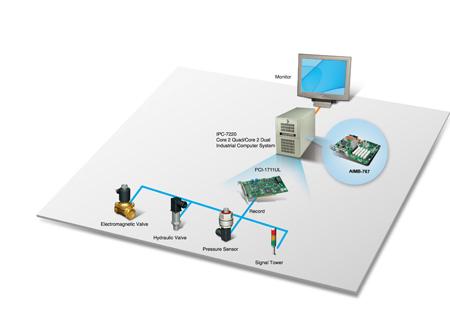 Advantech provides IPC-7220, AIMB-767 and PCI-1711L I/O cards to quickly acquire data.
Finding more case study articles
DIGITIMES' editorial team was not involved in the creation or production of this content. Companies looking to contribute commercial news or press releases are welcome to contact us.