Merck Displaying Futures symposium inspires innovative ideas for display industry
Sponsored content
Thursday 29 November 2012
As technology continues to permeate throughout the world, what other possibilities can panels provide society aside from solely acting as display components? In order to stimulate innovation and promote interdisciplinary talks and collaboration between experts from various fields, Germany-based Merck recently held its Displaying Futures symposium in Taiwan. Merck intended to first depict the future life by the Displaying Futures symposium. Possible roles of display devices will therefore be defined, based upon human's needs in the future life. The symposium featured experts from government, architectural, design, academia, and various scientific fields to discuss how technology can be used in peoples' lives in the future. The moderator of the event was the displays market expert Mr. David Hsieh, Vice President of the Greater China Market at DisplaySearch, who led a lively discussion between experts and audience.
The theme of the symposium was "Seamless Transition - From Urbanity to Products," which focused on interaction between humans, information, creativity and the environment. Dr. Bernd Reckmann, Member of the Executive Board of Merck KGaA, said at the event's welcoming ceremony that the fast development of telecommunication technology has caused display technology to become more diversified. He also said that the goal of organizing Displaying Futures is to think of how the industries can move away from old ways of technology-oriented thinking towards brand new viewpoints with which new applications and markets for displays can be developed, and Merck's value in the supply chain can be reinforced. Additionally, he said that choosing Taiwan for this year's symposium was because it is both a very important market for Merck, and a center of innovation and technology for the world.
Interdisciplinary exchange between architecture, design and technology
This year's symposium featured a special guest, Minister Without Portfolio Dr. Simon Chang of the Executive Yuan, who discussed "Digital Convergence for a Better Life." He touched on the importance of connectivity, gateway devices, user interfaces and displays diversification. In a report on the world's IT development released by the World Economic Forum (WEF) this year, Taiwan bumped up its networked readiness ranking to number 11.
Dr. Chang emphasized that although Taiwan has competitive advantages, it needs to focus more on reinforcing its broadband infrastructure and creating more high-quality content so that it may be able to establish a unique position within the global market.
Dr. Ming-Chin Ho, Director General of the Architecture and Building Research Institute at the Ministry of the Interior, presented a lecture called "Architecture for a New Era: Integrating Smart Technology and Environmental Sustainability." Dr. Ho said that in an environment like Taiwan's where the elderly population is increasing and the birth rate simultaneously decreasing, security, sustainability, energy conservation, health, comfort, human-friendly environments have all become issues that the architectural field must face.
Dr. Ho also said that in the future, Taiwan's government will continue to push ICT products for use in smart living environments, adding more smart technologies to the living spaces to enable interaction between various devices, such as smartphones, tablets and home appliances, which will make life more convenient, fulfilling people's dreams of having smart buildings in the future.

Mr. Eric Schuldenfrei, co-founder of ESKIU - an international and interdisciplinary architecture studio - said during his presentation, "Future Architecture and Technology," that as the world population is increasing and mega cities throughout Asia rising, energy resources and consumption will pose serious challenges in the future. In an age where urbanization is taking place in the most massive scale ever in history, technology must be pushed beyond its limits to change the methods of constructing cities and living style, so as to increase energy efficiency. Mr. Schuldenfrei also elaborated how LCD, LED, and solar energy panels can be used in architecture materials or in public spaces to increase efficiency, which he believes is the future of innovation.
Mr. Felix Schwabe from the Audi Urban Future Initiative Insight Team talked about "Seamless Mobility" and introduced the ideas behind Audi's initiatives. He said that the Audi Urban Future Initiative Insight Team wishes to promote a dialogue among mobility, architecture and urban development. He also said urbanization development is both an opportunity and challenge that we have to face.
Mr. Schwabe pointed out that in 1800 there were only three cities, Tokyo, London and Beijing, that surpassed one million in population. However, as of 2012 there are 442 cities that exceed that mark, and it is estimated that within 20 years, 60% of the global population will live in cities. As these trends develop, transport infrastructure cannot be developed with just one single goal, namely to make it bigger. It will also need to incorporate smart applications and technology in order to enhance interaction between the city infrastructures and transportation, for better convenience and energy efficiency. Only with these means will there be a life of seamless mobility, added Mr. Schwabe.
Mr. Stefan Karp, Founder of mama interactive, on the other hand presented his unique views in "The Magic Experience of Interaction." Citing The Economist's description of Steve Jobs as a "magician," Mr. Karp noted that truly great products must give consumers a "magical" experience beyond their imagination.
Mr. Karp stated that even though perceptions of the world are based on individual experiences, constructing a seamless experience needs a detachment from the complexities of individual users to achieve the goal of intuitive operation. Like Google's search engine, he said, its user interface is easy to understand, and yet behind it is very advanced data processing technology that consumers usually are not aware of. Therefore, when technology makers design products, it is important to understand the essence of technology in order to present technology in encompassing system designs.
Combining technology and creativity has been a focal point for technology experts in recent times. Mr. Tony Chang, CEO of Taiwan Design Center, in his speech "The Future World of Co-Existence among Humanism, Science, Technology, and Esthetics," introduced the present trends of interdisciplinary design. He also called attention to new design concepts, such as: how design objects have gone from visible products to invisible services, experience and relationships; how the technology community is moving towards integration through open systems; and how effects of design are far more important than innovation itself.
Exploring the "Blue Ocean" for the panel industry
"Architecture," "design," "seamless," "technology" and "mobility" - these were the key words that linked all the talks at Displaying Futures. During the Q&A session, the event's guest speakers discussed about the challenges of applying new technologies in the fields of architecture and design. The speakers proposed that the government must be convinced to implement new building codes. Cross-industry collaboration must be encouraged to solve user interface issues arising from product integration. Participation from service providers must also be encouraged. Such solutions will create a future of high-quality life enabled by long-distance healthcare, long-distance security and smart living attributes.
Mr. Dick Hsieh, Managing Director of Merck in Taiwan, concluded by noting that the talks at Displaying Futures are meant to discuss how technology could improve peoples' lives and create more user friendly applications and interactions, and define the future role of display technology.
Mr. Hsieh said that Merck is attempting to create an industrial platform that will give rise to all kinds of cooperation models in the future. The symposium is not a one-off event, as Merck plans to run more in-depth workshops or projects to explore innovative ideas that are promising. It is hoped that through Displaying Futures that cross-industry partnerships could be established, which could be of special benefit to Taiwan's panel industry in its search for a "Blue Ocean." It could also help other IT industries, and even the medical, architectural, and cultural creative industries. Ultimately, it is hoped that humans' needs can be truly met in the future, allowing an integration of technology and humanity to improve the quality of life.
In the face of new opportunities arising from industrial development, Merck hopes Displaying Features will set a precedent and help Taiwan's industries to locate their "Blue Ocean."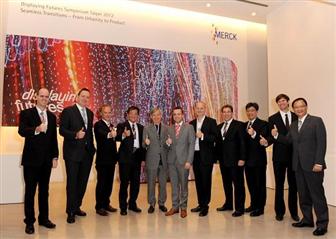 Merck uses "Seamless Integration -- From Urbanization to Products" as its theme for Displaying Futures. Pictured are Merck's executives with the moderator and speakers at the symposium.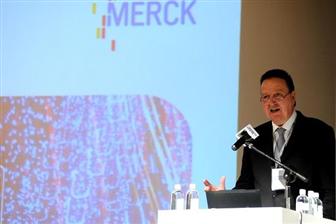 Dr. Bernd Reckmann, Member of the Executive Board of Merck KGaA, says Displaying Futures is about moving away from technology-oriented thinking and using new perspectives for bringing new markets and applications to the panel industry.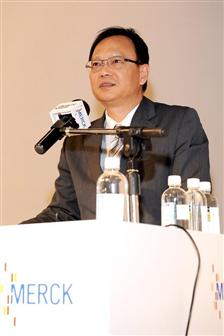 Mr. Dick Hsieh, Managing Director of Merck Taiwan, says Displaying Futures hopes to stimulate interdisciplinary cooperation, particularly helping Taiwan-based panel makers explore "Blue Ocean" opportunities through such cooperation.
DIGITIMES' editorial team was not involved in the creation or production of this content. Companies looking to contribute commercial news or press releases are welcome to contact us.